Quick Overview:
Binreader is a very lightweight and easy-to-use NZB downloader with a very limited amount of features, but very easy to use. It is reasonably fast, although you should definitely change the configuration a bit for best results (see our guide on how configure Binreader here).
Downloading is fast and easy, and there's no way you'll get distracted by too many options being available, because other than a preview function and a feature that allows you to stream media directly to your TV, there isn't much else: You got your download list, the button to add new NZBs, and a Pause / Delete-button. That's it.
For anyone who wants a lot of options and features in their newsreader, Binreader is not the right choice. If, however, all you want is to download some files from your favorite Usenet search engine or indexer, and don't need things such as group browsing, a spam filter and so on, you might definitely want to take a look at this program.
Downloads are handled automatically as most modern newsreaders can, and Binreader starts the unpacking process immediately after starting the download, which can save a lot if time.
Detailed Review:
"Faster, more features, regular updates, integrated search engine, …!!" seems to be the mantra of many developers in the Usenet-field today, so most well-known newsreaders such as Newsleecher or GrabIt have more and more of these things integrated. From spam filters to automated downloaders which regularly scan Usenet for certain files to download them as soon as they're being posted, they have come a long way.
Binreader, on the other hand, is the complete opposite. It literally looks like this: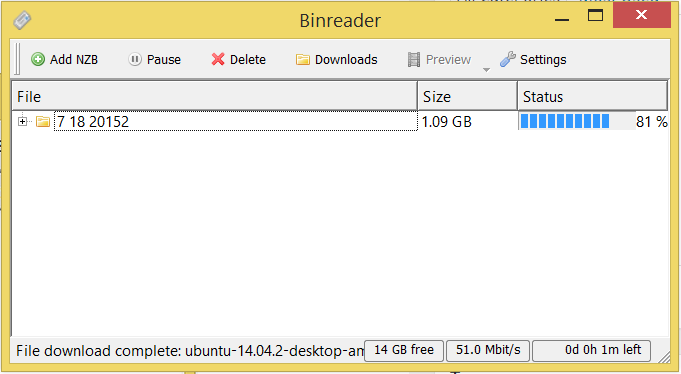 What can it do, and how will it perform in the tests? Let's dive right in:
1. Website And Installation
Since the old website is down and the software hasn't been updated in the last few years, you got to fire up Google to find the latest version of Binreader (version 1.0 beta 3). Afterdawn has it, for example.
Installation is easy, and works as you're used from installers. By the way, the software worked flawlessly on our Windows 8.1 machine even though it wasn't designed for it, so no worries. Also, there is no adware or any other crap included, which we find awesome.
At first start, Binreader asks you about your Usenet server info, which you usually receive by your provider. We recommend you also quickly run through our guide on how to properly configure the software for a good experience, which should take you no longer than a few minutes.
2. Features And Usability
OK, the fact that there is no spam filter like, for example, Newsleecher has, might be annoying, but otherwise Binreader does exactly for what it was made: Download and automatically process NZBs. And, apart from that, that's pretty much it.
Well, not entirely:
A preview-feature allows you to take a sneak-peak into movies while downloading, which worked quite well in our tests. Simply click on the right entry in the download list and click the "Preview"-button… easy-peasy.


.

DLNA-support allows you to directly stream movies, music and pictures to your TV via network. Wait, what? Yeah, this little program has a feature for that, and we have used it in the past. However, it isn't always as easy as it sounds, and goes well beyond this little review and tutorial.
Apart from these special features, there is, of course, the automated download handling, which by default automatically starts as soon as a download is running, instead of waiting for it to finish before taking action. This is definitely a timesaver, and we recommend to leave it on.
Of course, you can also encrypt your connection by SSL, even though you can't freely choose the port and are restricted to either 119 (unencrypted) or 443 and 563 (encrypted). Also, Binreader can buffer downloads to memory to significantly increase performance, which works nicely in our tests.
This is all this little helper can do, and of course the screen looks very clean because of that, which is why Binreader gets 8 out of 10 points for usability. Why only 8? Because the default setup is not at all optimized (4 connections won't max out most users connections, and buffer to memory is not enabled by default), and we'd really love a spam filter to keep all the crap uploads away. Other than that, we love what the software has to offer.
See our tutorial on how to correctly setup Binreader for maximum performance here.
3. Speed
Usually, we test newsreaders on a 150 Mbit connection, using our powerful Acer notebook (see here for more information on our testing equipment). However, when we wrote this review, there was only a 50 MBit connection available, which you'll see in the next screenshot. There might be an update to this review in a few weeks with our standard test added though.
It should be noted that we ran our first test without the way cool "buffer downloads to memory"-option enabled, which you should definitely do. Our computer considerably slowed down. Then, we activated the option, and also increased the amount of connections to 30. Then, we ran our test again, and after just a few seconds, the 50 Mbit bandwidth was completely maxed out:

So, 10 out of 10 points in terms of speed.
The Verdict: Small And Down To Business. For Anyone Who Just Wants To Download
Yes, Binreader doesn't have a lot of options, but that is how it was designed. Anyone looking for a simple piece of software to just easily download NZBs and be done with it, this newsreader (if you can call it that) is exactly what you're looking for. Speed and usability are great once you have everything setup, so if you look for