Quick Overview:
UseNeXt was the first one to make Usenet available to the masses, and has definitely had a great part in innovating the industry. As one of the big providers out there, you get good speeds, a high retention and a client with all important features to make downloads a one-click thing, very good for Usenet beginners.
Pricing is higher than usual though, with no unlimited plans available, starting at around $9 for 30 GB at full speed (and free, unlimited low-speed downloads afterwards), where others offer you unlimited downloading for this price. The search engine is not as good as it was a few years ago, but otherwise the software is decent, and very suited for beginners.
Also, there is a no-signup, risk-free trial available, if you download the free software (just click here) and enter your email address, perfect for all Usenet beginners. If you want to get a quick peek into Usenet, feel free to click on the link above and just check out how cool Usenet is – yaay!
To summarise, UseNeXt might be a good choice for you if you like the client and don't download very much. We recommend you simply check it out for yourself by downloading the free software and giving things a go, since this one of the few providers that offer such a deal.
If you're a power user and are already a bit more experienced though, you might want to check into other providers.
Our Detailed Review:
When talking about Usenet, veterans usually distinguish between the days before and after "Eternal September" of September 1993 when their patience was sorely tried by the mass influx of beginnerns hitting the until then relatively unknown world of online discussion forums.
In more recent Internet and file sharing history however, UseNeXT changed the rules again and eliminated the barriers between normal users and nerds. 2004 was the year when all of a sudden, the long hidden binary part of the Usenet was finally made accessible to "normal" people (more about what Usenet is), read: movies, games and whatever you can get on torrents, but with very high speeds and completely anonymously.
The then revolutionary, easy-to-use client was miles ahead of the competition, automating the very difficult process of downloading several split-archives, repairing the files in case of file corruption, extracting the archive and so on completely. Finally you could just enter a term in the search mask, hit the download button and things were settled: In just a few minutes, even large movies or games were right where they belonged: On your hard drive, ready to use.
More than ten years later, and the landscape has changed again. Dozens of providers competitors have appeared, and both the "seniors" and new players have not only vamped up on the technical side, with much higher retention times and stronger connections for maximum speed, but also developed their own handy clients to make things easy.
Also, UseNeXT was well-known in 2004 for their customer-unfriendly billing, giving them the reputation of ripping their customers off. Admittedly, in the last few years these issues have mostly been addressed as we'll see in this article, but old rumors die hard as they say.
Time for a fresh, new review! Has this provider been able to remain one of the top providers, and how user-friendly have they become? Let's find out!
1. Website And Signing Up
Up to the point, this describes their site the best. A short introduction to what the Usenet is and a big, fat button titled "Activate Free Trial"… well, at least you can't say they are to discrete, but many people don't want to read too much on the details and want to go for it straight away. Rather than inform users about their plans and pricing on the front page, visitors are directed to the signup form and you have to scroll down a bit to see their pricing. But one thing after the other, we will discuss pricing later; first, it should be noted that registration is a bit unusual.
First of all, upon finishing the trial customers don't get a monthly plan but automatically have to stay for 12 months with this provider. Of course, it is perfectly possible to choose a shorter lifespan, but you have to remember to manually change this setting in their members area, making things a bit less laid-back than we'd like.
You can't say they're not all but forthcoming with the details of the contract though: UseNeXT has learnt from their early days and gives it to you fare and square, a big plus to other popular services. Definitely a big step forward.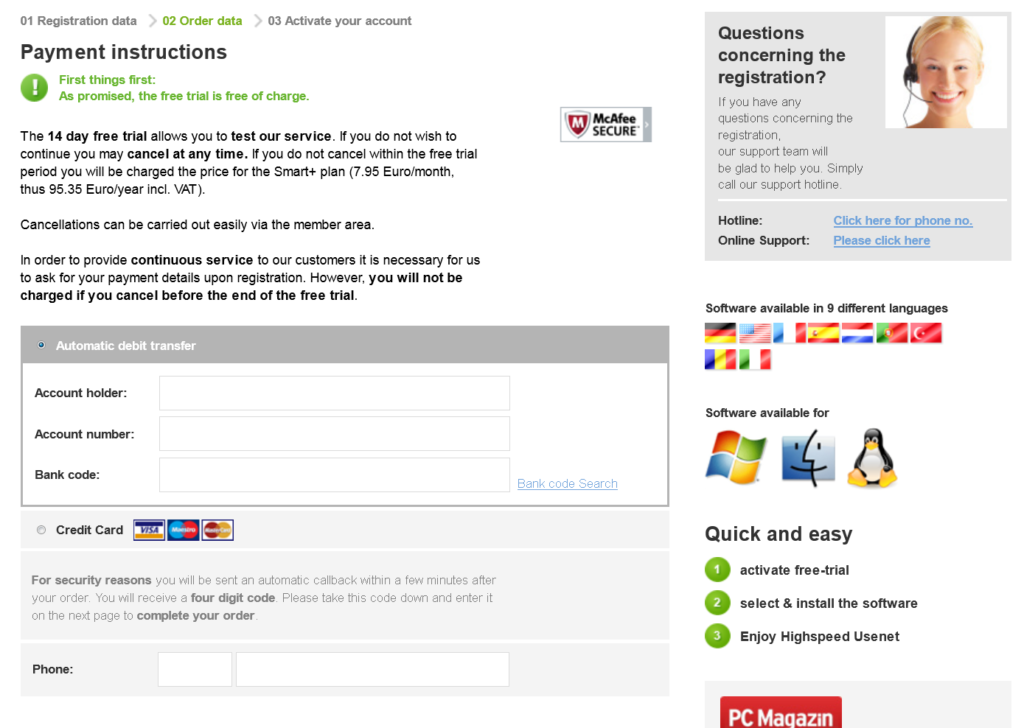 A bit annoying: You have to enter your phone number and get an automated call with a verification number to enter on the website, this type of fraud-detection is not used by competitors and only makes things complicated. Also, the only payment methods available are automatic debit transfer and credit card, with no Paypal option, very unusual in this industry.
Update: We have been informed by one of our readers that Paypal is, in fact, available, or at least was in the past; we couldn't find it in our test however.
But no matter: After a few minutes things are done and we're redirected to the members area, along with a link to the recommended, UseNeXt-exclusive "Tangysoft" newsreader. Downloading it takes a few seconds, and after typing the credentials you received in the confirmation mail, software and service are ready to use.
2. Plans And Pricing
The plans are also rather unusual. First of all, the volume in the free trial is advertised as "300 GB", but you can actually only download 10 GB at full bandwidth; afterwards you have to resolve to the so-called "basic" mode, featuring no volume restrictions but strongly reduced speeds of 1,000 to 2,000 kbit/s. This is called the "hybrid rate" model, and combines volume-restricted with flat rate plans. Notice how prices are in Euro and not in US Dollar or GBP, which is kind of important if you are from the US, UK or Canada.
Discounts are available for yearly plans, but even considering this pricing is quite steep when compared to other big names such as Newshosting, which offer a comparable service and software for about $15 (or $9.99 if you use our discount link) when paying monthly payments or $12.95 if you go for a year in advance ($8.33 respectively). On the other hand, 30 GB is more than enough for most casual users, so if you like the software it might actually be a good deal for you.
In any case, if you just want to test-drive the software, we recommend you just download the software directly and use the 1 GB no-signup trial, which requires you only to enter your email with no need to cancel anything. This is absolutely the best way to check if Usenet and UseNeXT is something for you, and the easiest too, as you'll not find a way that requires neither signing up or a contract kind. You simply enter your email and off you go!
The link to this offer is not easy to find, but this wouldn't be The Load Guru.com if we'd not have the answer ready for you. Just click here to directly download the software or, if you need any more help, read through our tutorial on how to claim your 1 GB Usenet account, though their isn't much to read it really, as things are pretty straightforward.

A word of caution: If you choose to signup for a trial on their website, don't forget to cancel within 14 days or you'll be billed for a whole year in advance. Several emails reminding you of this fact will be send to you, so don't miss the right time to cancel! We have written a short guide on how to do that, it's just a few clicks on their website.
3. Software, Search and Features: How Convenient And User-Friendly Is It?
Now that we've got the software on our hard drive, it's time for the fun to start. One click on the new icon on our screen and the client, called "Tangysoft", loads up and shows us its home screen:
It should take a few seconds for a beginner to grasp the whole thing, and find the relevant parts of the program. First of all, the search engine catches out attention, with a seemingly foolproof explanation directly below the mask. Before performing our first search, take note of a few other parts of the software: At the top, you can see where to change your settings, such as the path to which files will be downloaded, as well as the "Transfer List" and "Search". These are all the parts relevant to you.
Simple enough, so let's see cut right to the chase and download something! Following the guide, we enter in our first search term: "Ubuntu", a free operating system some deem to run a lot faster than Windows. After selecting "File Groups", we hit enter, and have a look at the search results: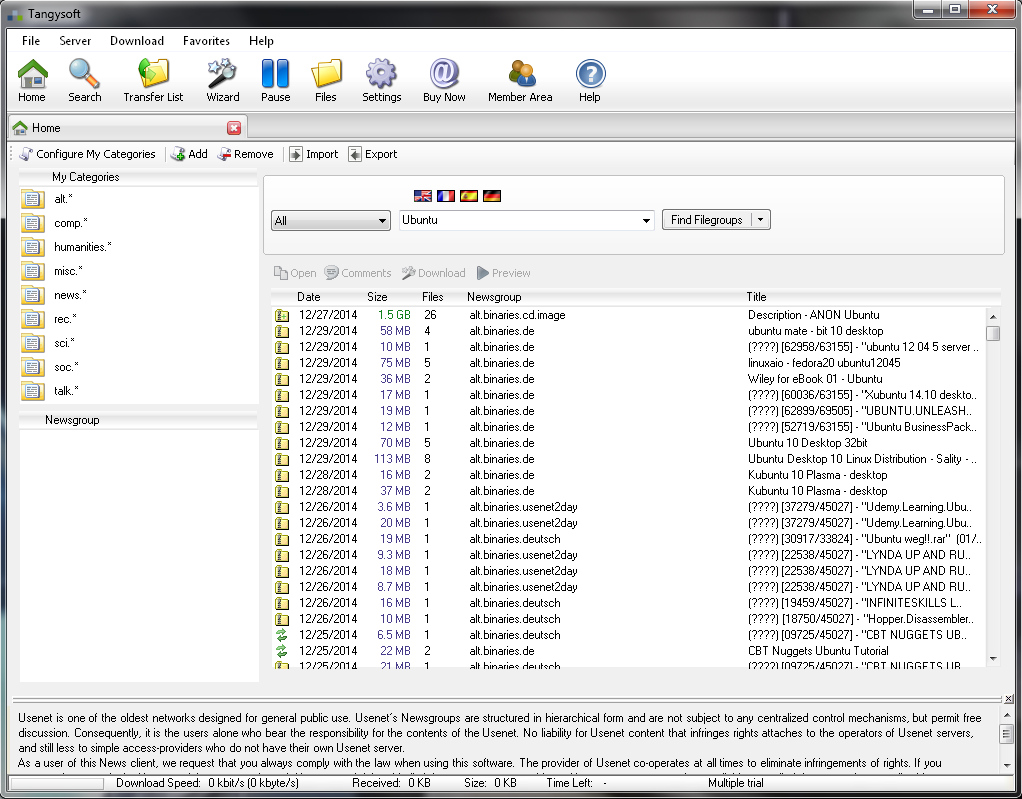 ¡Ay, caramba! As you can see, a lot of results are displayed, but finding what we want is a bit more complicated than we'd like it to be. It took some effort to crawl through the long list of possible matches, but luckily it's easy to sort the list by file size, which helped us a lot find the right file. Nethertheless, things are not as easy as they were in previous versions… weird, as things usually improve over time and don't get worse.
Next, a search for the free film "Steal This Movie":
Again, we had to scroll down to the bottom of the page to find what we wanted. This is much more of a hazzle than we'd want it to be (also, notice we're getting shown results that are not free but protected by copyright, so remember our disclaimer to always obey the law of your jurisdiction when downloading anything online).
With a bit of patience, as it might take one or two minutes to find the right result, this search engine should be good enough to download everything you need nonetheless. However, if you like things to go easier, we recommend you use an external Usenet search engine such as Binsearch.info, which behaves much like a torrent site and has a much better sorting algorithm than Tangysoft. Upon clicking on a search result you'll be offered an NZB file, similar to a torrent file. Open it with your Usenet client and off you go.
So, the search engine is not as easy as it could be, and it might take a few moments to find the right file. But now, it's downloading time!
When clicking on a result, you can either doubleclick it or hit the "Download" button on top of the listing. Some files have comments (more on that later), and when going for movies or audio, a preview can be downloaded, very handy indeed if you're not sure you found the right version of something. But for now, the download button is what we're going to click.
And here is where the magic happens, if you're used to slow torrents or other, more complicated ways to get your media. Clicking the button automatically launches the wizard, which takes care of the entire operation for you. All you have to do is switch to the "Transfer List" tab and see how things are going:
It took about one minute to have the file fully downloaded, unzipped and lying right on our computer, where it belonged. This is what you'd expect from any Usenet service, and UseNeXT is no exception: Speeds are right at the maximum of almost any Internet connection out there, making long waiting times a thing of the past. But since this is not a comparison between Usenet and torrents, we have to be a bit more strict: Did this provider really give us everything our Internet connection is able to handle?
Well, unfortunately, no. A little bit of background here: most Internet connections are capable to transfer about 50 megabits per second, allowing you to download about 6 megabytes per second. Since file sharing addicts almost never reach these numbers some of them will actually think they're in haven, getting unbelievable speeds when even reaching half of this, so you might be surprised to know that some connections are capable to even more if you pay a rather steep price, that is.
Luckily, we run our tests on very fast connections, reaching 100 Mbps and more; see a demonstration of how fast that turns out to be at peak speed in our Usenet overview article. So, in our tests services have to compete with the very top of what's technically possible for a rather small group of users with very fast connections.
And thus, UseNeXT only managed to reach about 80% of what a 100 Mbps connection can reach, and about 53% for a 150 Mbps connection. Now, what does that mean for you? If you've got an extremely fast connection, than maybe you'll only be able to download at about half the speed possible; a movie might take 2 minutes instead of 60 seconds, which might annoy hardcore downloaders.
Everyone else will consider this blazing fast, but fair is fair: It could be a bit better.
4. Support: How can you get help?
Most services online provide support by email and sometimes live chat, and Usenet providers are no different: Interestingly, UseNeXT differs from this by offering an additional support-hotline by ordinary phone, not by any online communication tool such as Skype, which is pretty outschool but might be a very interesting option for people who like to directly get in touch with companies they're doing business with.
Available from 10:00 a.m. – 08:00 p.m. (CET) during workdays and from 10:00 a.m. – 06:00 p.m. (CET) on Saturday, it's not for night owls, but cool for anyone else. So, if you appreciate this kind of customer service, you might want to keep this in mind when making your choice. Calling costs the same as a regular call to Germany, Munich though, and we would have liked a free number for the most important countries, but you can't get it all.

5. The verdict
All in all, UseNeXT is a mediocre to good service with an exclusive software some might deem good for their needs; interestingly it offers NZB support, which is standard among Usenet clients and makes it easy to use different methods to find files, such as external search engines, NZB forums and similar community-powered sites, really cool if you want to use Usenet like you used to get your torrents, only much much faster.
Disappointing results for the build-in search: Other clients such as Newshosting deliver better sorted results, and we don't like to have to spend half a minute crawling through a large list of possible matches. Here, we hope for future updates to make things smoother and more convenient.
On a side note, retention time, read the threshold before old content gets kicked from the servers, is a bit lower than with other competitors: At the time of writing, 2013 days for binaries, which about 5 1/2 years, as opposed to 6 1/2 years with Newshosting (2636 days as of February 2015).
Top marks for the download manager though, it delivers everything a quality binary newsreader should provide: Easy and hands-off, exactly as we like our downloads to run; everyone on our team agreed to give it 5 out of 5 stars, although speeds could have been a bit better, especially users with extremely fast connections will experience not-so-perfect results. This is irrelevant for everyone else though.
Pricing is rather steep, with the option to download unlimited amount of files at a slow speeds. Casual users might feel comfortable with their plans, but power users who download more than a few files per week will soon feel they need more volume than offered.
We applaud the trial accounts though. Especially the email-only offer for 1 GB is the perfect opportunity who just wants to give Usenet a little peak to see if it's for them, and the full free trial is very generous too, although it requires you to enter your payment information.