Say you are just inquisitive or have subscribed to Usenet and have a newsreader set up, and want to know how to find and download files—this guide shows you the ropes.
Disclaimer: We absolve ourselves of promoting or suggesting the use of Usenet for illegal downloads. If in doubt of the legality of a download, consult a lawyer. Want to download a copyrighted file, be sure to ask for permissions first.
With that out of the way, an overview of Usenet is necessary before getting started on the routes to finding files. On Usenet there are lots of terabytes of data resulting from large storage of media files, programs, games, documents and other files. To download a file you're authorized to, you'd need NZB files which inform your newsreader of what to download. These files are available on many forums or can be gotten using search engines.
On the last section of this article, we give tips on how to protect yourself from virus and how to avoid fake and password-protected files. Be sure to read through it. There are three methods to carry out a search for files.
Method 1: Using a Search Engine
Websites such as MysterBin.com, NZB.cc or Binsearch.info, give you the tools to search through Usenet using different keywords, and to add filters to provide more streamlined results (reviews of the big NZB search engines can be found here). It's an easy step to follow and you can try it out now. A simple example is typing in "Steal This Film", a well-known movie, in the search box on Binsearch.info. A screenshot of what the results will look like is displayed below: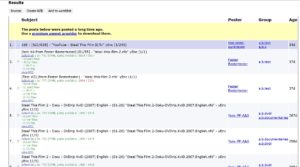 If you're a light downloader, and have very rarely downloaded files online, this might appear a bit strange and perplexing. Looking closely, you'd find additional information in the subject lines. These information give clues as to important details like the language (for video files), "NL" represents Dutch; size; format et cetera.
On scrolling through and finding an appropriate file, check the box on the left side of the file and hit the "Create NZB" button on the top of the results. The NZB file generated can then be opened in your newsclient and your download begins.
Tip: Some spam files can be sorted out by checking out the size of the file, and setting a filter to show uploads with a defined minimum size.
When using the search engines where you have a higher chance of getting infected files or viruses, we advise you to never open any executable file (.exe) when not using a reputable NZB directory as a source (see below).

Method 2: Using an NZB Forum
For safer downloads, forums are your go-to resource. This is because content found on forums are moderated by a team of experienced and often available Usenet users. A good list can be found through this link. Some forums require a fee for the premium sections, but there are plenty of files in the free section for regular users.
Method 3: Using an NZB Directory
Files can also be found via NZB directories. A very popular one is Newzbin.com which is updated by editors that search through Usenet for files. It's the same process for other directories, and so they have an impressive list of content.