Quick Overview:
HideMyAss is the best solution if you want a set-it-and-forget-it, secure solution for anonymous file sharing, and offers very fast connections. With apps and software for almost all major plattforms, including PC, Mac, iPhone / iPad and Android devices, setup is really easy even for total beginners.
With dynamic IPs and servers in loads of places, it is not only a good solution for anyone looking to bypass geo-restrictions, for example on sites like Hulu.com and other streaming sites, but also for anyone who likes to use file lockers such as MEGA or Uploaded.net in free mode, since every user gets his own, anonymous identity.
Speeds are also very decent, and especially if you live in a more exotic part of the world, you'll surely find a server located nearby to get a lot out of your connection.
Prices are reasonable, starting at $6.55 per month if you pay for a year in advance, and special discounts are often granted on special occasions, so it should be affortable for everybody.
On the other side, HMA keeps connection logs, meaning it is possible for them to trace back an anonymous identity to the customer that used it, and if a law enforcement agency requests the information and has a court order they will release this information, so if you need extremely strong privacy, you should maybe take your business elsewhere.
Other than that, the "IP binding" feature provides you excellent protection for unexpected disconnections, so you can use BitTorrent or any other file sharing application with peace of mind.
Our Detailed Review:
From all the VPN providers around, HideMyAss (or HMA as we'll also refer to it) is one of the most controversial, but also the maybe most popular VPN provider, due to heavy advertising marketing like, for example, the infamous "dictator vs. HMA" commercial that can be found on YouTube.
Much controversy regarding their logging policy has also arisen, so we had an thorough look at that too. And our verdict is quite positive: If you want full automation and a fast, very reliable, "set-it-and-forget-it" kind of VPN, HMA is the natural choice for you – the VPN of choice for everyone that doesn't like to mess around with options and just want strong protection, especially when sharing files with BitTorrent.
1. Website and Signing Up
It takes balls for a company to put up a donkey on with sunglasses on their website as mascot, so there's that. Otherwise the site is quite informative, with the most easy-to-understand explanation on how a VPN works and what it is good for we ever saw, drawing a comparison to a PO box, which is quite clever. A full list of servers available can be found, as well as links to both the forums and email support.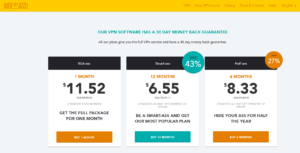 Creating an account is similar to other services: You enter your email and desired password, then choose a payment method. Interestingly enough, Bitcoin is available, so if you prefer anonymous payment, there you go. Paypal, credit cards and the like are all supported too, so no surprises here.
2. Plans and Pricing
Not only is there a donkey in the logo, but the plans are also named accordingly. You can choose between a one-month ("Kick-ass"), six-month (called "Half-ass", no kidding) and a 12-month ("Smart-ass") subscription, with discounts of up to 43% if you decide to pay for the whole period.
Apart from the, say, interesting names, these are quite normal sums in the industry, and ranged somewhere in the middle, a fair price for the service in our opinion. Cheaper options are available but often come the software is not as comfortable as the one from HMA, so basically it is up to you to choose what is more important to you.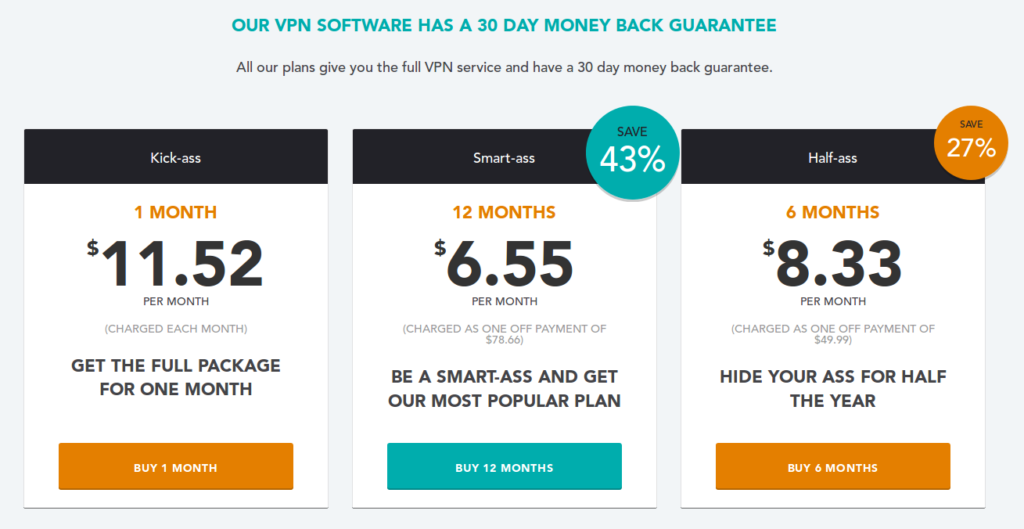 3. Features And General Overview: Is This Service For You?
First things first: HMA is one of the best solutions available for almost anything, but you should keep in mind that they keep connection logs, meaning they can identify which user used which anonymous identity (IP), at least for a certain period of time. This information is only released if a court order forces them to release this information, but still many people prefer no logging at all, so if you're a whistleblower and would like not to have your names in the newspapers like Edward Snowden or plan to do something highly illegal, better look for a different service.
Other than that, HMA is most likely for you:
– Hundreds of server locations are available, or to be more precise, "843 VPN servers in 301 locations in 182 countries" according to the website, with lots of more exotic places covered such as Greenland, the Philippines, Malaysia etc., so content blockades can be bypassed for almost all locations you can imagine.
Also, this means that practically no matter where are currently located, low-latency and therefore fast servers are available almost everywhere, so high speeds can be obtained worldwide. Other providers often only provide a narrow selection of, say, 10 locations and even less unique countries, and in this regard HMA is absolutely one of the top players in the market.

– As common in the VPN market, no websites or services are blocked except for some SMTP email servers (and to mitigate abuse, they sometimes temporarily block some ports on selected servers), but all major mail providers are whitelisted according to the Hide My Ass support. This means you'll be able to bypass almost all restrictions your provider, university or local network supplier may apply, for example for social networks such as Facebook, VoIP software or instant messengers such as Skype, MSN or ICQ.
Of course, all torrent, gambling or political websites are also accessible like any other site, so Hide My Ass will absolutely allow you to use the Internet freely again.
The only exceptions might come into play for China, Iran, North Korea or other places where Internet censorship is very strict and sofisticated, so if you live in one of those locations better contact the HMA support to check if their service works in such places if needed there.
– HMA allows BitTorrent or other file sharing applications, provided you don't use them in locations such as the US, UK and the like. For example, the Netherlands have a number of fast and safe servers that can be used for that, so just stick to those servers and you'll be fine.
Talking about torrents: The HMA VPN software has a easy-to-setup feature that allows you to also completely protect you against any security issues that frequently come up with connection drops, which makes it very interesting for those who like set-it-and-forget-it solutions that just do their job without having to worry about technicalities.
– All important protocols are supported, such as PPTP, OpenVPN and IPSec, very important if you want to use the service on a device that has only basic VPN support, such as older mobile phones or some video game consoles such as the Xbox 360.  For iPhone and Android there are even free apps available, designed to automatically setup everything for you, and you can get these apps for free in the app stores / markets of said platforms.
We should note that the HMA software does only support OpenVPN and PPTP, and you'll have to manually setup the connection for the L2TP protocol though, which tends to be a bit more complicated than we'd like it to be. Most users will not need to do any of that either way, but it would be nice if this was corrected in the next version of the software.
4. Security And Privacy: How Protected Are You With Them?
Nothing is more important than this if you go for a VPN service: How well does it protect your privacy?
How strong is the encryption?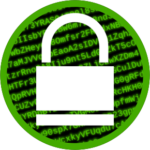 Encryption is what protects your data from being scanned through or intercepted while on its way from your computer to the HMA VPN server, and the other way around; possible attackers are hackers, your network administrator or even your ISP or governmental agencies. All supported protocols, except PPTP, are said to be up for the job, as they can't be decrypted, as not easily. Of course, we don't know what the NSA and similar intelligence agencies can do if they're really into you, but at least on the general side, you can trust that your data are protected against snooping.
At any case, it is certainly strong enough to securely access public WiFi or protect yourself from 99,99% of the "bad guys" out there. If you need to circumvent extremely strong censorship, which is often applied by restrictive regimes, you might need a different provider with more complicated, "stealth" encryption schemes. However, this most likely doesn't apply to you.
4.5 out of 5 stars for HMA here.
Privacy policy: What exactly is logged, and is there a way to match an external IP with your real identity?
Here, it is important to differentiate between two different kinds of logging: Your activities when connected to the VPN, such as which websites you visit, who you send emails to and similar, and IP logging or something similar, potentially allowing the VPN provider to know which anonymous identity was allocated to which user at a certain point in time ("connection logs").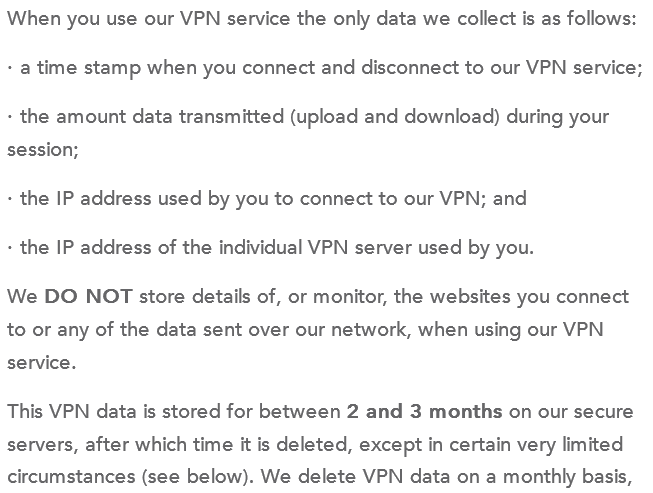 (Their logging policy, straight from the HMA website)
As almost all VPNs we know of, HMA does not track what you do online, or keep logs of what you do online. However, since every user gets his own, anonymous IP when connected to the server, it is relatively easy to keep connection logs, and this is the case for HMA: For a certain period of time, they can match an external IP with your user account. This information is only released when a court orders them to do so, as it happened in a infamous case in which the identity of the "lulzsec" hacking crew was revealed to the authorities.
If you only use HMA for file sharing or other, harmless things, you can most likely rely on being anonymous when connected to HMA. However, if you want to do something more controversial, or flatout illegal, you should definitely pick a different service.
3 out of 5 stars for HMA here.
5.  Speed: How Fast Is It?
As per our VPN testing policy, we selected some key locations for our speed test: one server in the Netherlands and one in the UK, both closely located to our point of connection. Usually, people use the Netherlands for secure downloading and generally to get a fast connection in Europe, and the UK to bypass streaming restrictions, for example on the BBC iPlayer website.
Speeds were very good to excellent. To find the fastest location, we browsed through the different servers to find the best speeds, and used the L2TP protocol. Here are our results:
UK: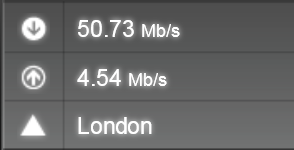 And the Netherlands:

Since we test on a 150 Mbps connection, you will most likely not get these results since your Internet connection is slower than what the VPN server can provide for you. Many users will be able to almost max out their connection, minus maybe 10%.
6. The Software: What Can It Do, And How User-Friendly Is It?
Now to one of the most important features of HMA: Their software. Contrary to other providers, they have their own software for all major platforms, including Windows / PC, MacOS, and mobile devices running on iOS and Android, designed to make setup easier and to provide some additional features.
Here, we're going to have an in-dept look at the Windows software, which we believe is one of the best available out there. We also wrote a tutorial on how to automate the connection, and how to shield yourself against unexpected disconnects.
Tutorial: How To Fully Automate HMA And Safely Use Filesharing Applications
After going through the installation process, you'll see the following window:
Here, you simply the username and password selected, and hit the "Connect To VPN"-button to use the Internet anonymously. Also, you can switch protocols, although only to either the very secure but sometimes a bit slow OpenVPN and the very unsecure PP2P; L2TP is currently missing and has to be setup manually.
Under "IP address settings", you can also tell the software to automatically change your anonymous IP every other minute, quite useless for most people if you ask us but some want things like that integrated.
To quickly find the right location for your needs, the "Country selection" and "Speed guide" are quite handy. What we love most however is the "IP binding" feature, sort of a selective "Internet kill switch". How example, if you love to use BitTorrent and want to be protected against unexpected connection drops (which will completely expose your identity) or simply are afraid to accidentally forget to fire up the VPN before using it, you can protect yourself against this easily: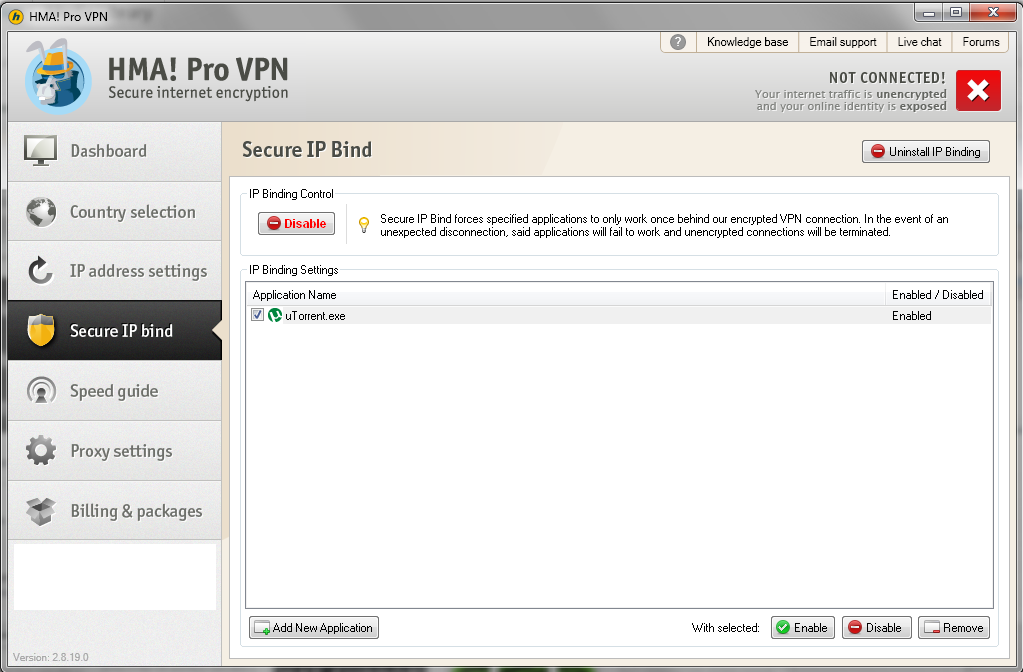 Just add the program you want to protect to the list, and the client will automatically block any program to go online without the VPN enabled.
A very easy-to-use and handy software that even beginners will find no problem in setting up. We'd like the both fast and secure L2TP to be added though.
7. Support: How Can You Get Help
– E-mail support is available during the whole year, and "recommended for confidentiality" according to their support website. To contact them there's a form on their website. Apart from this traditional way of getting help, you can also find…
– …Live chat support there, allowing you to quickly ask questions. This is really handy for most questions, but for more complicated issues you'll have to rely on e-mail support. Or, you can use the…
– … the HMA support forum, where a community also provides pretty good support. Also there is HMA staff active over there, so it sort of combines help from other users with the official channels. In some cases you might to able to get answers faster than through email, sometimes email is better. This is how it looks like: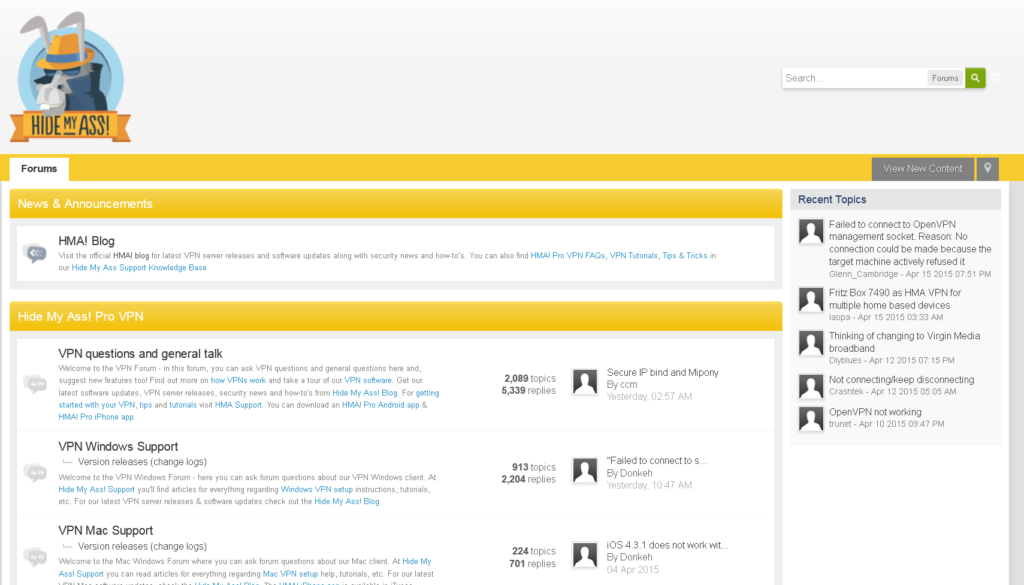 The Verdict:
HMA is very fast, easy-to-use for beginners and experienced users alike, and has all the options to completely automate your Internet anonymity needs (at least on the IP side on things). Another big pro is the enormous amount of available locations and servers, and the dynamic IPs.
All these features make HMA one of the best services, whether you want to bypass geo-restrictions as frequently encountered on  streaming services such as the BBC iPlayer and others, or even like to download files on file hosting sites such as Uploaded.to or MEGA, something other VPNs are often not up to.
[button href="https://www.theloadguru.com/hma-pricing" title="Title" target="https://www.theloadguru.com/hma-pricing" shape="square, rounded, pill" size="mini, small, regular, large, x-large, jumbo" block="true" circle="true" icon_only="true" info="popover, tooltip" info_place="top, right, bottom, left" info_trigger="hover, click, focus" info_content="This content will only show up if you have decided to show a popover."] Visit the Hide My Ass website [/button]
File sharing protocols such as torrents can be easily used anonymously, without any security holes such as disconnection issues due to the IP binding feature, perfect for everyone who likes total piece of mind. Keep in mind to use the servers HMA recommends for this purpose though,
The only real downside we encountered is the connection logging, which might put of some people who want a total non-logging policy, but most people will be comfortable with the fact that no activities are logged.
All in all, one of the best VPN services for almost everybody. Recommended!