The "underground" sites out there are like your government: You can't do without them and are glad they exists, but very often they try to screw you. Ads, sometimes merely annoying, sometimes potentially harmful for your wallet or your computer, are rife on these websites, being streaming, direct downloading or torrent sites. And of course, your anonymity is at stake and you risk getting tracked and getting bombarded with personalized ads in the best, or sued in the worst case.
But there is hope! Follow these simple steps and rules, and you'll be fine.
In any case you should know about the current tricks and learn to spot and avoid "ads" like fake download links and similar rip-offs.
Click here to learn more about the "Ads From Hell".
1. Use an ablocker like Adblock Plus
An adblocker is the most vital tool you'll ever download when it comes to using the "underground". Being very easy to install, it eliminates 90% of all threats and scams promoted via banners or popups. For Firefox, we recommend Adblock Plus, and for Chrome there is a version too.
2. Don't download any program you see on these sites.
No, streaming videos doesn't require you to download anything special, except the flash plugin you already have. The only file hoster we know of that really requires a plugin should simply be avoided (there are dozens of mirrors), and anything else is just an attempt to install some adware on your computer.
Once again: Hands off anything that is a program. No "plugin that takes only 30 seconds to install", no "better and faster browser", no "update to the last version", no "awesome video player", no NOTHING. It's all just annoying crap, designed to make a quick buck out of everyone who falls for it.
3. Don't enter any credit card information for "streaming".
No, that "free account" isn't free when they ask for your personal information, and "no charge" means "you agree that we'll bill the shit out of you once your 5 days "trial" has expired". And NO, you won't find anything you want in the "members area", at least nothing you can't find elsewhere for free.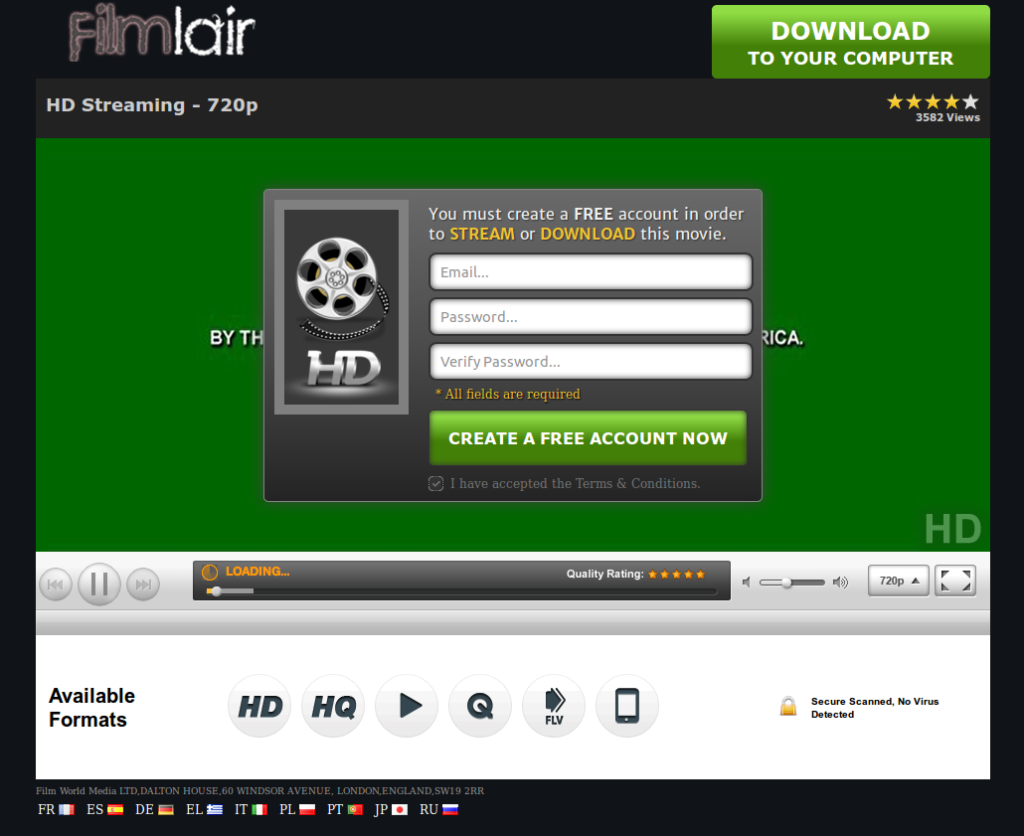 There are exceptions to this rule. In the anime niche, one or two legit subscription services exists, and of course there are a lot of reliable but paid sources for media out there. But in general, keep your ATM cards in your wallet and simply ignore such requests. The "free account'" you see is merely made to send you spam in case you don't enter your payment information in the next step.
4. NO downloading ANYTHING, NO entering sensible data!
Yes, we know, this site really looks as if its a the real deal. Yeah, there is the name of the film you want on top, a comment section full of "testimonials" on how great the quality is and how awesome everything is in general. Yes, there is a "loading screen", a "progress bar" at the bottom, a video playing for a few seconds showing you the usual logo of a big entertainment company like you see when watching a DVD.
Yes, BELIEVE ME, it is a fake. Don't. Download. Anything!!
Sorry, didn't want to sound patronizing, but too many people fall for these very clever schemes indeed. Even experienced users don't always understand what is happening, and make mistakes. Be among the clever people, who have learned from their (and our!) mistakes and avoid the common pitfalls. You'll the fine then, promise* 🙂
(*OK, our lawyer just said we can't promise you anything for legal reasons, so don't sue us if a meteorite falls on your house of anything, despite you following these basic rules)
OK, we don't want to treat you like a baby here, but using a good VPN service should be standard for anyone who doesn't want to be tracked or sued*. In our article "How To Use A VPN For Anonymity And Unrestricted Internet Access" we explain why VPNs are the best way to be anonymous online and how they work, but here are the basics:
A VPN encrypts all your traffic so that nobody in your network can what you do, hence protecting you from stupid warning letters from your provider, and swaps your IP against a new, anonymous one, making it impossible for any website or other person online to track your identity (except, of course, if you reveal too much about yourself or if you're a dangerous terrorist and the NSA is after you).
Oh, and say goodbye to any filters restricting which websites or services you can or can't use, a VPN takes care of that too. Setup is easy: It installs within a few minutes and chances are you won't even notice it's there once the connection is fired up.
Also, it's very unexpensive: Private Internet Access, for example, costs $3.33 per month and is about as good as you can get.
Bottom line, you should definitely use one. We compiled a list of the best and reliable anonymization services here.
*Read our article on legal issues and the dubious evidence used by "anti piracy" companies for more. Basically, it's absolutely indispensable for torrent downloaders, and very advisable for anyone using streams.