.
Quick Overview:
Newsleecher is one of the leading news reader for Usenet that has been around for a few years. In the past, it was known as a rather expensive but powerful newsreader, with a lot of interesting features that no other newsreader supported. For example, they were the first to introduce the so-called super search, which allowed users to browse through Usenet without having to download any headers, which in the days was a very annoying hassle one had to go through to find stuff on the Usenet.
But the competition was quick to follow up and so, we wanted to check what had become of the once so popular newsreader. As it turns out, they have improved their search feature quite a and have added a new feature called "Superleech", which helps users to automatically download stuff without having to initiate the download manually.
They also offer Usenet access, which we suspect might come from Astraweb, for a relatively cheap price in a package with a subscription to their search feature.
Also, you can directly browse through headers with them, and downloading speeds are very good. If you're looking for an all in one newsreader with lots of very handy features, and don't mind that it tends to use a bit more system resources than we would want it to, Newsleecher might be the right software for you.
Our Detailed Review:
For our in-dept test, we used the beta-version as it provides more features and the latest updates.
1. Website And Installation
On the Newsleecher website, you can choose between two different versions: The final and the beta version. While the final is about two years old at the point of writing, it has been tested for stability, but has less features than the "beta", which has all the latest inventions the Newsleecher team came up with. We decided to give the beta a go, and downloaded it from their website.
Installing the software, we noticed it doesn't contain any "additional offers" many other free programs include nowadays, so no need to watch your step to avoid downloading some "free browser toolbar" or anything like that.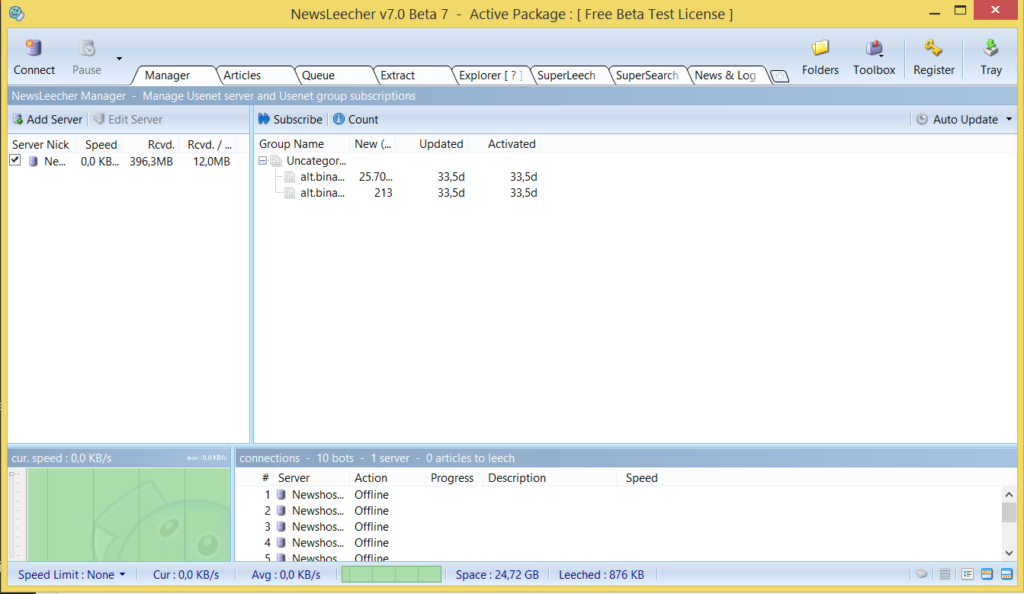 After firing the software up (nice start-up animation by the way!), we're directly thrown into the main window. It is easy enough to understand after you've clicked around for a bit, but we would have liked some kind of assistance for setting up servers and stuff, like other newsreaders offer. Nevertheless, after a few moments, you'll get the hang of it
2. Pricing
Back in 2010, we remember the prices to be $19.99 per year for the software, or $29.99 if you wanted to use the "Super Search"-option. In 2015, Newsleecher is now a subscription-based model: For $1.99 per month, you get the software, and for $2.99 per month, the software with Super Search included. This turns out to be $23.88 or $35.88 per year.
This is not all however: Newsleecher now also offers a Usenet service, for pretty competitive prices we might add. For unlimited downloads with unlimited speed, and a retention of "almost 2,475 days", you only pay $11.99 a month, which includes a license for the newsreader and "Super Search".
In our view, this is a pretty good deal, and ranges somewhere between the regular plans of most Usenet providers, and the special discounts you can get for them through our site. For example, an unlimited account at Astraweb, one of the leading Usenet services, costs $8 with our discount links, and Newshosting, along with their newsreader, only costs $8.33 for their service.
For anyone who loves Newsleecher and is prepared to pay a bit for it each month, these deals are pretty sweet. There are alternatives that cost less though, particularly if you just need the newsreader: §35.88 per year is a pretty steep price for a software if you ask us.
3. Features And Usability
Newsleecher has all the features modern newsreaders offer, like NZB support, automatic processing of downloaded files, support for backup servers. On top of all of that though, a few other things come in very handy:
– The build-in spam filter scans your downloads and stops the transfer if the file is a fake. It does that by looking into the archive after roughly 8% – 10% have been completed, to filter out the usual bullshit uploads (read our article on fake files for more). Many readers don't offer something like this, and spam has become a very big problem on Usenet, so this will definitely prove handy. In some cases though it might identify non-spam posts as spam, so you should carefully check if you might still want to give the post and manually resume it if you still want to give it a go.
– You can browse through headers directly, something people did in the "old days" to find content. Results are bundled in file groups, making things a lot more usable. Here is an example: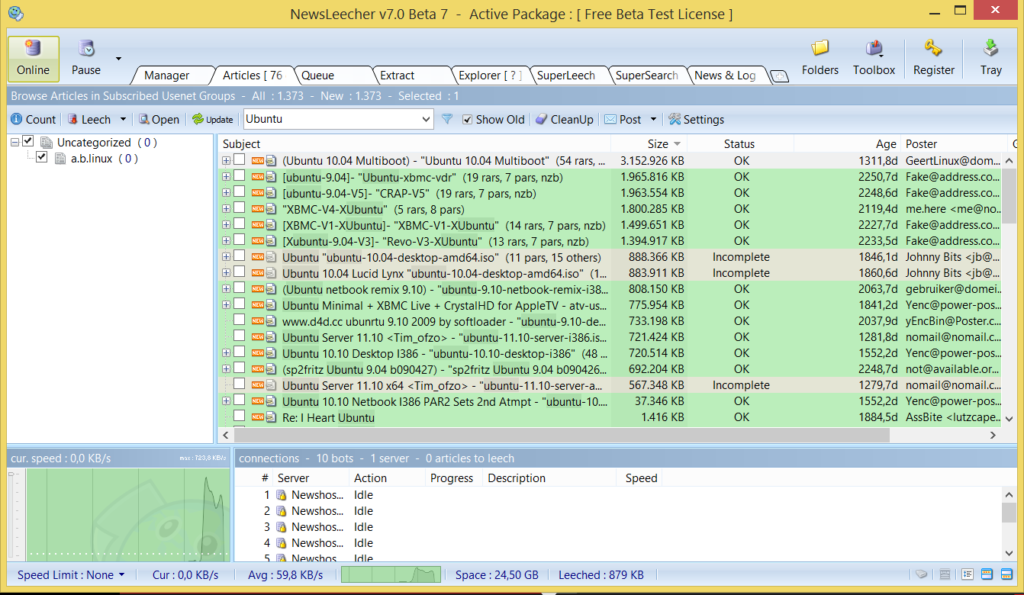 – "SuperSearch" allows you to quickly search through the entire Usenet without downloading any headers, making it a great replacement for most NZB search engines and sites. What distinguishes it from more "traditional", web-based search engines is that a) you can sort results by group, file size etc., and b) the spam filter automatically removes fakes from the list. Especially the last part is something that will make your life easier.
Also integrated is a "Superbrowse"-feature, allowing users to browse newsgroups without downloading any headers.
– "SuperLeech" allows you to automatically search the Usenet for new stuff and immediately download it as soon as it becomes available. This is particularly useful if you like to download content as long as it's "fresh". Fun fact: Some people use it to circumvent those annoying DMCA takedowns that tend to just flag everything as "copyrighted material" that broadly matches its criteria. Since those bots may create a lot of false positives, there may be a lot of legitimate reasons to use it for this exact purpose, too.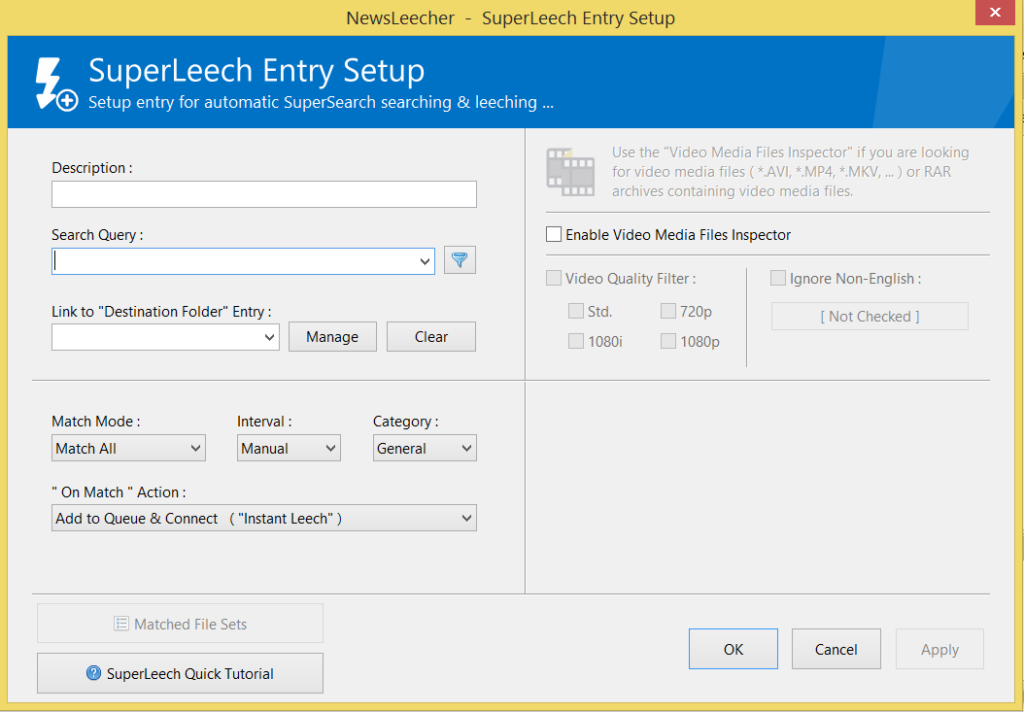 In terms of general usability, Newsleecher is pretty easy to use once you get the hang of it. Setting it up and using some its more advanced features (speed scheduling, adding a list of passwords if you like to download "private" uploads that some communities use, settings up backup servers etc.) is a bit more complicated than we'd like though. For example, the automated download handler that repairs, extracts and deleted the archives and repair files after downloading, has to be manually activated with several checkboxes.
If that sounds easy enough, the spam filter can only be found in the settings menu which is hidden quite well (click "Toolbox" and "Settings" on the upper right corner of the screen). In the next version we'd like to see an easier interface for beginners.
Apart from that, the software is a very powerful newsreader and we can only recommend it in regards to what it offers featurewise.
4. Speed
Especially when downloading with modern, very fast connections, newsreaders tend to get slow, lag, or just plainly download with less than the maximum possible speed. We use a very fast, 150 Mbps Internet connection and a modern laptop (see this article for more information about our test equipment), so it should be possible to get around 18 megabytes per second (Mbps). To furthermore test how Newsleecher behaves on a regular hard drive (not everyone has one of the more modern SSD-drives), we changed the default downloading directory to mimic what things are like for a regular user.
During our tests, Newsleecher sometimes lagged heavily. After starting the software again and rebooting our computer, everything worked nicely though, so no idea what happened here. Anyway, this is the result we got on our next try: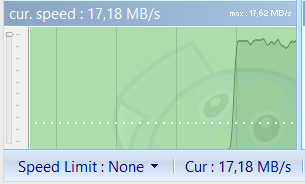 This result is really great, and well in the range of downloading speeds you can expect with this kind of hardware setup. It should be noted though that we had to try several times until Newsleecher finally did its job right as we explained above.
5. A Note About Stability…
The "beta"-version we used crashed a few times while using it, and thus if you're looking for a newsreader that is stable even though it gets updated regularly (the current "stable"-version got released in March 2013!) you might want to look elsewhere. We think this is a minor issue, but people have different priorities.
The Verdict: Loads Of Great Features, Some Stability Issues
Newsleecher is a great software with smaller issues, for a relatively high price (if you don't go for the cheap Usenet-and-client bundle). It can do everything a modern newsreader should be able too, such as backup servers, a powerful spam filter, search engine, and automatic downloader. The only problems we had were infrequent lags, and some crashes along the way.
If you can bear with these inconveniences, go for it and try it out. There is a free trial available, so no need to pay any money until you're absolutely sure it is what you're looking for.