Short Overview:
XLNed is an interesting provider for anyone with a very slow Internet connection, with a really unexpensive plans for people with less than 3 Mbps bandwidth. With only 900 days retention (which we suspect is more something like 1100 days, for reasons), it is for people who like to download more recent files, as very old content will not be accessible.
Prices start at €2.21 per month for only 2.5 Mbps, which is very slow for Usenet, up to €7.39 for 120 Mbps, which few people need. Interestingly, they offer anonymous payment per PaySafeCard or Bitcoin, although you'd have to enter false personal information to really remain private. Their website is straightforward, along with an FAQ for common problems, and support is also easily available.
We feel there are better alternatives though: Cheaper plans for slow connections can be found elsewhere, and for fast connections, others offer more retention and unlimited speeds for about the same.
Our Detailed Review:
XLNed is another brand from Highwinds, which generally offer high-quality Usenet for relatively modest prices. XLned is another name that has been present in the market for about 8 years, and is mentioned on various websites. A good reason to take a closer look. This is how they performed in our tests:
1. Websites And Signing Up
Professional, clear and straight to the point, that's the XLNed site for you. On the front page, you immediately see all the features and plans available, along with their mission statement: "We don't try to hide the obvious but state things as they are". This fits the website perfectly. We like the orange color, reminds us of the flag of the Pirate Party… but back to the review. Helpdesk and FAQ are easily found, very handy for beginners who may be overwhelmed at first with other providers websites.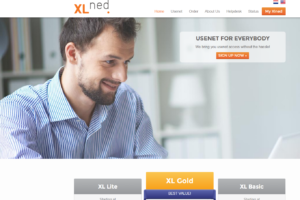 Signing up is straightforward, with loads of payment methods offered, even Bitcoin and PaySafeCard, which can both be bought anonymously. It would be nice though if they would not ask for so much personal information. What for? Others don't have that, so why should XLNed?
Regardless, after entering your information, you get an email with all important information, ready to be put into your newsreader to start downloading. Easy peasy.
2. Plans And Pricing
All plans are unlimited in volume, but have speed limits, ranging from 2.5 Mbps (very slow) to 120 Mbps (fast as hell). Here is a list of all plans, straight from their websites:
As you can see, they're on the lower end of what you usually pay for Usenet, and especially the speed-limited are cool for people with slow connections, although such accounts can be found for less at other places. As usual, things get cheaper when you choose a longer payment period, which results in plans starting at only €2.21 a month, which is almost unbeatable.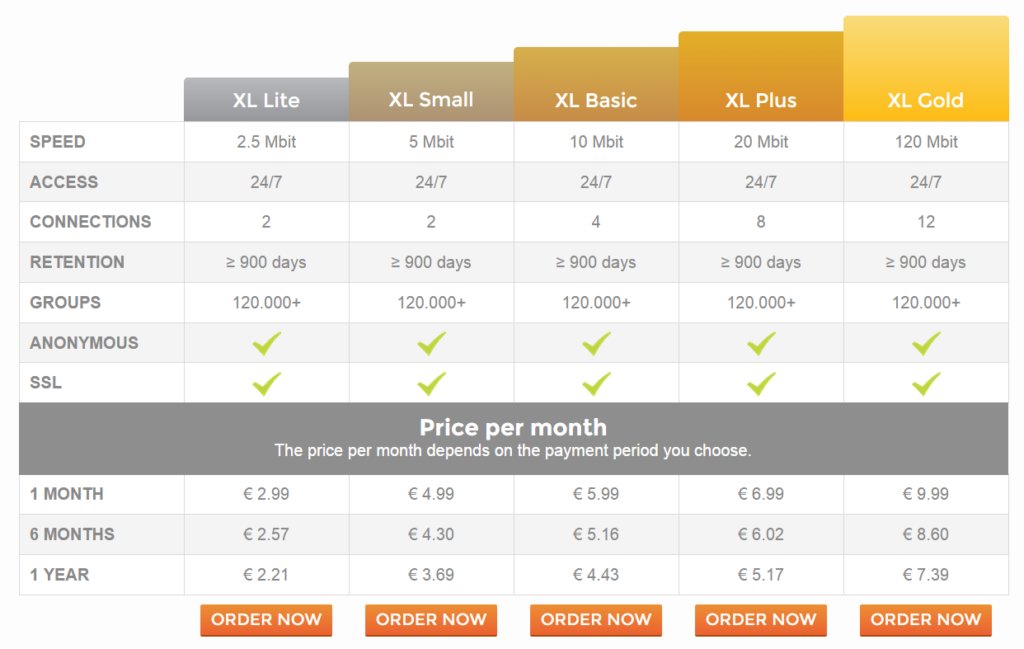 The available speeds are 2.5 Mbps ("XL Lite"), 5 Mbps ("XL Small"), 10 Mbps ("XL Basic"), 20 Mbps ("XL Plus"), and 120 Mbps ("XL Gold"). XL Gold starts at €7.39, which is certainly cheap, so if you want to save every cent and don't mind the low retention, it might be worth a shot. Personally, we'd recommend to pay a few cents more and get a different provider with completely unlimited speed and almost triple retention someplace else.
3. Speed: How Fast Can You Get That Sweet Content?
Thanks to Emily from Usenetjunction, we got a free "XL Gold" account to do a speed test. Our test setup allows for up to 150 Mbps downloading speed (read more about our testing equipment here), so we should be able to reach the 120 Mbps speed maximum on this plan easily. So we fired up our newsreader Newsbin Pro, entered the credentials, and added an NZB. Here are our results:

As you can see, we only got about 50% of the advertised maximum speed. Hopefully XLNed will work in this issue, you should be able to get the speed you're paying for.
4. Retention And Security: The pesky little technical details
Retention describes how long old files remain on the Usenet servers for you to download, and these days numbers from 800 to 2400+ days can be found on the market. XLNed offers 900+ days, but we suspect it to be closer to 1100+ days, because the servers seem to be shared with Pure Usenet. This could be wrong however, so don't hold us on that. This is ok, but others provide more, so if you like to browse through very old posts XLNed may not be the perfect match for you.
Nevertheless, this is ok for more recent uploads, and most content is regularly re-uploaded anyway by the good folks from the Usenet community.
Concerning security, XLNed supports SSL, which means all connections and transfers between you and the Usenet servers will be encrypted with the same protocol banks use to make their online banking systems secure, a standard among Usenet providers nowadays, and we're very happy XLNed includes even though their plans are so inexpensive. Also, they make a statement that "Privacy is highly valued at XLned; your personal data (including your IP address) aren't visible to others", which shows they're concerned about your privacy. We would have liked an explicit notice that no download logs are kept, as this is more important than stating the obvious (which they claim not to do on the same page…), although the IP thing might be related to uploads.
Regardless, Usenet providers never keep logs, at least as far as we've heard, so you can be safe that your downloads will remain private.
Our Verdict: They are better providers
Even though XLNed offers cheap plans for people with slow connections, and even the largest plan is relatively cheap, you can get better service for better prices at other places. On the positive side, uploading is immediately activated after signing up, and you can pay with anonymous payment methods such as Bitcoin and PaySafeCard, definitely a big pro. If this is important to you, they might be worth a go.