Short Overview:
UsenetServer offers a very high retention, good speed, and is among the best top providers out there in regards to quality. Along with SSL, they also have an additional VPN-service for a additional charge, which can help you bypass bandwidth throttling and spying by your ISP or network administrator, particularly interesting for people at universities or if there's someone else in your home network, who likes to spy on your activities.
All plans include unlimited volume and no speed caps, and pricing starts at $7.95 per month (with the special discount we found for you), one of the lowest prices in the industry for this quality. Also, they have their own Usenet search engine, which works pretty well; something most other providers don't offer.
We were a bit annoyed though because only 10 connections are provided by default, and even with the 20 connections included in the affiliate deal (usually, these cost an additional $3 per month) we were not able to fully max out our connection. Generally, speed is good to very good though.
Be sure to use the special deal provided on our website though, as you can save over 60% with it! Also, you can get a free trial on the main page, perfect to test if this provider is for you.
Our Detailed Review:
Having been around for about 13 years, UNS is part of Highwinds, one of the leading companies for Usenet access, which generally stand for good quality and good pricing. A representative provided us with a free test account so we could test the service in-dept, and we're glad to do so. With a retention of over 2460 days, unlimited speed and their own search engine, they certainly seem to be quite competitive, so we took a close look. Here is our complete review.
1. Website And Signing Up
Modern, with all information available on the front page, and a nice theme, that's the website of UsenetServer for you. Sometimes in 2014, it was relaunched from a, let's say, "vintage" design into its present form, and it has certainly been a good move. The support section can found in the upper navigation menu, as well as a blog, which has some really interesting posts, not just the usual self-advertising. If you got a few minutes, take a look, its worth it!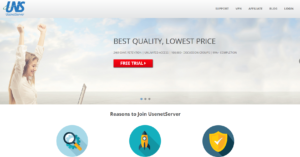 Signing up is easy and straightforward: You enter your desired username and password, the plan you want (more on that later) and enter your payment information. You can choose between credit cards and Paypal, and after a few seconds you'll receive a confirmation by email, along with all important data like the server address of their Usenet server. Enter those information into your newsreader and you're ready to go!
2. Plans And Pricing
The plan structure is a bit different than usual. First of all, there are no yearly accounts that you can order on the "normal" website (not talking about the special offer we found for you), and only three payment periods: 3 days, 1 month and 3 months. Prices start at $3.00 for three days, $14.95 for one month, and $39.95 for three months, which turns out to be $13.30 per month.
All of these plans are unlimited in terms of volume and speed, and include 10 simultaneous connections to the Usenet server, which is enough to max out most connections. However, there are two different add-ons:
– 10 extra connections, which helps people with very fast connections to get more speed. Judging from our tests, everyone with an Internet connection capable of more than 80 Mbps will greatly benefit from this option, because otherwise you might not get all the Usenet fun. It costs about $3 per month on top.
– A VPN, made to encrypt and anonymize your Internet (read more about VPNs here). We recommend anyone to use a VPN for anonymity, unfortunately though they don't include much information about it, including such important information as how many servers there are, their logging policy etc.; we asked a representative for clarification, and got the following response:
[pullquote cite="UsenetServer.com Representative" type="center"]100% Online Security, 7,000+ Anonymous IP addresses, 70+ servers in 17 countries, OpenVPN, PPTP, L2TP, Free and Easy-to-Use VPN software, No Logging, Wi-Fi Hotspot Protection, NAT Firewall, VOIP Support[/pullquote]
From what we understand, this means there is no IP logging and a high range of locations and servers. We downloaded the software and it looks basic, but stable; speeds are among the fastest we ever saw, very similar to the ones from IPVanish, a VPN provider from Highwinds we tested a while ago. So, this service can be worth a shot if you'd like to get both Usenet and Internet security from one hand.
So, all in all, the plans are good, and there is a way to get a special deal:
Usually, you have to pay at least $16 per month for an unlimited account with 20 connections. However, we were allowed to give you an exclusive discount: For only $10 per month, or even $7.95 per month if you pay for a year in advance, you can get full Usenet access. We specifically asked their support if this deal includes 20 connections instead of 10, and got a confirmation.
This is a 60% discount compared to the monthly plan you can find on the front page.
Click here for the $10/month UsenetServer Special Offer
Click here for the $95.40/year UsenetServer Special Offer ($7.95/month, save 60%)
It should also be mentioned that new customers can claim a free trial, or more precisely a money-back guarantee. If you don't exceed 10 GB in downloads, you can get your money back in the first 14 days if you're unsatisfied, which we don't think you will.
3. Speed: How fast can you get that sweet content?
OK, prices are inexpensive, but what about the speed? As we mentioned above, accounts normally come with only 10 connections, and you can get an additional 10 for as an add-on. This can possible affect speed, most notably for anyone with a very fast Internet connection. As we mention on this page, our test equipment allow for speeds of up to 150 Mbps, which is way more than most people can reach.
So, for this review, we did two tests, not one, to see the difference between 10 and 20 connections. The newsreader we used is Newsbin Pro.
With 10 connections, this was our result:

80 Mbps is more than enough for about 90% of users, and we're rather happy with this result. However, this is only about 60% of our bandwidth, not enough for the top 10% of users. So, we did another test with the full 20 connections our account allows for, and got this:

As you can see, 124 Mbps what we got after waiting for a few seconds for the speed to stabilize. 83% of our maximum bandwidth is a lot, and should make almost anyone happy (the special deal we linked to above includes 20 connections by the way). However, it would be cool to get the full 150 Mbps; this would be enough for the remaining, say, 4% of users with the really fat connections.
All in all, UsenetServer gets a good 85 out of 100 points for download speed.
4. The UsenetServer.com global search: A good alternative to other search engines?
One special feature of UsenetServer is the "global search", which is a search engine very similar to Binsearch.info, but exclusively for their customers. It can generate NZBs for easy downloading, and has a few filters, which allow you to specify how old or new a file should be (both is possible), and to search only in specific groups or your favorite uploader.
We missed a filter for file size and for spam; both would have made this into one of the top search engines around. However it still is powerful, especially when you consider that there are no annoying ads like with all alternatives around.
If you like having access to this search engine, it might very well be an argument for this Usenet provider.

5. Retention and security: The pesky little technical details
How high is their retention: For over 2470 days, old files remain on their servers. As was to be expected, their service has kept pace with the competition. With their retention at almost 6 and a half years, it seems they almost don't delete old content at all anymore. An excellent result if you fancy a very large archive. You'll most likely never be in the situation that you can't retrieve a file because of its age.
About security and encryption: As is standard with most providers, you have the option to encrypt your connection with SSL, particularly helpful if you are on a network with a snooping administrator, or if you don't fancy your government tracking what you download, something more prevalent in repressive regimes. This is the same encryption used on online banking sites or by payment processors such as Paypal, so this provides you with pretty strong protection.
If you want even more protection against your network administrator or ISP, you can opt for their additional VPN service, which will further encrypt the traffic.
No logs of what users download are being kept, no worries here: Based on how Usenet is structured, a provider would have to downloads tens of thousands of separate articles for each download, which is completely unrealistical.
Our verdict: A strong service for a very low price
Like most Usenet services provided by the Highwinds Group, UsenetServer has an interesting offer: Quality service with a very high retention, very competitive prices if you use the special deal we link to above, and as add-on a VPN service for special security. Also, the search engine provided by them is a good alternative to many others you can find online.
Two things could be done better though: Speed could be a bit higher, which admittedly will only affect a very small number of users, and we would prefer if you would get more connections by default. Other than that, we think you'll be very satisfied if you choose them as your Usenet provider. Recommended!
PS: Ever since a reader told us he reached the wrong website when searching for a service we recommend, and because some people don't want to simply click the link on top of the page (don't ask us why), we always include a small preview of the website on the bottom of our reviews. It would be much more simple to simply click the link on the top however…