[x_alert heading="Important: Are you protected?" type="success" close="true"]
You should never download anything with eMule before protecting yourself with a VPN.
The eDonkey / eMule network is under strong surveillance and dozens of users are getting sued each day.
Click here to protect yourself.
It will only take you a few minutes.
[/x_alert]
NZBClub is another free Usenet search engine, and definitely among the better ones out there. Bankrolled by advertising for Usenet providers on its front page, there are almost no ads on the entire site (except for one very annoying exception). Advanced search features allow you to pinpoint file size, newsgroups to search, and age of file, definitely a good thing.
Of course, it doesn't show more in-dept information about what kind of video format is inside, or all the other good stuff newznab-based indexers show you, but still way more other search engines can do. Other features include a spam filter, hiding of password-protected uploads, and we definitely appreciate that, although the spam filter could definitely do better. 
Retention is at an impressive 2500+ days, so even very old posts can be found, great for anyone with a Usenet plan from Newshosting, Astraweb and other major providers.
Registered Users Get More Features: Watch List, Favorite Search, Saved Results
Now, as the "club" in "NZBClub" suggests, you can signup and get access to some additional features. These are:
Favorite searches: Save a whole set of search parameters so that you don't have to enter them every time you want to repeat them. For example, do you regularly search for "Movie XYZ", but only in certain newsgroups, only with a file size of 1 to 2 GB and always sorted by age? Then you can simply save the whole thing and repeat the search with a simple click.


.



(This is what a saved search looks like)
Watch list: Let NZBClub watch Usenet for posts with certain criteria. As soon as a new file set matching those if uploaded, it will show in the "watch list"-tab. This reminds us of the "SuperLeech"-feature of Newsleecher, minus the automatic downloading. Still, it is a very handy feature.


.

Saved results: Save the results of your latest searches. Cool for anybody that likes to search for things on Usenet at work or while not on his home computer, to download them at a later time.
Security Features: For The Paranoid Among Us
What we really found interesting, though, is the capability to not only encrypt the connection between you and the website, but also to "encrypt" all search parameters and even change the name of NZB files you download, so that no one will be able to see what you're doing, be it your curious network administrator at school or at work, or your ISP. Anybody who is a bit on the paranoid side will greatly enjoy this.
In actual, real-life use, we found these features to be a little difficult to use though. For example, it is not very obvious how to activate the renaming of NZBs to the current date instead of file name, so NZBClub should work on that.
Search Results: Good, But Could Be Better
The most important feature of a search engine is, of course, the actual result pages. Here, we can say that NZBClub performs well enough, but could be much better. For example, they have a spam filter, and promise to scan downloads for attached .exe-files, usually a relatively clear sign for something fishy going on if you download a movie.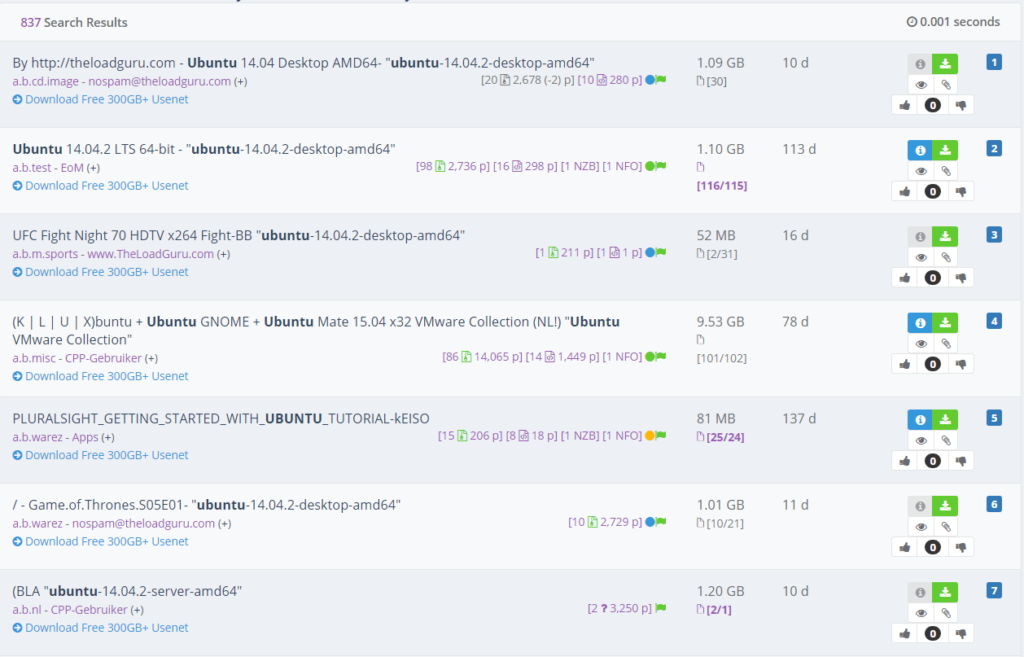 (A demo search for "Ubuntu", a free operating system)
In reality though, things don't work as smooth as promised. For example, almost none of the usual fake uploads for movies almost every experienced Usenetter instantly recognizes as fake was filtered out, and the included virus / fake codex wasn't marked at all. This is very sad, since the guys at NZBClub seem to have the exact right ideas at mind to help its users find good content… hopefully they will work on it and fix these issues soon.
Get Rid Of This Fake Download Button!

The website is mostly free from ads, but one very annoying exception can be seen in the screenshot above: In every post, there is a big, fat "Free Download" button. Beginners might be tempting to click it, but instead of downloading the NZB (that's what the green "NZB"-button to the right does), it redirects users to Usenet.nl, a very expensive Usenet provider. Honestly, this sucks. Please get rid of it, guys!
The Verdict: A Great Search Engine With Minor Flaws
NZBClub is definitely one of the best search engines we encountered so far, even better than some paid ones. Of course, there are some minor flaws we'd like to see corrected, but all in all it is a great resource for NZB files and beginner-friendly. We like it!