Short Overview:
Whoa, what is that? Easynews is definitely not your usual Usenet provider, but more of a downloading interface for newsgroups even your grandma could use. Made specifically for movies and videos, it combines almost all important features of a newsreader and a search engine in one, easy-to-use website.
The whole thing works like this: you log into the website, enter the name of the movie or video looking for in the search mask, and Easynews will show you a list of results, along with screenshots of the movie and additional information about the file. Then, you just click on the search result and you can immediately download the movie or video.
No needs to repair or extract files, install additional software on your computer or anything else: the movie is always ready to go.
This works for any other kind of file, too, although it is clear Easynews was originally designed to download movies, music and pictures, and not so much software or books. You can definitely also use the service for that, although we feel a more traditional newsreader or search engine is more fit for the job.
This exclusive service comes at a price though: Easynews costs way more than other Usenet providers. You can also use their service with a regular newsreader, but that isn't included in all plans. If what you want is it really easy to use website for downloading movies and music from Usenet, and you don't mind paying a little more, Easynews is really one-of-a-kind and a very interesting service.
Our Detailed Review:
We came across Easynews for the first time in 2007, when someone mentioned it in the forum as their favorite Usenet provider. When he mentioned what he paid for limited volume plan, we were dumbfounded. How could anyone pay so much for a simple Usenet provider? We think it was something around $20 for 20 GB of download volume or something like that, and that was at the time were unlimited Usenet plans were priced at around $15 per month. What was so special about this provider?
It turned out Easynews was kind of a hybrid between Usenet and a downloading website: you could download everything straight from their website, without the need for any newsreader. Apparently, it was so handy that people were ready to pay more than for any other USENET provider. We had a look at the website, but figured we were smart enough to do with the normal way, and forgot all about it.
Thankfully, someone from the team of Usenetjunction contacted us a few weeks ago and asked us if you would like to review Easynews. We were curious about how the service evolved through the years. So, here is our review:
1. Website And Signing Up
Easynews is not your usual Usenet, they provide a lot more information on their website then many other providers to. Rather than just showing you the pricing and some basic information like, for example, retention time and thinks like this, you get explanations as to why Easynews is better than other providers, along with demo videos and a sample search. Talk about some good promotion.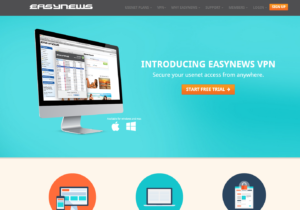 Signing up is easy: You simply select a plan, enter your information and choose a payment method. More on the plans in a moment.
2. Plans And Pricing
When compared to the plans you can usually find on Usenet, Easynews is not only a little bit more expensive – it costs several times more than your usual provider. First of all, not all plans offer the same retention on the web interface: The cheapest plan ("Classic") has only 150 days, and you have to pay extra for more. Secondly, all plans have a traffic limit, at least for downloads running through the website, ranging from 20 GB per month to 150 GB per month. A free trial is offered for all accounts.
To sum them up, the following plans are available:
– "Classic" has only access to the web interface, with a 20 GB per month limit, and 150+ days of retention, and costs $9.98 per month. For an additional $1.99, you can get 400 days more retention, and for $2.99 the full retention is available (2093 days at the time of writing). A VPN can be bought for $2.99 per month.
– "Plus" offers 40 GB per month and 200+ days of retention through the web interface. Same as for "classic", you can get more retention for an additional $1.99 (400 days) or $2.99 (full retention, 2093 days at the time of writing). A VPN can be bought for $2.99 per month.
– "Big Gig Plan" costs a whopping $29.94 and includes full web retention, 150 GB per month through the web interface, and full NNTP access. The VPN is also included.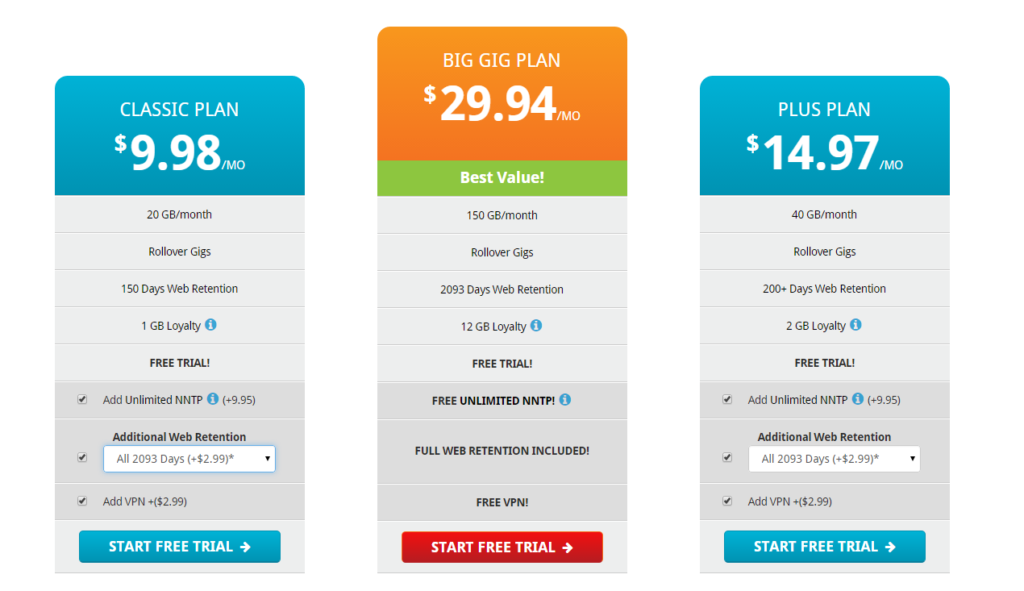 So, what can we say about this pricing structure? It all depends on what you're ready to pay for the, admittedly, awesome web interface service, and if you also want to use regular Usenet. For casual users, "Classic" is the way to go, although we absolutely recommend you opt for the additional web retention if you're not one of those guys who only want to see the latest stuff.
"Plus" is basically the same as "Classic", only with double the volume and more retention. "Big Gig", on the other hand, has quite a bit of web traffic and includes free NNTP access and the VPN, along with the full retention. It is quite expensive, but if you think that the VPN costs about $6.49 per month (we think it has the same servers as IPVanish, see our review of Highwinds VPN service here), and unlimited Usenet starts at $8 for a good service with unlimited speeds and about 2500+ days of retention (read our reviews of Astraweb and Newshosting), it helps put things into perspective.
After subtracting the value of all additional services, the price is down to about $15 per month for the biggest package. Not such a bad deal then, and as we said, it all depends on what you usually use or would buy additionally. Personally, we think it is a fair deal for anyone who is ok with around 400 days less retention on their usual Usenet deal, and who like the VPN they offer (read our review for more).
It should again be noted that all plans come with a free trial, and unused GB roll over to the next month.
3. Search and Features: How Convenient And User-Friendly Is It?
Here Easynews really shows us what it can do, and what separates it from other Usenet services. To access the main web interface, simply login, and soon you'll find the main search mask. You can choose the "advanced"-search with detailed filter options like age, poster, size etc., but for this demonstration we'll just show how the basic search works.
Simply enter the name of the movie you want and results will look like this: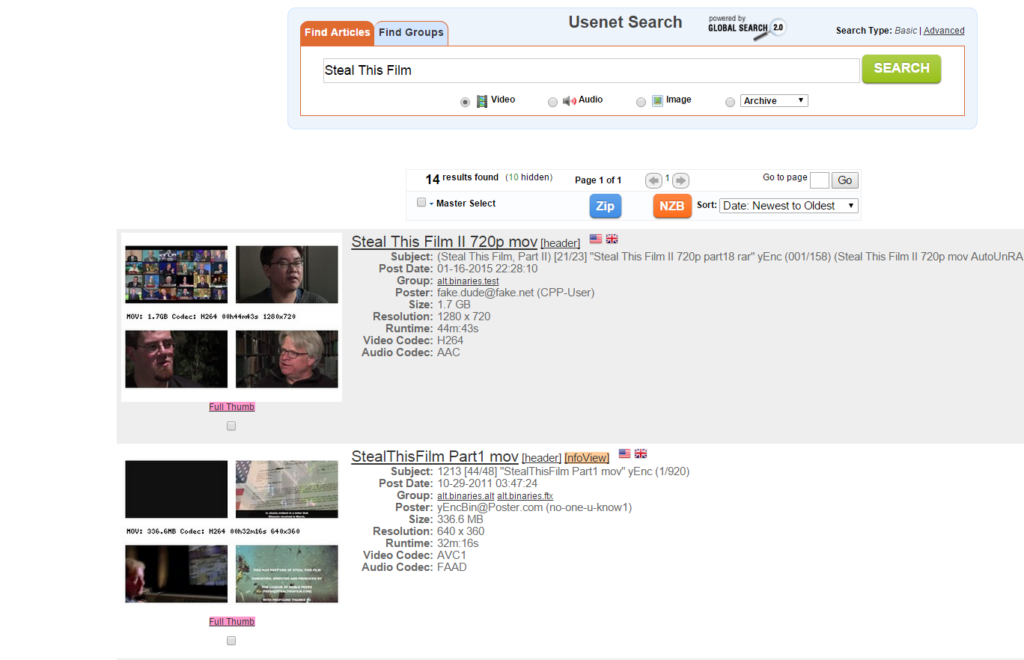 As you can see, not only are the results lined up beautifully, along with detailed information about file size, video resolution and total run time, but there are even automatically generated thumbnails, helping you to easily check the quality and contents of the film. What's even better, downloading the movie just takes one click on the file title; no unzipping, parity archives, or similar technicalities. The file is ready to watch as soon as it is on your hard drive.
Even better, you can easily detect fakes or falsely labelled posts, better than by any other mean.
Another strength of Easynews is picture search: We have never seen an easier way to browse through images and pictures on Usenet, be it cars or… well, what other kinds of images people come to Usenet for 😉
Does it work the same for music, software and documents? Yes, but there are limits to the convenience here. First of all, when searching for music, results tend to get divided by track, not albums or collections, which can be annoying if you don't want to download separate songs. Secondly, when it comes to anything non-media, some advantages of the Easynews interface are quickly nullified: How could the system produce meaningful previews of those?
Also, the results are less-well sorted for software, and you basically have to do a lot of digging to find the right post. It still is a big advantage to be able to just download the already-extracted files without having to resort to a newsreader, but we prefer to simply use a newsreader for these things.
Other features are:
– The zip-manager allows you to add files to a list, and then download them as a set.
– Browsing through newsgroups, with filters such as date of posting and so on.
4. Speed: How fast can you get that sweet content?
When it comes to speed testing, there are two separate things to differenciate: Speeds over the web interface and when using a newsreader. First of all, it is important to note how our tests generally work:
– Our test equipment is composed of a very fast 150 Mbps Internet connection, and a powerful laptop with SSD drive. Learn more about our setup here.
– This allows us to check what a Usenet service is really capable of, at least for our geographical location and peering. In reality, most users will most likely never be able to reach our speeds, because their connection is maxed out with only a fraction of our possible bandwidth. Hardware limitations, such as slow hard drives, are also practically eliminated.
With this being said, we are happy to announce that Easynews reached a pretty good speed: On the web interface, wo got about 14 Mbps on average with just one download running, with our possible bandwidth being 18 Mbps. Most users will be perfectly able to completely max out their connection.

Regarding NNTP speed, things are extremely fast: We got around 17.5 Mbps, which is more than 90% from what we could theoretically get, so speedwise we can only recommend Easynews to anyone. Definitely a very good result.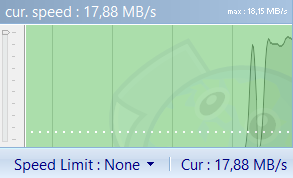 5. Retention and security: The pesky little technical details
No review would be complete without a few comments on retention, and of course security and encryption. Most of these things are industry standard, but we feel it is important to at least skip over these details:
How good is their retention: For over 2093+ days, old content is being kept on their servers. As was to be expected, their service has kept pace with the competition, although some have more. With their retention at almost 6 years, it seems they almost don't delete old content at all anymore. An excellent result if you fancy a very large archive… when you were extremely limited in the choice of your downloads about 6-9 years ago because older stuff had to go to make space on their servers for new content, nowadays retention is almost a factor to be ignored when you choose one of the better providers, but Easynews is among the very best, topped only by Giganews which provide about 4 days more.
Note, however, how the web interface on the lower-priced plans have significantly less retention. So, this only applies for the biggest package, and we can only recommend you get the additional retention upgrade for the "Classic" and "Plus"-packages.
About security and encryption: As is standard with most providers, you have the option to encrypt your connection with SSL, particularly helpful if you are on a network with a snooping administrator, or if you don't fancy your government tracking what you download, something more prevalent in repressive regimes. This is the same encryption used on online banking sites or by payment processors such as Paypal, so this provides you with pretty strong protection.
SSL is also available for the web interface, so you're fully protected there too.
No logs of what users download are being kept, no worries here: Based on how Usenet is structured, a provider would have to downloads tens of thousands of separate articles for each download, which is completely unrealistical.
Our Verdict: Well Worth The Price
Easynews provides the easiest service we could find to download movies, music and TV shows. This provider is really one of a kind, as the web interface makes things so easy even completely unexperienced users can use it with easy. The very intuitive search, and powerful preview features such as thumbnails are very cool indeed, and if you need such features by all means go for it.
For software, games and music, these pros are not as strong by design, and the pricing is pretty steep. You really pay for convenience with Easynews, and it is up to you if you think it is worth it or not. For anyone looking for a complete package, with regular Usenet, VPN and web interface included, the biggest plan might be a good choice though.
PS: A reader recently wrote us he did a search for a service we recommended and landed on the wrong page. Honestly, we have no idea how this might have happened, but here is a live preview of the correct website. Better yet, just click on the link at the top of the page, and you'll be redirected to the right place, period.