This little piece of free software is made as a replacement for the application killer feature some VPN providers include in their software. In case of an unexpected disconnect, it automatically closes any running program you like, for example a torrent client. When the connection is back up, it restarts the closed programs.
Setup is not as easy as we'd like, and currently many people have problems even getting the software to work, so better use a VPN service that has its own kill switch build-in.
Alternatively, you can use VPNWatcher, an alternative that is easier to configure, and does actually work at the moment.
For more information on how to protect yourself against accidental disconnects, read our article:7 Ways To Protect Yourself When Your VPN Connection Fails
Our Detailed Review:
VPNetmon is among the first application killers or disconnection protection programs that came up several years ago when VPNs started to get popular among the file sharing crowd. Designed to check if the VPN is still active or down several times a second and immediately close up to 3 programs you can choose freely, it stops or greatly reduced data leaks, by blocking these programs from transfering any data over the unprotected connection.
For quite a few years, VPNetmon was the only program of this kind, and so it is still recommended on many sites and forums. But considering that the last version is already a few years old, you can say it is quite old-fashioned.
Build for Windows XP, it also works on Windows 7 and 8. Sounds good, so we went ahead and put it to the test.
1. Installation And Setup
The official website is vpnetmon.webs.com, where you can find the client under "Downloads". Just a few KBytes large, downloading it should take less than a second. Afterwards, you extract the archive to your hard drive and start "VPNetMon_W7_Basic.exe". There you go: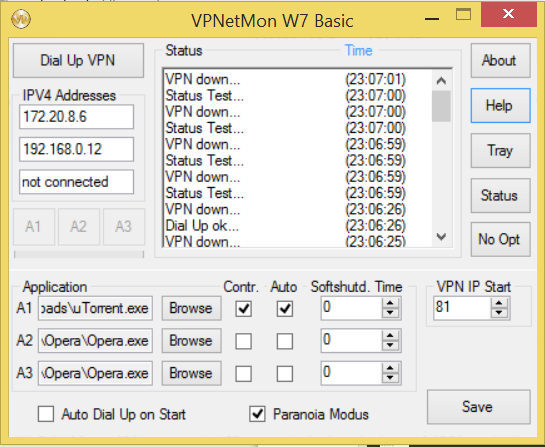 For correct setup, you have to click on "Opt" to see all the options. Now, the software looks complicated, but here is how it should work:
1. Select up to three applications to close and restart automatically using the "Browse" button, and click the "Contr." and "Auto" boxes to activate the protection. Before doing this you should make sure to deactivate all "Would you really like to quit?"-messages these applications might have.
Check the "Paranoia Modus"-box to instantly close the controlled programs instead of waiting for a few seconds. It will also make VPNetmon tighted up the checkup interval from 500 ms to around 100 ms.
Note: If you don't want VPNetmon to automatically restart a program, you can deselect "Auto".
2. Connect to your VPN as you're used to (not through the "Dial Up VPN" button). Now, go to a site such as WhatIsMyIP.com and note down the first numbers of your new IP address, before the first dot. You should always get an IP starting with the first few digits when using the same VPN server (some providers automatically switch servers when you connect, so be aware of that).
This is how the software detects if you're currently connected to a VPN or not. Enter those digits in the "VPN IP Start"-field right above the "Save"-button, and hit "Save".
3. Time to test if everything works: Click "Status" and see what happens. If VPNetmon correctly recognizes if your VPN is active or not, everything works fine. If not, read below.
2. Use In Everyday Life: How Well Does It Work?
After setting the software up, you have to always start the applications to be controlled and protected by clicking one the corresponding icon in the VPNetmon interface. These can be found at the bottom left of the window. F0r example, it looks like this if you configured uTorrent in slot 1: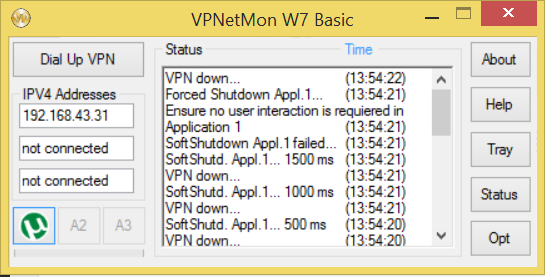 The software will now begin to monitor if your connection is up or not, and either open or close the process. Simple enough, and it used to work very well, at least when we last used it, back in 2006.
Problem: When The Connected VPN Is Not Recognized
However, we were not able to get the program to work correctly, as it just didn't seem to recognize the active VPN connection. No matter what we tried, VPNetmon always stated "VPN down" in the status log, and immediately closed any active programs.
Unfortunately, the forums are filed with people reporting the same problem, and there doesn't seem to be any solution available at this moment. Whether this only occurs under certain versions of Windows or VPN connection types we don't know (both OpenVPN and L2TP produced the same problem for us), so you can only check if it works on your PC or not.
Problem: Not All Applications Respond Well To Being "Terminated"
There is also the very general problem that many programs don't like getting closed all of a sudden. Even with the 2000 ms shutdown delay in "soft mode", it can produce errors. For example, one user on the VPNetmon forums complains that his uTorrent often gets shut down too fast, and therefore his downloads corrupt and have to be rechecked, or a whole block of files redownloaded, which takes a rather long time for him.
Due to the nature of this protection method, it is very difficult to get around that, if you don't want to severely compromise your security. Only solution is to switch to a different kind of disconnect protection, like an Internet kill switch some VPNs offer, or something like the "IP binding"-feature of HideMyAss. We compiled a list of VPNs with P2P-friendly features on a list that we will release shortly.
Conclusion: Reasonable Workaround, But Has Its Problems
Better to have at least some kind of protection than no protection at all. Among the application killer programs, VPNetmon is one of the oldest ones, but it does its job quite well – unless when it doesn't. We don't know for the moment why some people have problems with it and some don't, hopefully there will soon be a fix released by Felix Schendel, the creator of the software.
Apart from that, you can definitely have a look and see if it fits your needs.