Ever since the copyright industry and others, such as the NSA similar parties both official and private, have begun spying, suing and harassing everyday Internet users and downloaders alike, ways have been developed to avoid their gaze and remove any restrictions imposed on your connection.
The VPN: A condom for the Internet (only better)
From lawsuits being filed by rogue lawyers and "anti-piracy" outfits, to websites and protocols getting restricted, artificially slowed down or outright forbidden and blocked by various ISPs and network administrators (for example at your university), the possibilities to mess with you and your online experience are far and wide.
Enter the VPN, one of the best and easiest ways to circumvent the most serious threats is a VPN. Standing for Virtual Private Network, a VPN is like a condom for the Internet: It gives you back all the fun without having to worry about bad things happening. The only difference is that unlike a condom, it doesn't spoil any of the fun and most of the time you won't even know it's there: Maximum security minus the inconveniences other methods have.
How does it work:
[dropcap]W[/dropcap]ithout a VPN, all the data transferred between you and the Internet is send and received unencrypted, using a unique address given out by your Internet provider: The IP. Everyone you communicate with online (websites, file hosters, YouTube, people in a file sharing network like BitTorrent, …) can see and log this address.
A short call to your provider and your identity is blasted wide open; either they don't care for your privacy or some law forces them to unveil your personal data.
Similarly, your provider, network administrator, fellow WiFi users and a number of other people can scan your traffic, allowing them to analyze your activities such as what websites you visit, which file sharing software you use etc., slow certain protocols down (torrents, for example) or even block certain websites or activities.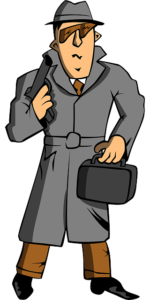 How the guys spying on you look like (for illustration only)
A VPN creates a heavily encrypted tunnel between you and the VPN service, making it impossible to analyze your activities or apply restrictions to your connection, and swaps your IP against a new, anonymous one. If contacted from a third-party with a request to give out your identity, any good service will either a) be unable to match the anonymous IP with you, or b) throw the request into the trash in case you didn't do something heavily illegal (hacking, planning terrorist attacks and the like).
The result: You're completely anonymous and shielded against attempts to track you down.
Build for speed and reliability, a VPN is perfect for anything from surfing the web without restrictions, watching videos on YouTube or movies on streaming sites, phoning with Skype or chatting on Facebook, to any kind of downloading (torrents, file hosters, Usenet), you name it. Chances are you won't even feel any difference, apart from a little icon on the top right in your taskbar.
Where to get one, and how to set it up
[dropcap]T[/dropcap]o get started, you need to signup for a VPN service and install the software. Typical VPNs cost about $3 – $7 a month if you choose the yearly plan, and it takes about 5 – 15 minutes to completely setup the whole thing. Basically you just download and install a small program, click the "connect" button and you're done. For maximum security we'll recommend you to change a few, minor settings, but this is very easily done.
Dozens of services are out there and they vary greatly in both quality and pricing, but here are our recommendations: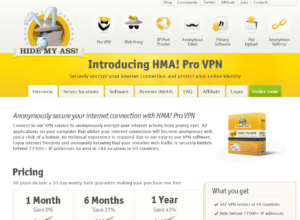 Short review: Awesome software, good speeds. Works great as a "set it, and forget it" solution for secure streaming and downloading, don't use it for strong anonymity though. The Netherlands, Swedish or Russian servers are ideal  for torrents. Cost: $6.55 per month.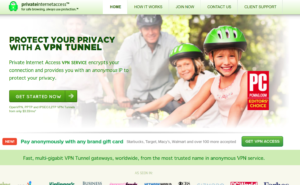 Short review: Great service, simplistic but very easy-to-use and stable software, and very unexpensive. Perfect for strong anonymity and maximum security, and "set it, and forget it" setup is very easy. We had some small issues but these are easy to solve. Cost: $3.33 per month.
Click here for our in-dept review
How To Setup HideMyAss For Optimal File Sharing Anonymity
Short review: The cheapest service available, with a good software and helpful support, although some report strong speed problems though. If you are on an extremely right budget and want to save 25 cent per month compared to PIA, have a look. Their privacy policy is way enough for secure streaming and downloading but not for strong anonymity. Cost: $3.08 per month for the cheapest package, free test account available.

Click here for our in-dept review
Tutorial: How To Install And Setup The Software For Optimal Protection