We all love, or at least use them on a regular basis. Even though they're not the best way to watch movies, they certainly are among the most convenient ways to watch movies online: No software to install, and relatively simple access to your favorite content.
Basically you just have to click on the movie you want, close some ads and the film starts. The downsides are annoying ads and sometimes mediocre video quality, depending on which hosters are available and how many mirrors there are.
For this test, we checked the quality of the archive, as well as usability, read: How many ads there were. Also we looked for three movies as a reference sample, two being classics and one a very recent flick.
Relaunched in 2016, Alluc has become a search engine for all major streaming providers. As such, you get tons of results for almost anything imaginable, and almost no advertising… they actually linked our article "Ads From Hell" on their wiki to warn users about scammy ads!
All of this is a good reason to place them on the first place of this list.
One special streaming site. Great selection of movies and TV shows and a good search engine are one thing, but what really makes them unique are the community features. You can rate the films you watched and receive recommendations based on your ratings, chat with other users, and some of the content is even available in HD!
Ads are scarce on this site, apart from the usual "fake" download links. Only downside is you have to create a free account, which only takes a few moments but might scare some people away.
Definite recommendation!
An enormous movie, TV show and porn database, loads of mirrors, clean layout: The basics are in place. Low amount of ads, reliable stream hosters and a pretty long history of being one of the top sites is what earns them a place in the top #3.
That's pretty much all there is to say. A very solid choice indeed.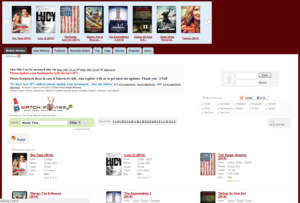 A very cool selection of both new and old movies, and a very tolerable amount of not-too scammy ads. What more can you say? Solid site, part of the top league, and a lot of mirrors including good and not so good filehosters.
Go for it!
When it comes to older films, you may not always find what you're looking for, but more recent stuff is always available. With not too many ads in comparison to other competitors, and movies playing instantly after you select it without having to go through some more bullshit clicking, they definitely are among the better sites.
But do they really have to open a popup when you want to click the play button? Too bad, no better ranking for these guys, even considering the smartphone app which makes the site really easy to use on tablets and other mobile devices
Otherwise, definitely a nice site.
Although iWatchOnline is not the advertising hell like the other sites ranked below this one, it is one step closer to that than any of the top spots.
Yes, your archive is large. Yes, you have mirrors even for the older content. And yes, you have over 74.000 likes on Facebook. But WHY is there a pop up blocking the screen every time you click on something? One of them looked so close to an actual file hoster we were actually tempted into downloading the "needed plugin" scam plugin advertised…
Turn on your ad blocker, and you have a great site at your disposal though.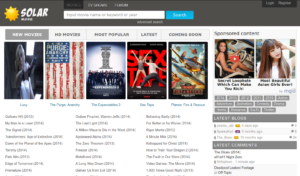 Slightly less ads than iWatchOnline, good amount of mirrors, but a smaller selection of content. Use it as a backup in case you don't find what you need elsewhere.
A good selection of content? Check. A clean layout? Check. Your usual fake download ads? But of course.
Basically, this page gets the same rating as Solarmovie: A good secondary or backup streaming site in case something is missing on the better ranked competitors.
A lot of stuff, scammy ads in a tolerable amount. Use it as a backup in case you don't find that you need elsewhere.
Note: There is an actual guide on how to skip ads in case you can't get the movies to play… but at least it is only necessary because some of the listed filehosters make it so difficult.
After all, who could possibly overload their site with so many ads they have to publish a guide on how to navigate it? Well, read on…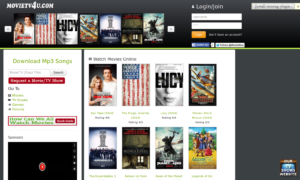 Another well maintained streaming site: As usual you get a huge library of movies (no dedicated anime section though) and TV shows are available through the sister site WatchSeriesFree.
Regarding ads, you get the usual fake download links and banners looking like legitimate links. But behold, what is this thing on screen on the top right, looking like a normal button? "Install missing plugin…", it reads, and when you click on it, the site tries to download some shaddy software to your computer. Sleazy!
In fact they think their site is so shitty they actually include a tutorial on how to navigate through their ads and use the filehosters used. Read that again: This site has a guide on how to use it without getting scammed.
UN-BELIEVABLE. Use them with a good ad blocker and be sure to read our guide on how to avoid scams before visiting the page.
Watch Movies Pro is a site that looks just like MovieTV4u, so the same comments apply to it.
Being a movie only site, Los Movies ranks below MovieTV4u. The usual rather big selection of movies, but apart from the usual fake download links being a bit more common here, what really put us off is the big, officially looking bar on the top of the screen which suggests it is actually the VLC media player (it is not), trying to install adware on your computer.
Feel free to add it to your list of backup sites, but use with caution.
Fake download link here, annoying, officially looking ad there (and THERE, too… there is a button on the bottom right and a bar on the top trying to lure us into downloading some software that is absolutely not needed to use the site!), fake download links everywhere, banners and popups.
Honestly, there are limits to everything. Ignore the advertising and you've got a great site here, with tons of great movies and TV shows. Use Adblock Plus and all will be good.
No Ranking: Gstreaming – UPDATE: Stay Away!
Ah, Gstreaming (not to be confused with G-Stream.in, a German streaming site), why did it had to end up this way between us? Why did you have to be like that? It's not as if we didn't appreciate the wonderful time we had together with you and your awesome selection of media, your clean design and your delightfully low amount of ads.
But when you display pop ups with sites trying to convince us that our browser got blocked by the FBI (what?) because we allegedly accessed copyrighted content (honestly, guys?), porn and even child porn (honestly, SCREW YOU!), and that we had to pay 100 USD in cash coupons or prepaid credit cards you can buy at gas stations (who actually FALLS for such a cheap scam?) as settlement, and when this piece of shit won't even close without completely restarting the computer or killing Firefox, THE DEAL IS OFF.
Was it only failed due diligence of your advertising partners, or an actual attempt to rip us off? No idea, but when you do things like that, forget about any good ranking in this list.
Keep away, or at least use a decent anti virus and an ad blocking plugin or software.