Every site, even the tiniest ones, has thousands of links, and it is difficult to keep track of all of your links without some sort of assistance.
WP Links is meant to assist you in achieving your goal of exercising complete authority over the links that appear on your WordPress website.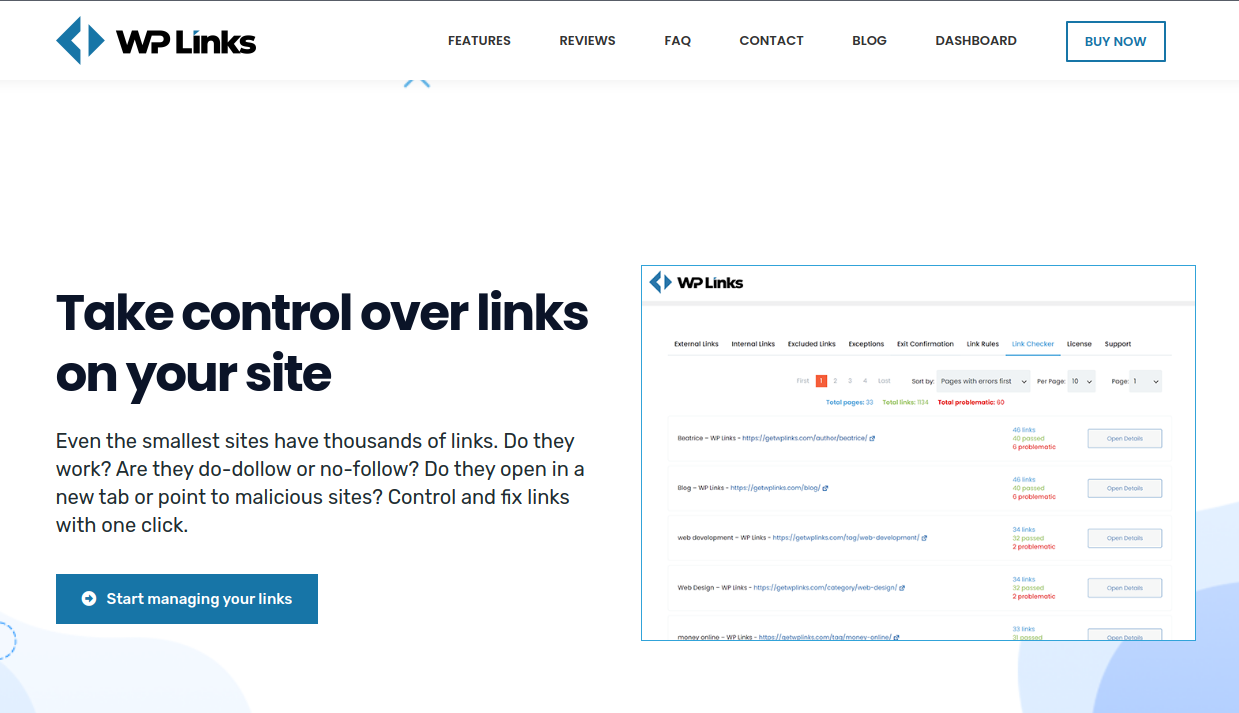 Plugins can be a hassle if they are too complicated, but WP Links gets right to the point. A plugin called WP Links can be used to manage and fix broken links. Any functionality you may possibly want can be found in this plugin. It features an excellent link scanner that verifies each and every one of your links to see if they are legitimate, active, and free of dangerous content.
No limit is placed on the number of link rules that can be created. The exit confirmation plugin feature is built in. When visitors are ready to leave your site via an external link, a customizable pop-up message will appear to warn them. The WP Links dashboard is a centralized location from which you can administer many sites, which is useful if you're trying to keep things neat and tidy. This way, you'll have a central hub for managing your various online properties, trademarks, licenses, and acquisitions.
Also, you can rebrand WP Links without touching any code, and it's completely customizable. The support staff is typically developers that contributed to the plugin, so you can rest assured that you'll receive knowledgeable and helpful assistance. Read on if you're curious about the mechanics involved.
External Links
External links can be managed on the first tab of the plugin's settings. Also, when you activate the "settings for external connections" option, a new set of options will show up below.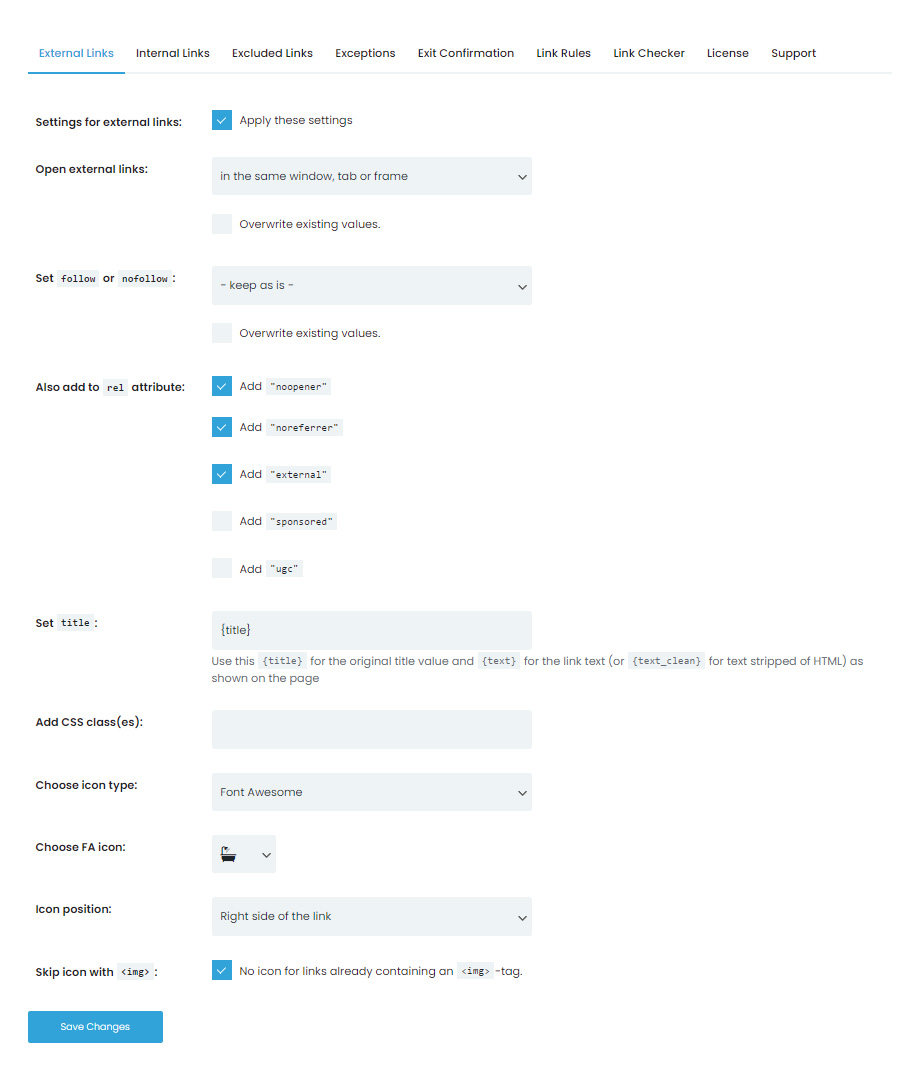 Once you configure the plugin to your liking, it will handle all of your external links for you. All external links support a follow or nofollow rel property, which can be configured independently. When you add "noopener," dangerous sites won't be able to take over your site, and when you add "noreferrer," you won't have to worry about sending refer information to linked sites.
You can specify an external link by appending "external," a sponsored link by appending "sponsored," or user-generated content by appending "ugc."
Choose an icon to be used for outbound connections and save your preferences.
Internal Links
There is an option to manage internal links in the second tab of the plugin's settings. If you activate the "Settings for internal connections" option, a new set of options will display below. The internal links on your site are managed by the plugin once you've established your preferences.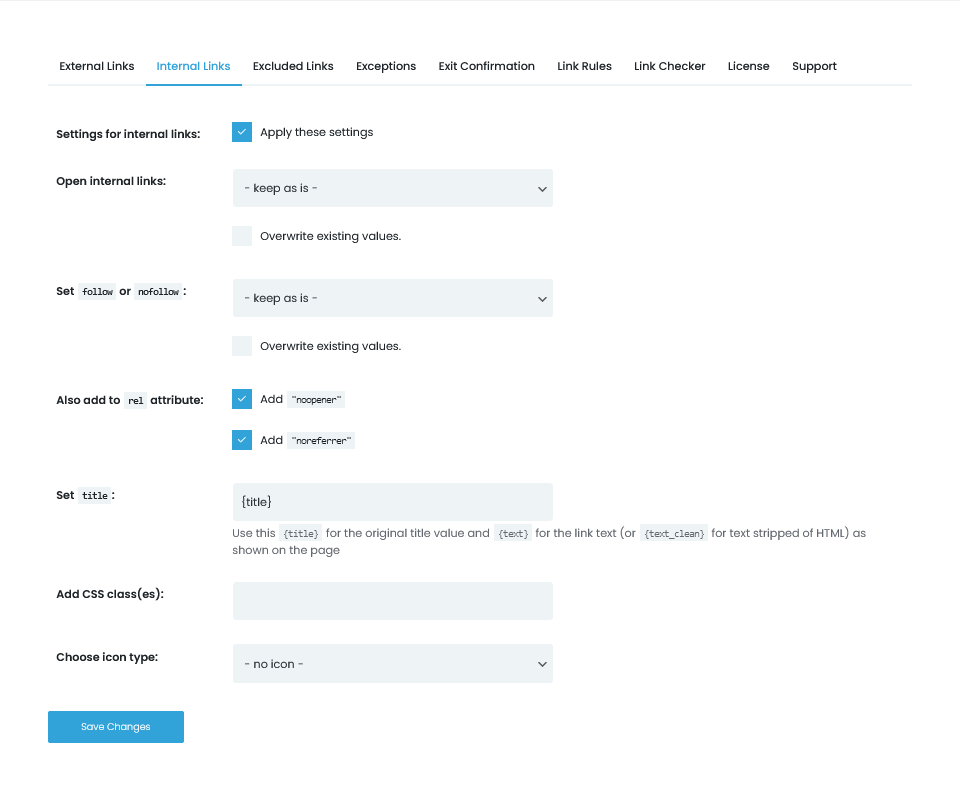 It is possible to modify the rel attribute of internal links to make them follow or nofollow. The use of noopener prevents harmful scripts from taking over your site. The addition of "noreferrer" prevents the browser from including the referral URL in the message sent to the linked page.
Just as with regular external links, you can now style internal ones with icons, titles, and CSS classes.
Exit Confirmation
Display a pop-up window with your own personalized message to warn visitors about external links. Any user who visits an external link will be met with this prompt. This notifies them that they are leaving the current page and going to a different website. Multiple formatting choices can be made in the Exit Confirmation panel. You have complete control over the look and feel of your windows by picking their size, style, color scheme, and more.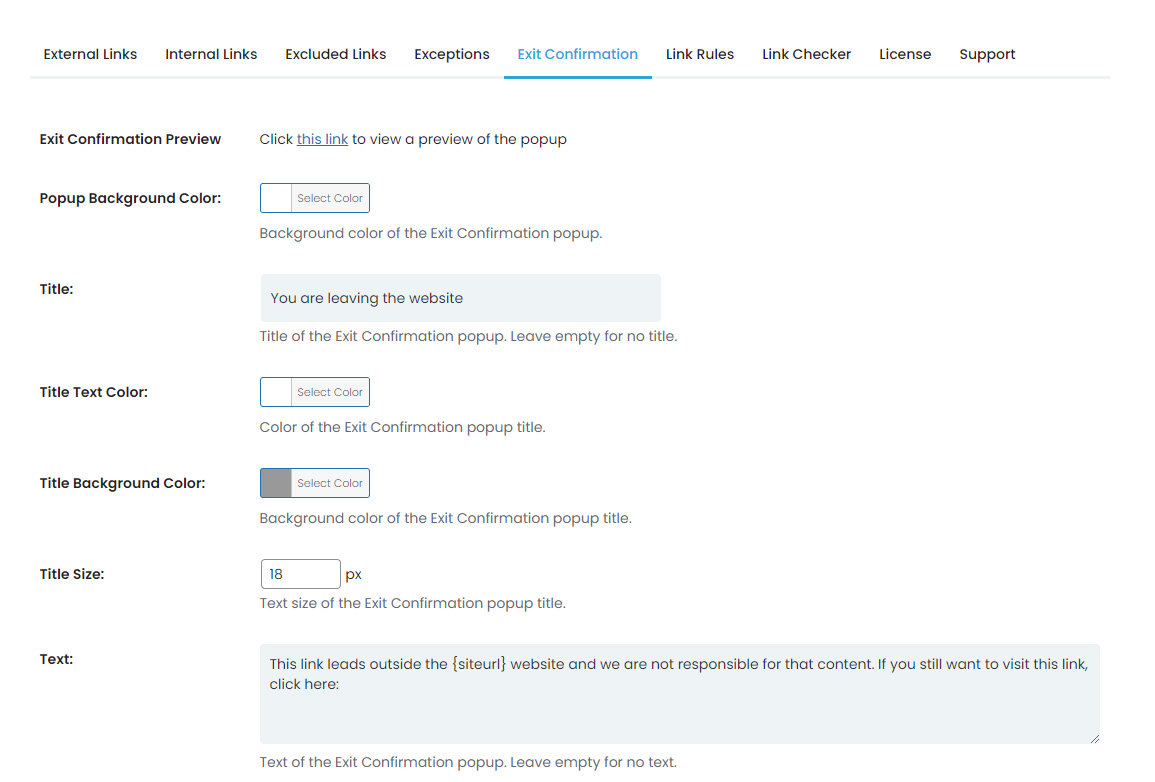 Just take your time and come up with a fantastic popup.
Link Checker
All of the links on your site will be swiftly scanned and analyzed by the Link Checker. All of your site's outbound links are validated and checked to see if they lead to dangerous locations. Visit WP Links Link Checker, then select the option to "Check & Analyze all site's Links," followed by waiting for the scanner to finish its work.
The tabulated results will be available shortly afterward. When the scan completes and displays all of your connections, you may click on any of them to view their accompanying information in a new window.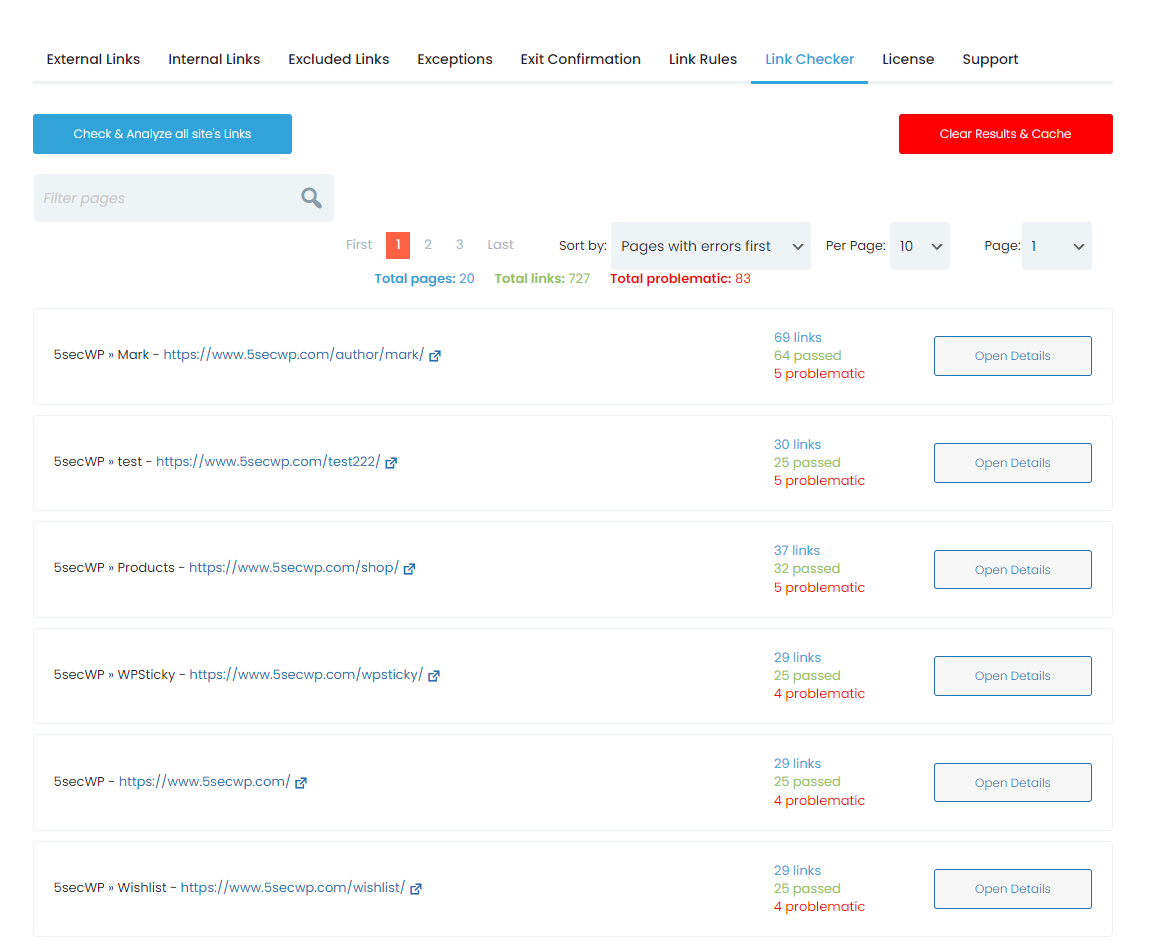 All the links are here, with the broken ones at the top. In the space designated for "anchor text/URL," you'll notice a symbol.
This symbol will take you to the page or post in question, highlighting the problematic link. You can now go in and change the link by editing the post or page. Your site's performance won't be affected, and a scan usually only takes two minutes.
The dashboard allows you to disable the link checking for individual domains if you don't want it used.
Final Words
If you're looking for a top-notch, easy-to-use plugin that enables you to take ultimate control over any link, receive SEO juice, and protect visitors, then WP Links is the plugin for you. It is recognized by more than 200,000 site owners.