WordPress, being one of the most popular website builders and web hosting solutions available, is an obvious target for hackers. According to recent studies, 70% of WordPress installations are vulnerable to cyberattacks whose goal is to steal your users' valuable data. If you are hosting a WordPress website, getting a security plugin is one of the first things you have to do in order to make your website secure and avoid getting hacked.
That is why we are going to introduce you to Security Ninja – a powerful, yet easy-to-use WordPress security plugin with an 11-year of experience in website protection. Used and approved by over 10,000 users, rest assured that Security Ninja's fantastic features are not going to leave you disappointed.
What is Security Ninja & how does it work?
Security Ninja is an advantageous security plugin that offers complete WordPress protection for your website. Even though it is simple and user-friendly, Security Ninja is a powerful software whose features can perform over 50 security tests in one click, check your site for security vulnerabilities, optimize and speed up your database, take preventive measures against cyberattacks, and many more without ever making any changes to your site.

Using Security Ninja does not require any fiddling with the code, because everything is done from a single place – your Dashboard. From the Dashboard, you can analyze the site, as well as see the full overview of the security tests. The test usually takes 30 to 40 seconds, depending on the size of your site. Security Ninja also allows you to test the plugin's demo version before purchasing it, in order for you to try out each and every one of its convenient features.
Features
The best type of protection is to keep malicious users from ever accessing your website, and Security Ninja's built-in firewall guards your site against attackers by blocking their attempts. The Firewall protection feature is able to block more than 600 million IPs, block visitors from specific countries, as well as a redirect, blocked visitors toward any URL of your choice. Moreover, it easily blocks SPAM, suspicious requests, as well as repeated attempts to log in with wrong passwords or unknown usernames. Security Ninja's Cloud Firewall database of bad IP addresses is updated twice a day, making sure not even one of them reaches your website's safe online space.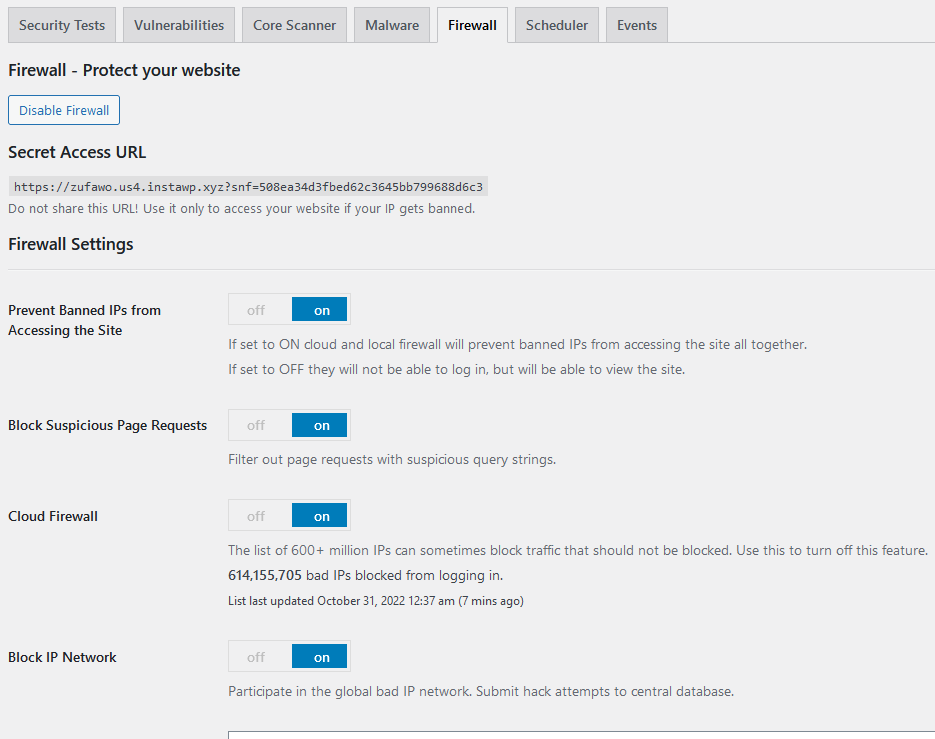 Next, Security Ninja's Malware scanner scans all your files using the PHP malware scanner library that detects common code found in malicious scripts and also specifically known attacks. After scanning, you can manually go through the results and whitelist those who are safe, as well as delete files that do not belong in your WP folders. Manually going through the list of security vulnerabilities is a smart place to start when trying to secure your website, because having a high-security score does not guarantee that your website will remain protected.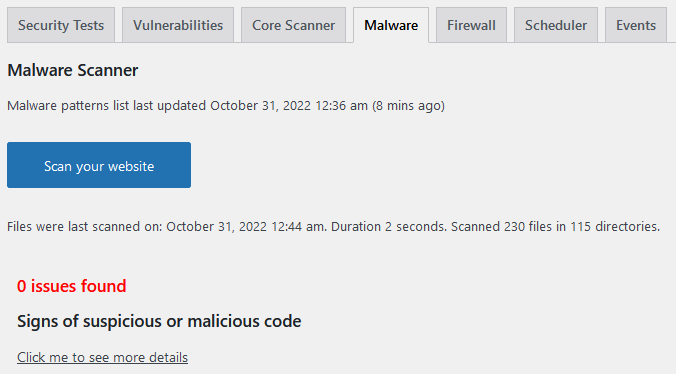 Furthermore, Security Ninja includes a Core scanner that scans your website core files for infections, simultaneously comparing them with the secure master copy maintained by WordPress.org. The results provided by the Core scanner are color-coded and separated into five categories for a better understanding. A core scanner is also a perfect solution for restoring hacked sites in just a few clicks, providing detailed help and a description of the problem.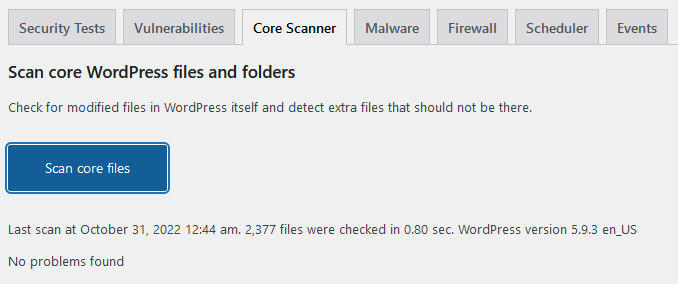 With Security Ninja, you can also set up a Scheduled scanner that will do all the scanning automatically and send you an email report or an alert if your site is being hacked. It is extremely easy to set up and completely customizable, allowing you either receive an email report after every scan or only after changes occur on your site.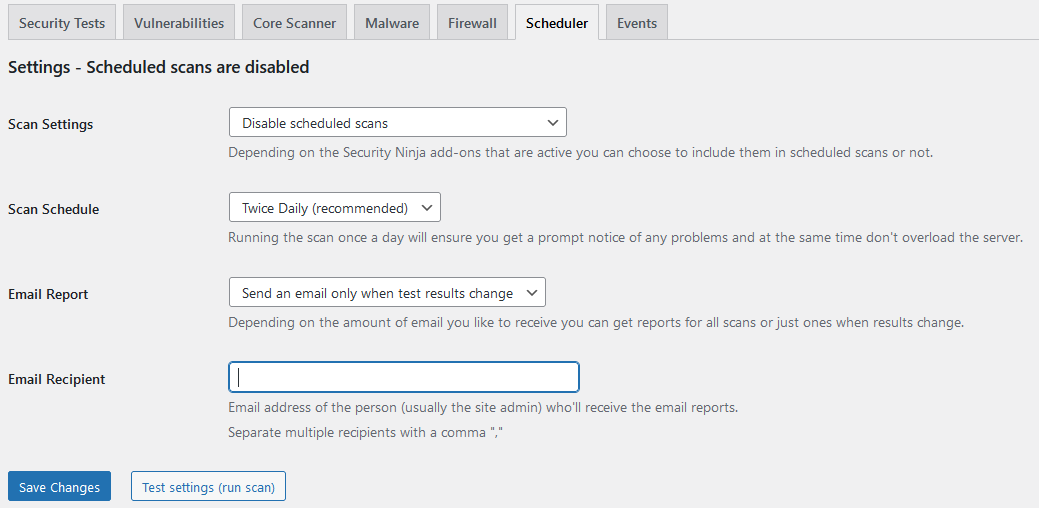 Next, you can even keep an activity log of important events on your website, with Security Ninja's excellent Events Logger feature, which enables you to monitor, track and log more than 50 events, know what happened on the site at any time, filter through events, receive email alerts for selected events and many more. With Events Logger, rest assured that no suspicious activity will remain overlooked.
Sometimes plugins come with security flaws that serve as loopholes through which hackers can gain access to your site. With the help of a terrific Vulnerability scanner feature, you can find out on time whether there is a known problem in a plugin or a theme that makes your website vulnerable to malicious attacks.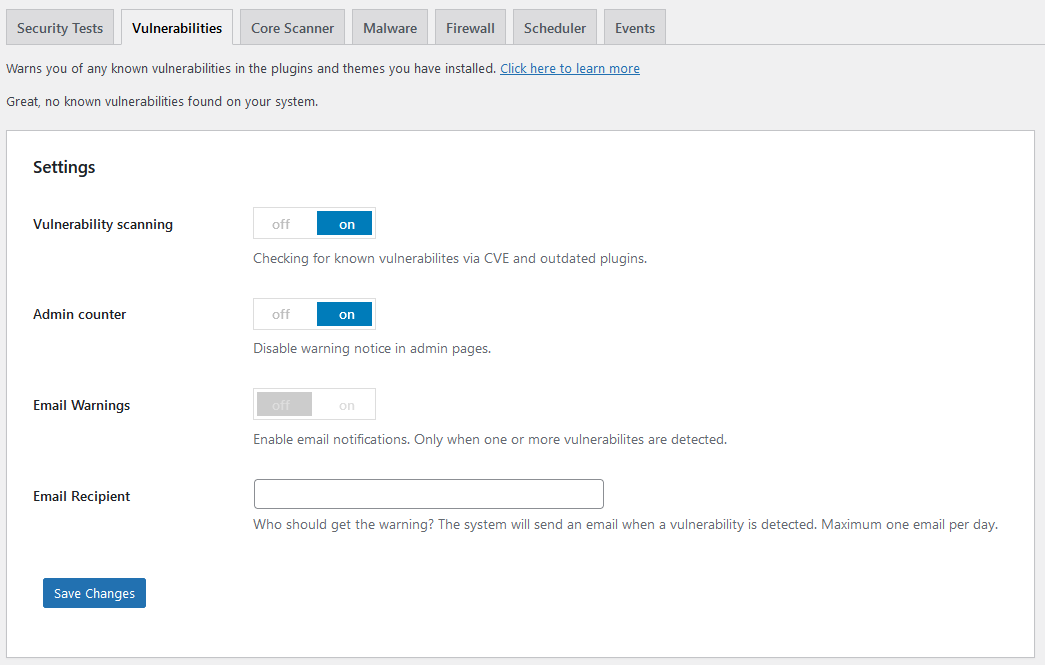 Last but not least, Security testing is the core of Security Ninja. Presenting you with a detailed overview of your site's links and data, Security testing warns you about every security issue from weak passwords to poorly configured MyQSL accounts. Running more than 50 tests in a single scan, Security testing results are color-coded and easy to read, giving a great before/after reference value. Each test comes with a detailed description as well as instructions on how to manually fix a problem.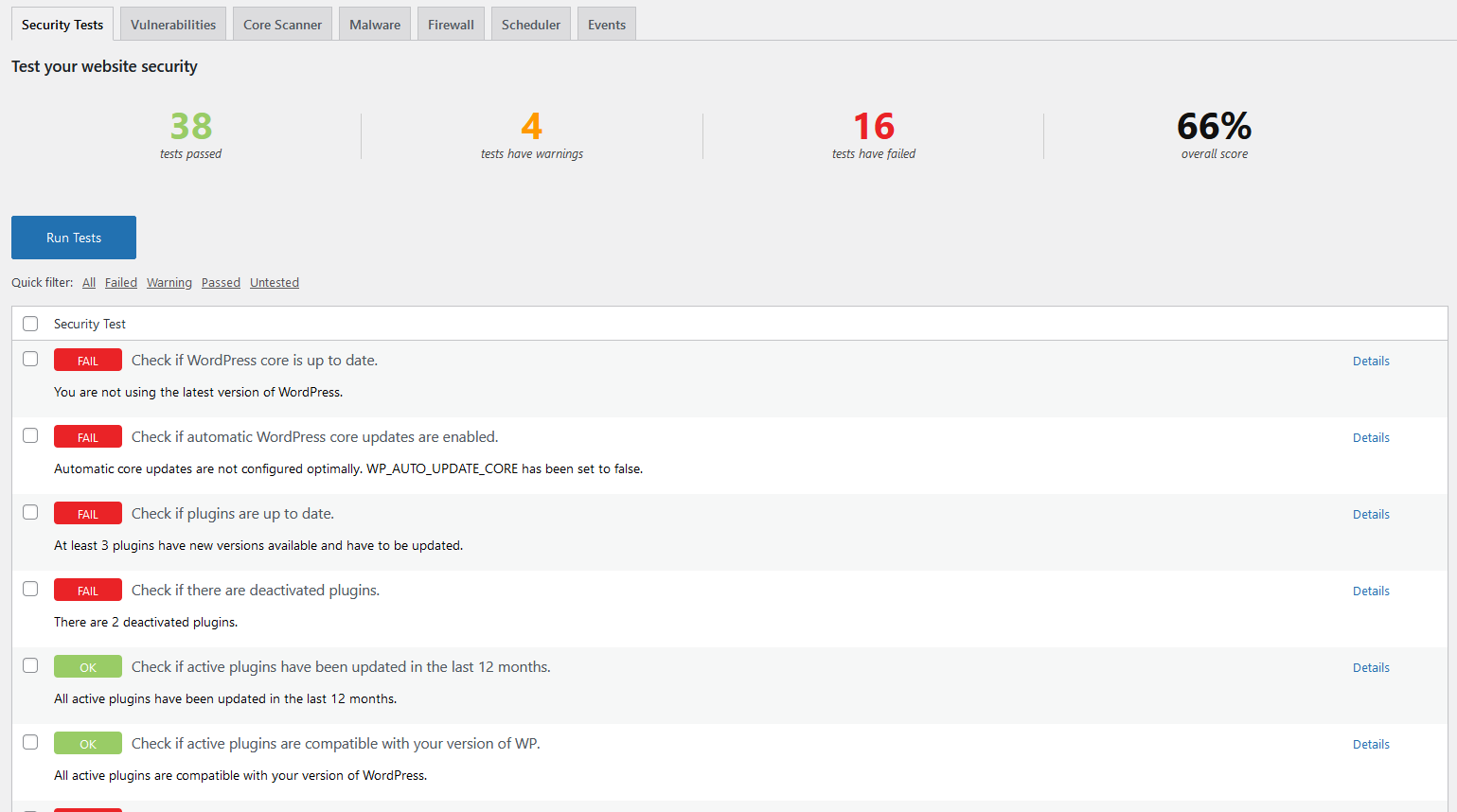 It is important to emphasize that Security Ninja also works with MainWP Dashboard on which administrators can manage many WordPress websites from a central location. All you have to do is install the free Security Ninja for MainWP Extension, and you are all set! The extension needs to be installed only on your MainWP master site for you to get a security overview of all websites you have installed Security Ninja on.
Conclusion
Keeping your website secure and protected from hackers can be stressful, taking up your precious time and nerves. This is why Security Ninja is smartly developed to put your mind at ease regarding any security issues that can affect your website, whether you are dealing with suspicious visitors, weak passwords, or unknown activity.
With more than 11 years of experience, Security Ninja is compatible with all themes and other plugins, completely user-friendly, and requires no coding knowledge whatsoever. In the end, Security Ninja is simply a perfect solution for all those who want to be 100% sure their site is protected and avoid any downtime due to hacker attacks.