While torrenting is a convenient way of downloading and uploading files, you will need the best VPN services to get the job done safely. Although torrenting is legal, most countries do not allow it. Again if your Internet Service Providersuspects you are torrenting, it can throttle your connection speed or even send you DMCA notices. Unfortunately, not all VPN services allow torrenting, but Is Nordvpn good for torrenting, and does it even allow torrenting? Read on to find out more.
Does NordVPN Allow Torrenting?
NordVPN is one of the most efficient and fast VPNs that allows you to torrent safely. Although it does not allow torrenting on all its servers, you can use any P2P-optimized servers in 60 countries. In addition, you can use it to access online OTT platforms, streaming websites, and other social media sites using 256-bit AES encryption.
image credit: guru99.com
NordVPN provides great privacy policies, security features, and various server locations. This VPN server does not collect, track, or share your private data and information. The fantastic bit about it is that it is available for iOS, Android, Windows, Linux, and macOS.
Amazingly, NordVPN is also completely compatible with additional torrenting clients such as uTorrent, BitTorrent, qBittorrent, BitLord, and Deluge, making it easy to quickly and securely start downloading torrents.
Is Nordvpn Good For Torrenting Activity?
NordVPN server is a good torrenting option that allows you to prevent restrictions set up by your ISP while keeping you secure from hacking attempts andspeed throttling. It is the perfect option if you want a VPN server with a tremendous server network and adequate peer-to-peer connections or a P2P-optimized server with incredible speed.
Like most other VPN services, NordVPN utilizes servers to make a secure underpass between your computer and the internet. When you connect to this VPN service, your real IP address is substituted with the IP address of the server you connect through.
Besides that, below are other amazing Nordvpn features that make it an excellent choice for torrenting.
1. Torrenting Speeds
Image credit: downloadprivacy.com
An impressive feature that the Nordvpn for torrenting servers has is speed optimization. The P2P servers that Nordvpn uses ensure that your ISP does not slow down your VPN or torrent traffic. However, you should note that all VPNs will slow down your internet speed. The speed reduction is mainly caused by the VPN encryption and the distance between you and the server of your choice.
2. Leak Tests
These VPN providers use AES-256-bit encryption for outgoing and incoming requests, reducing the worry of your ISP monitoring your activity. It also has a DNS leak protection feature that limits your ISP from seeing any DNS requests transiting through your network.
Although hiding an actual IP address is common with almost all VPN services, with the Nordvpn server, you can configure your torrent client to load on startup, providing security before you connect to your internet.
3. Internet Kill Switch
NordVPN also has an Internet Kill Switch that is super helpful for torrenting. A kill switch ends the internet connection or closes applications when the VPN server connection is lost. This way, you are guaranteed zero Ip address leaks. This Nordvpn's kill switch will close your BitTorrent client once the connection gets dropped, making it a good torrenting option.
4. Double VPN
image credit: comparitech.com
Again for more security features, Nordvpn is among the few VPN services that will provide well-priced double VPN services. The double VPN drastically increases your privacy, and instead of passing via one server, you will pass through two servers. Amazingly, the two servers encrypt your data and hide your IP address.
5. Supported devices
image credit: howchoo.com
NordVPN can cover up to 6 devices simultaneously, meaning it will provide six times the protection. Furthermore, Nordvpn will hide your IP address and encrypt VPN traffic regardless of your operating system. These VPN servers can seamlessly work on iOS, Android, Windows, MAC, and Linux. Additionally, it has a plug-in from Firefox browsers and Chrome but no Microsoft Edge support. Moreover, it has various manual set-up options for NAS gadgets, wireless routers, and other platforms.
6. SOCKS5 proxy
NordVPN also supports the SOCKS5 proxy, but not for all servers. SOCKS5 proxy is an alternative VPN that routes packets between the client using a proxy server and the server. You only need to request the Nordvpn support team if you need this service. Essentially, SOCKS5 provides enhanced security.
Usually, it gives you three types of authentication methods: Password, Null, and GSS-API authentication. Password or username authentication requires you to provide your login details when you need to connect to a proxy. Null authentication, meaning no authentication is needed to connect to a proxy. GSS-API authentication requires the server and the user to verify their identity to connect to a proxy.
7. Server locations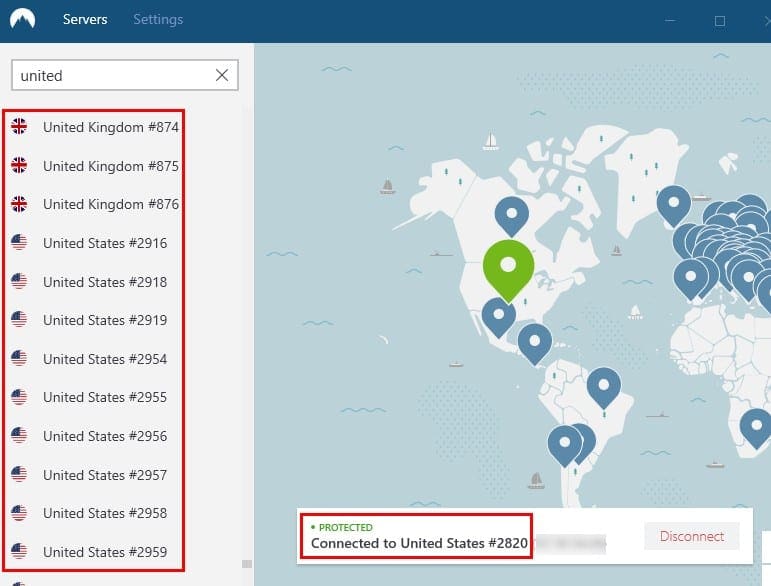 image credit: technipages.com
Nordvpn has one of the largest server networks compared to any VPN company. It has 5312 servers in 60 countries. The advantage of this is that it provides excellent geographical variety, meaning you can connect from almost anywhere. The server location is primarily in Europe and America, but you can find them worldwide.
8. Legit Logging Policy
Besides that, Nordvpn provides a legit logging policy, meaning it does not keep logs of your activities. With these VPN providers, you can torrent anonymously without a leak of your data and information. The amazing thing is that NordVPN's logs policy has been audited and found legit.
9. Nordvpn prices
image credit: websiterating.com
To enjoy secure torrenting with Nordvpn, you will need to Download the Nordvpn app, create an account and subscribe to one of their VPN connection plans. The fantastic bit is that NordVPN has different plans that you can easily choose depending on your budget.
Additionally, with Nordvpn, there are no hidden charges besides the initial subscription rates, and they have a 30-day money-back guarantee on all their packages. Here are the subscription packages from Nordvpn:
1. Monthly plan
The monthly plan is the least package the VPN provider provides in terms of duration. You will get three packages for this plan: Standard, Plus, and Complete. The complete package goes for $13.99, and it offers a Secure, high-speed VPN, Malware protection, Tracker and ad blocker, Cross-platform password manager, Data breach scanner, and 1 TB encrypted cloud storage.
The Plus package goes for $12.69 and offers all the services the complete plane offers, excusing the 1 TB encrypted cloud storage. The standard package goes for $11.99 but does not include a Data breach scanner, a Cross-platform password manager, and 1 TB encrypted cloud storage.
2. One-year plan
The yearly plan is one of NordVPN's long-term subscriptions and the three monthly packages. The only difference is that the one-year subscription saves you 41% and comes at a rate of $6.99 per month for the complete package, $5.69 per month for the plus package, and $4.99 for the standard package.
3. Two-year plan
For the two-year plan, you will save up to 58 % on your subscription. The plan comes at the rates of $5.29 per month for the complete package, $3.99 per month for the plus package, and $3.29 for the standard package.
How to Safely Torrent with Nordvpn P2P Servers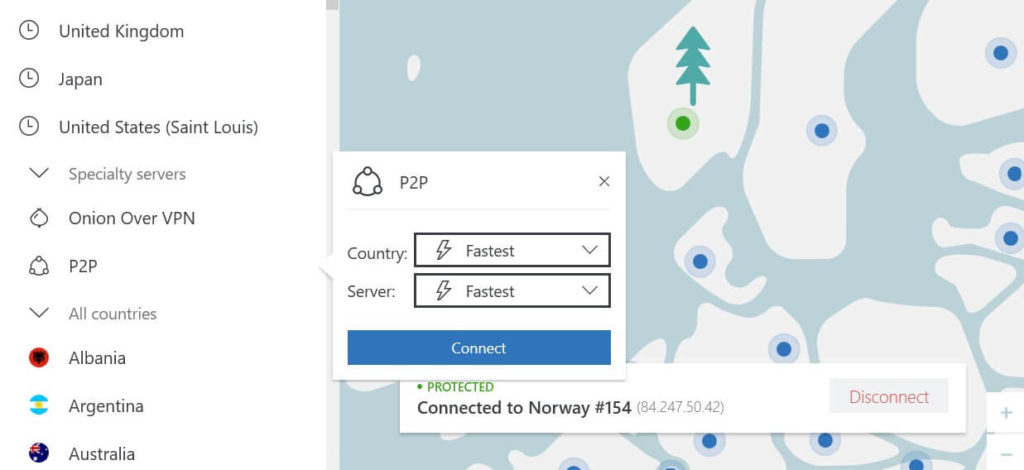 image credit: techshielder.com
It is rather simple to torrent safely and keep your activity private. Here are a few steps you require to follow to ensure a safe torrenting experience.
1. Select a Nordvpn subscription plan
To use the Nordvpn torrenting software, you will first need an account. So you can go to the official Nordvpn site and pick a plan that suits you best.
2. Install and configure Nordvpn
Download Nordvpn and properly install the VPN software. Then log in and configure it for safe downloading.
Ensure that you enable the VPN's kill switch and pick s safe protocol. To do this, you will go to the setting tabs and click on enable.
3. Connect to the server
You will connect to a server in the P2P tab. Take note that The P2P are the only servers optimized for torrents.
It is also necessary to remember that Nordvpn is spread over 60 countries, and only 48 P2P server locations exist. So you need to ensure that the country you are in supports P2P.
4. Protect your IP address
To confirm that Nordvpn has made your IP address, you need to identify the IP address you are using.
To conduct this test, you can use a site like iPleak, or any other site with a torrent detection test. This way, you will see your BitTorrent client's IP address.
5. Start torrenting
Once you are sure there are no IP leaks and the connection is encrypted, you can open your torrent client and start to download torrents.
How to Torrent With NordVPN SOCKS5 Proxy server
Image credit: bittorrentvpn.com
When using Proxy Server, you can also connect to different torrent clients. For instance, you can use them on uTorrent, BitTorrent, and qBittorrent. Here is how to do it:
First, download, install and choose a subscription option that suits you best.
After you have set up the NORDVPN account, you will launch the torrent client you want to use.
Under Options, you will click on Preferences or tools for the qBittorrent client.
From the type dropdown menu, maneuver to Connections and select SOCKS5
Then you will need to pick a server location. To do so, go to proxy and enter one of the addresses.
Then enter 1080 under the Port field, and check all the six boxes. For qBittorrent only, tick Use Proxy for peer connections and authentication.
Then enter your NordVPN username and password. Then select okay.
Everything is now set up, and you can now torrent downloads.
Nordvpn For Torrenting Pros and Cons
Nordvpn is an excellent torrenting option, but it also has some downsides. Here are some advantages and disadvantages of Nordvpn.
Pros
Provides Top Notch Privacy And Security
NordVPN comes with a Double VPN allowing you to link together two VPN servers to get an additional layer of protection.
The VPN's applications for Windows, Android, iOS, Mac, and Linux connect very fast.
The Nordvpn P2P allows faster download speeds.
It has a Kill Switch that helps Prevents Privacy Compromise.
NordVPN Has Awesome Price packages.
The VPN uses high standards of encryption.
NordVPN logs the bare minimum of information, including email and payment details.
Nordvpn has more than 5,000 servers In 60 Countries.
The VPN can secure up to 6 devices simultaneously.
The company (just like Cryptoployee) accepts cryptocurrencies and cash as payment methods.
Cons
Slow app and server connections.
Torrenting is only supported on some servers.
OpenVPN configuration is abit difficult to use.
IP address tends to remain the same each time you are connected.
Frequently Asked Questions on Torrenting
1. Is Torrenting Legal?
Yes, torrenting is legal, but some countries do not allow it. Essentially, downloading unsanctioned copyrighted material is illegal, but it is unclear which content is legal to torrent. Therefore, it is important to use a VPN connection to avoid finding yourself on the wrong side of the law.
It is necessary to note that peer-to-peer connections or P2P are legal. You can legally use a Bittorrent client to download or share non-copyrighted data like free music, open source software, or user-generated content.
2. What Torrent Clients Work Best With NordVPN?
Nordvpn servers are compatible with most torrent clients. Notably, uTorrent and BitTorrent are some of the best Torrent clients that work pleasingly with NordVPN. BitLord, qBittorrent, Vuze,and Deluge are other torrent clients that work well with these servers. The best part is that NordVPN offers set-up tutorials for torrent clients on its website, making it easy to work with most torrent clients.
3. Are There Alternative VPNs for Torrenting?
Nordvpn is undoubtedly the best VPN for torrenting in the market. However, if you can't use Nordvpn for torrenting, there are other alternative VPNs for torrenting. ExpressVPN is a good alternative if you want access to more countries. CyberGhost and SurfShark are other great alternatives if you want cheaper options on the monthly packages.
Image credit: nscdn.nstec.com