Introduction
WordPress is software that allows anyone with no prior development knowledge to construct a professional-looking website. Even though it is simple to use and there are several methods to make a website using it, getting started can be difficult at times. Aside from online courses and tips, there are several plugins available to assist you in creating and running your website.
When considering the development process, it is quite beneficial and necessary to have a tool that will help you speed up the entire process as well as reset or restore your website to a prior version in the event of a mistake or anything similar.
Importance of the reset option
Website resets are critical for your website's security and attractiveness. While learning to reset WordPress isn't everyone's cup of tea, it may help you recover from hacking, website crashes, and web redesign projects.
By resetting the WordPress site, you may prevent and create a complete block to the hacker's path. Resetting your WordPress website guarantees that any superfluous data on your hard drive is removed. To remove current modifications, plugins, and content, rebranding and repurposing existing websites necessitates a WordPress reset. On your "newer" website, you may start over with WordPress. After staging, you may reuse the staging environment with different projects by resetting WordPress.
WP Reset
WP Reset is a fantastic WordPress plugin that allows you to rapidly restore the website's database to its default installation values without modifying any files. You may simply pick whether to erase all modifications and material or just certain elements, such as theme settings.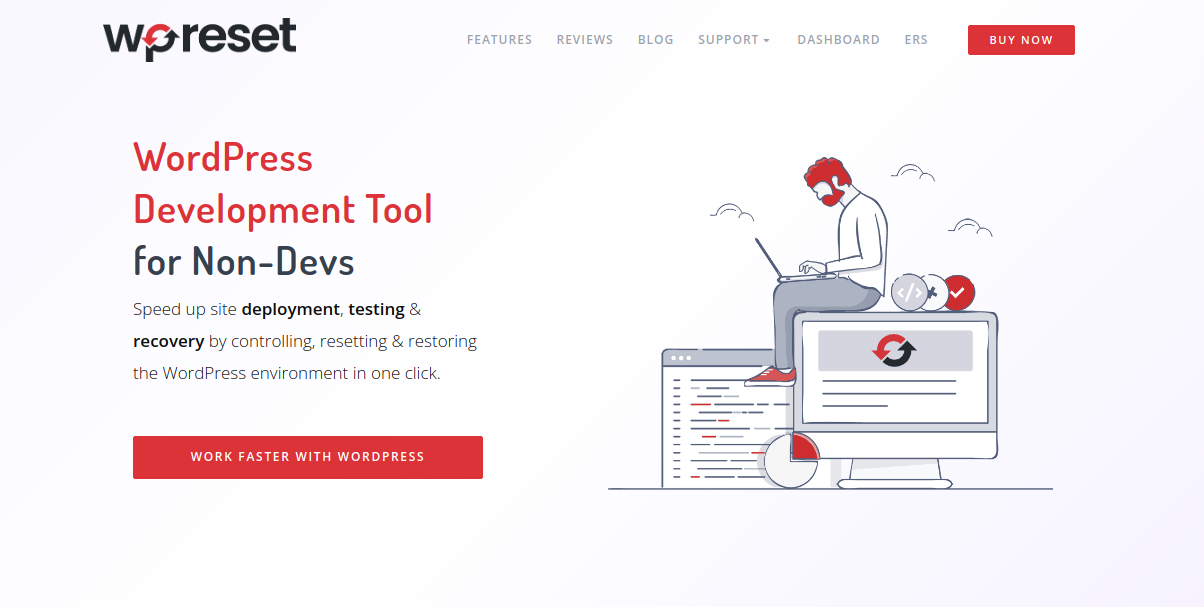 Built-in snapshots make it possible to accomplish this capability with a single click. It also accelerates testing and debugging. All posts, pages, custom post kinds, comments, and users, as well as all default wp database tables and custom database tables with the same table prefix as declared in the wp-config.php file, can be deleted during the resetting process. No media files, plugins, themes, upload files, site titles, addresses, language, or search visibility settings will be deleted.
Features
With the WP Reset plugin, you will have your time machine. So, in case you update a plugin, and everything breaks after that, you can go back to a working state in one click. WP Reset automatically creates a snapshot before you make big changes on your site. These changes may include snapshots before plugin updates, activations, deactivations, and other important changes.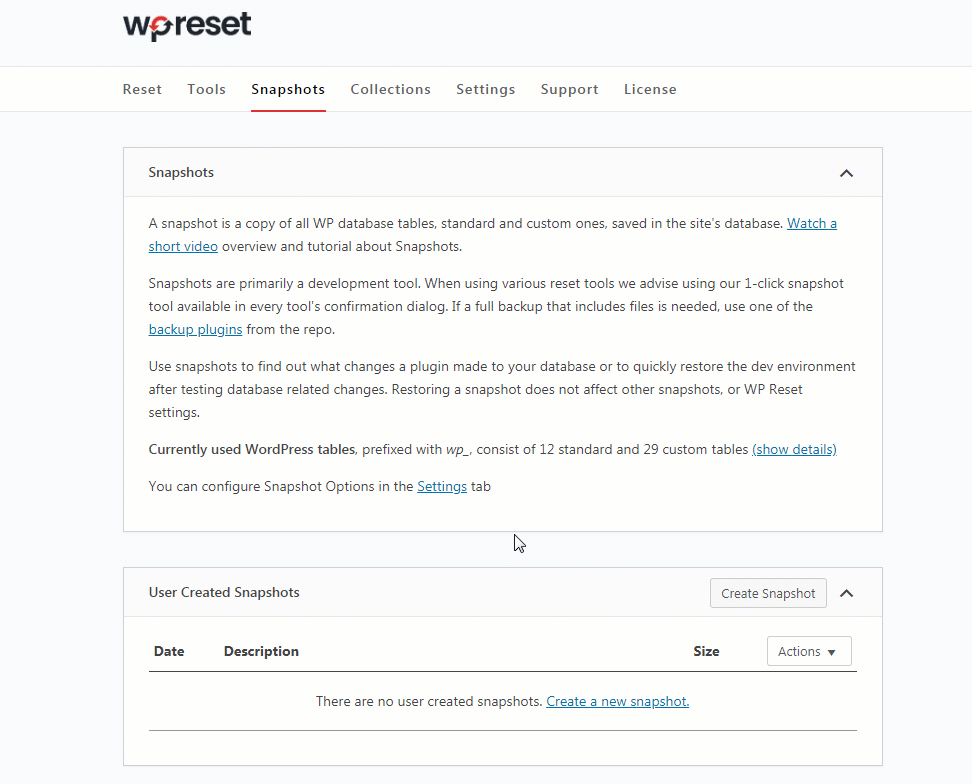 You can also create snapshots from any WP admin page, you will have the whole database and plugin/theme files saved, and you can create as many snapshots as you need, restoring a snapshot is easy, snapshots take only 3 megabytes of space on your hosting account, old snapshots are automatically deleted, and snapshots can be offloaded to WP Cloud, Dropbox, Google Drive, etc.
Additionally, you can create a collection of your favorite plugins and themes, and install them after resetting the website, or when creating a new one. With the WP Reset's collections, installing any number of plugins is a piece of cake and will take just a few minutes.
You can create as many collections as you need, created collections can be used on any site, and every collection has unlimited plugins and themes, you can add plugins and themes from the WP repository and ZIP files, and license keys can be saved safely & securely in collections (they are all encrypted), collections can be installed any time (on fresh sites, or after resetting).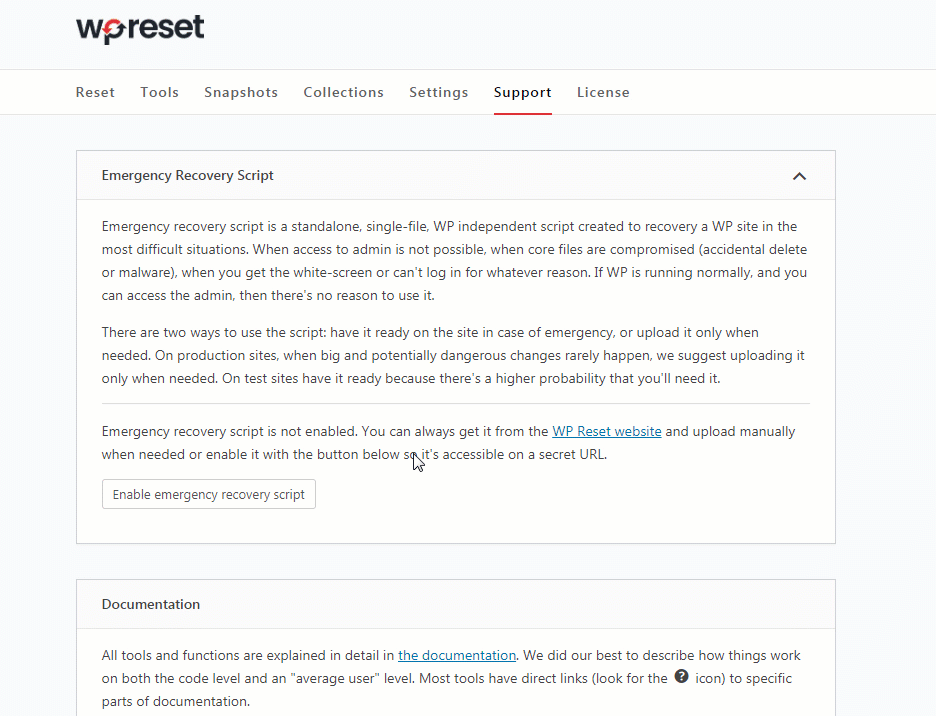 In case you come across a white screen during the development, and nothing works anymore, don't worry. You can utilize the emergency recovery tool, which is a standalone script, completely independent of any WP files, and will always work. With this script, you can enable or disable selected plugins, disable the current theme, check all core files, create a new admin user without logging in, repair user privileges, and edit the site and WP address.
Since we all know nobody likes a messy site, WP Reset offers different cleaning tools. The cleaning tools will help you delete transients, delete any content type (posts, pages, menus, custom post types, revisions, etc.), delete local data (cookies and local storage), purge cache in all plugins, delete widgets, clean uploads folder, reset theme options, reset user roles, delete themes, delete plugins, delete selected custom tables, and delete htaccess files.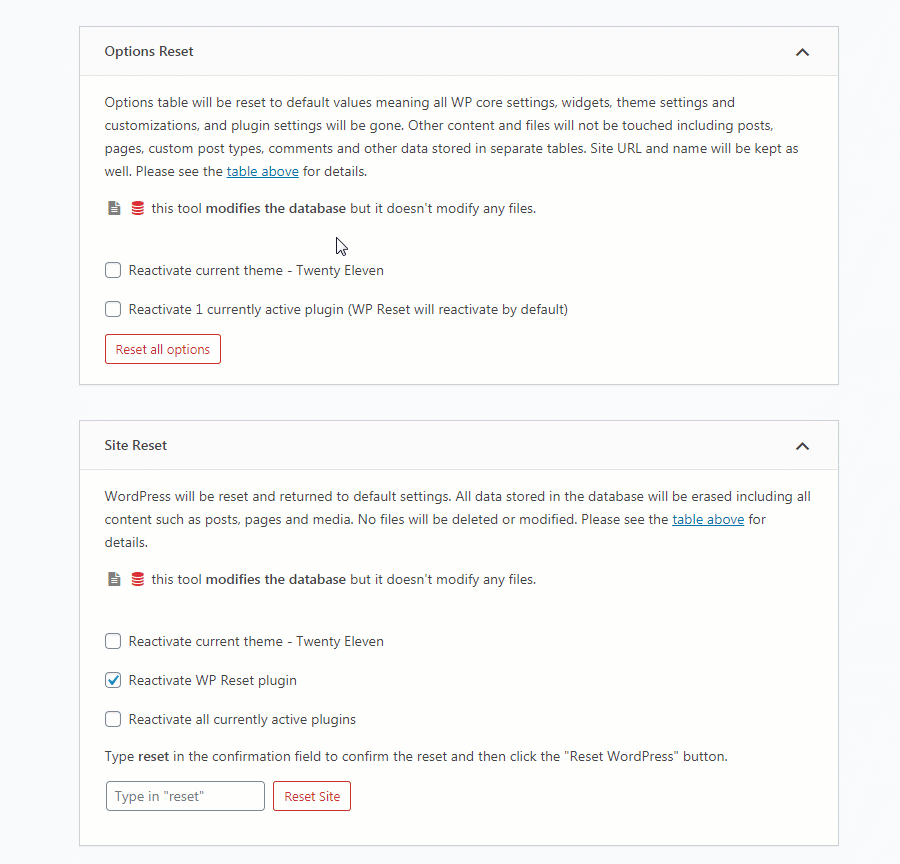 With the Nuclear Reset, you will have a clean sheet in 30 seconds, this means removing any junk from the database, all plugins, themes, and the whole wp-uploads folder. You will have a fresh install with your current user account. Just be careful, there is no going back after you perform the reset.
If you work with different clients, you can avoid showing them anything about the creator of the plugin. With the White Label option, you can set custom logos and links. The license tab will be also hidden from your client.
With automatic snapshots, you can have a semi-autonomous environment that takes care of your website. The plugin can automatically store snapshots in the cloud to keep your site safe. This approach will allow you to always revert to a safe and working state if you perform a bad update or installation.
Every user of the PRO version gets to use Dropbox, Cloud, and Google Drive, where they can connect and offload snapshots and collections. This will ensure users have a no-setup solution and do not worry about a thing.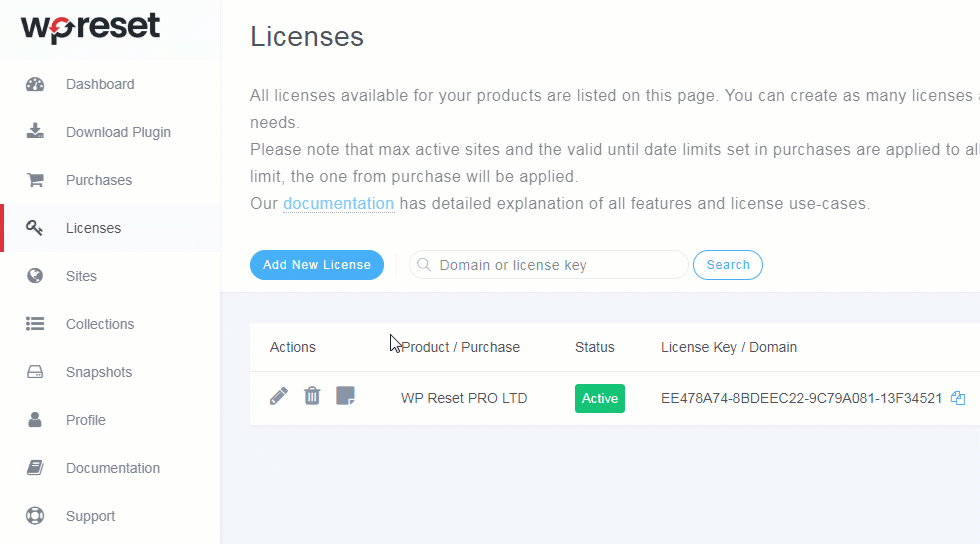 With a centralized dashboard, you can manage multiple websites. Here you can control all websites, snapshots, and collections. And instead of configuring multiple collections for each site, you can save time by doing all of the important work from one place.
Free vs Pro
The PRO version has three times more features than the free version and comes with premium email support. However, if you do not need the extra functionality, or you just want to try out the solution without spending money, feel free to try out the free version.
All plans come with the option to reset a website, reset theme options, delete transients, delete themes, delete plugins, clean uploads folder, empty custom tables, delete .htaccess file, manually create snapshots, and support via the community forum.
On the other side, features that are available only through the PRO version are: options reset, nuclear site reset, reset user roles, purge cache, delete local data, delete content, delete widgets, delete MU plugins and drop-ins, clean wp-content folder, switch WP version, automatically create snapshots before running WPR tools, automatically create snapshots before running WP core, plugins and themes updates, store snapshots in WP Reset Cloud, store snapshots on Dropbox, Google Drive, and pCloud.
You can also automatically delete old snapshots, preview snapshot, collections, auto-activate license for pro plugins in the collection, emergency recovery script, WP Reset dashboard, license manager, white label, manage collections and snapshots for all sites in the dashboard, and priority support via email.
Plans and pricing
Aside from the free version, the PRO version comes with three different plans. The most popular plan is the Team lifetime plan which costs $49 for a one-time payment. With this plan, you will get 5 site licenses, 5 WPR cloud site licenses, over 25 tools, auto snapshots, collections, the emergency recovery script, the dashboard, the license manager, and the white label option.
The Personal plan costs $39 per year and comes with one site license, one WPR cloud site license, auto snapshots, collections, the emergency recovery script, and the dashboard.
The final, Agency plan costs $149 per year and comes with 100 site licenses, 20 WPR cloud site licenses, auto snapshots, collections, the emergency recovery script, the dashboard, a license manager, a white label option, and rebranding.
Keep in mind that these prices are subject to change, and this is the current offer available on the official website. All plans include a 100% risk-free money-back guarantee, if you do not find the plugin useful in the first 7 days, you will be refunded the whole amount. No questions asked.
Conclusion
This plugin is a wonderful approach to adding the reset option because WordPress does not come with any sort of built-in reset button. The development process has been greatly simplified by this plugin, and resetting your website only requires one click. We advise you to carefully examine the features and usage guidelines. You won't lose any data and will be prepared to employ WP Reset features.