Any online business that conducts sales or marketing should prioritize website maintenance, but this is especially true for eCommerce websites. Your website serves as a window to the outside world and determines whether a visitor becomes a client. Building such a page while your site is being updated or developed should be part of your marketing strategy. You still lack one, do you? You may rapidly construct one by using a marketing plan template.
Let's talk about maintenance mode for a minute. If you've ever worked on a website, you're probably aware of how frequently you need to update it to keep it running smoothly. So, what do you show people while you're trying to fix a bug? The answer is simple. There are numerous WordPress maintenance mode plugins available, and they essentially allow you to build your under-maintenance page from scratch. We will focus on WP Maintenance Mode today, as its straightforward design allows for an easy page-building experience.
So what can WP Maintenance Mode do for you exactly? Once you run the plugin, you will find that everything you will be using to build your maintenance page is on the left-hand side of the plugin. The first section you will visit is "Themes," and here you can find a significant number of pre-made themes you can pick from.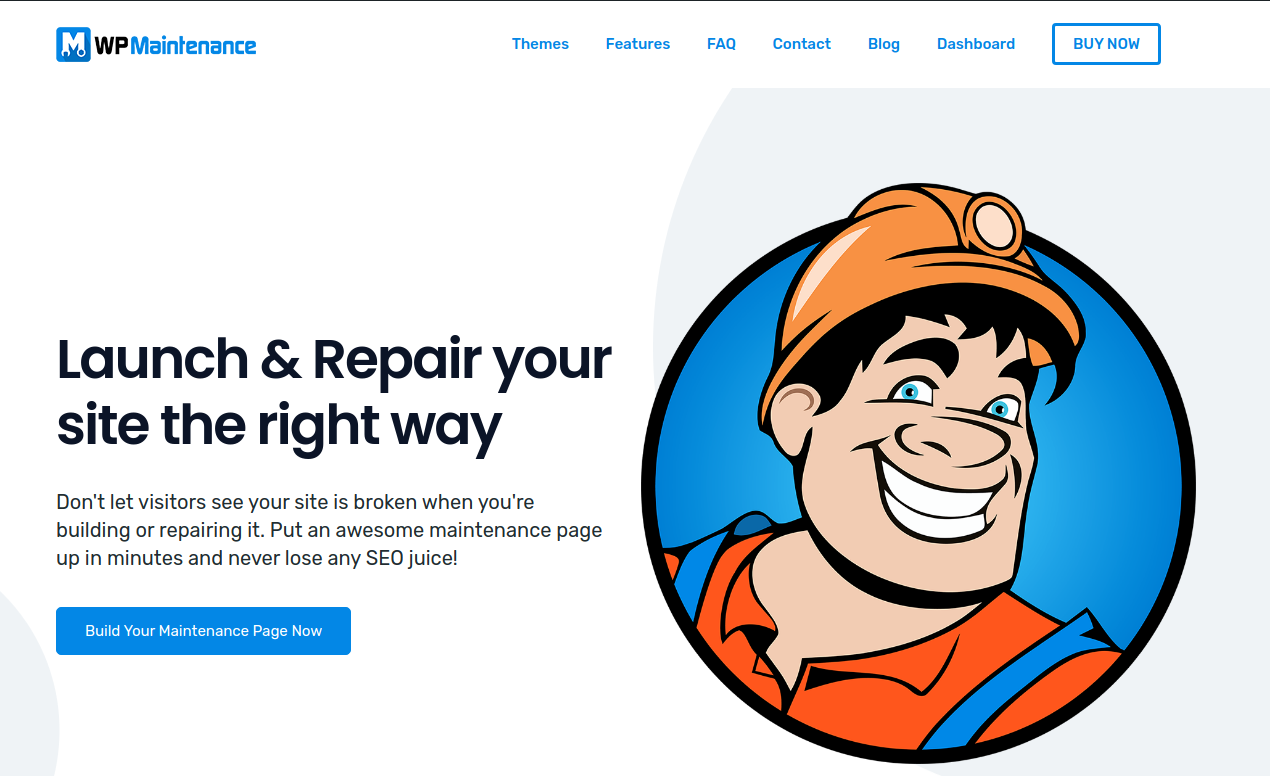 You will notice that the designs are pretty simple, but the color palettes and fonts used usually correspond with the "theme" of the business or product. Also, these premade themes are fully customizable as well! You will also find the "User Made" section under "Premade," which is essentially a library of your own custom-created pages.
Design Tool
Next up is the design segment, which you will probably spend the most time on. Here you will be able to customize things like font styles and sizes, as well as your layout and background. When it comes to the "General" section, here you can adjust the sizing of your letters and their fonts and colors. You also get a preview of how it will appear on your page.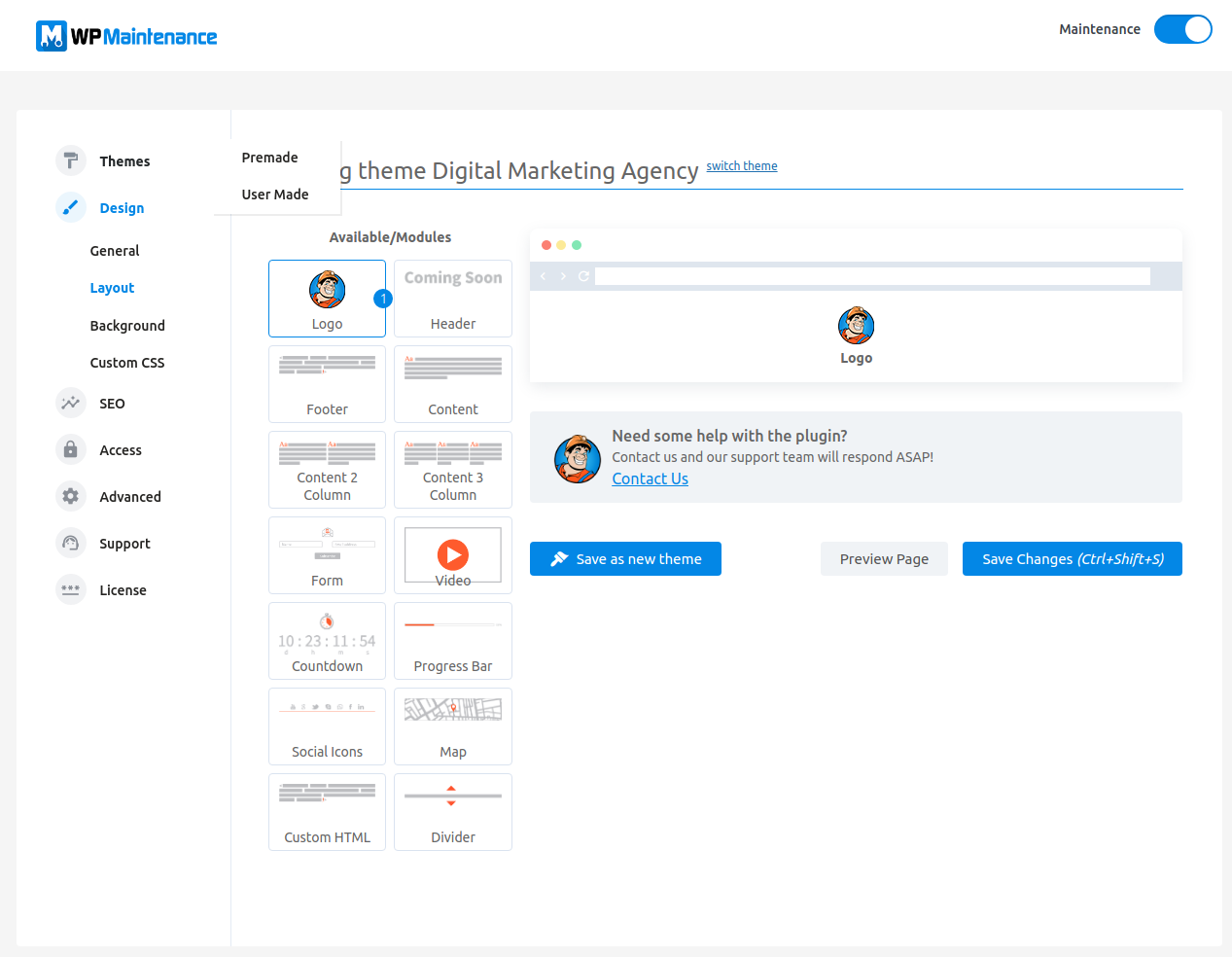 Customize Your Layout
Moving forward, we get into the layout section. This pretty nifty drag-and-drop design tool helps you plan out your page's layout in a matter of minutes. You will also be able to pick from several modules, and it's really up to you how you want your page to look at the end. All it takes is just a few clicks here and there, and you have the basic structure of your page!
Pick a Good Background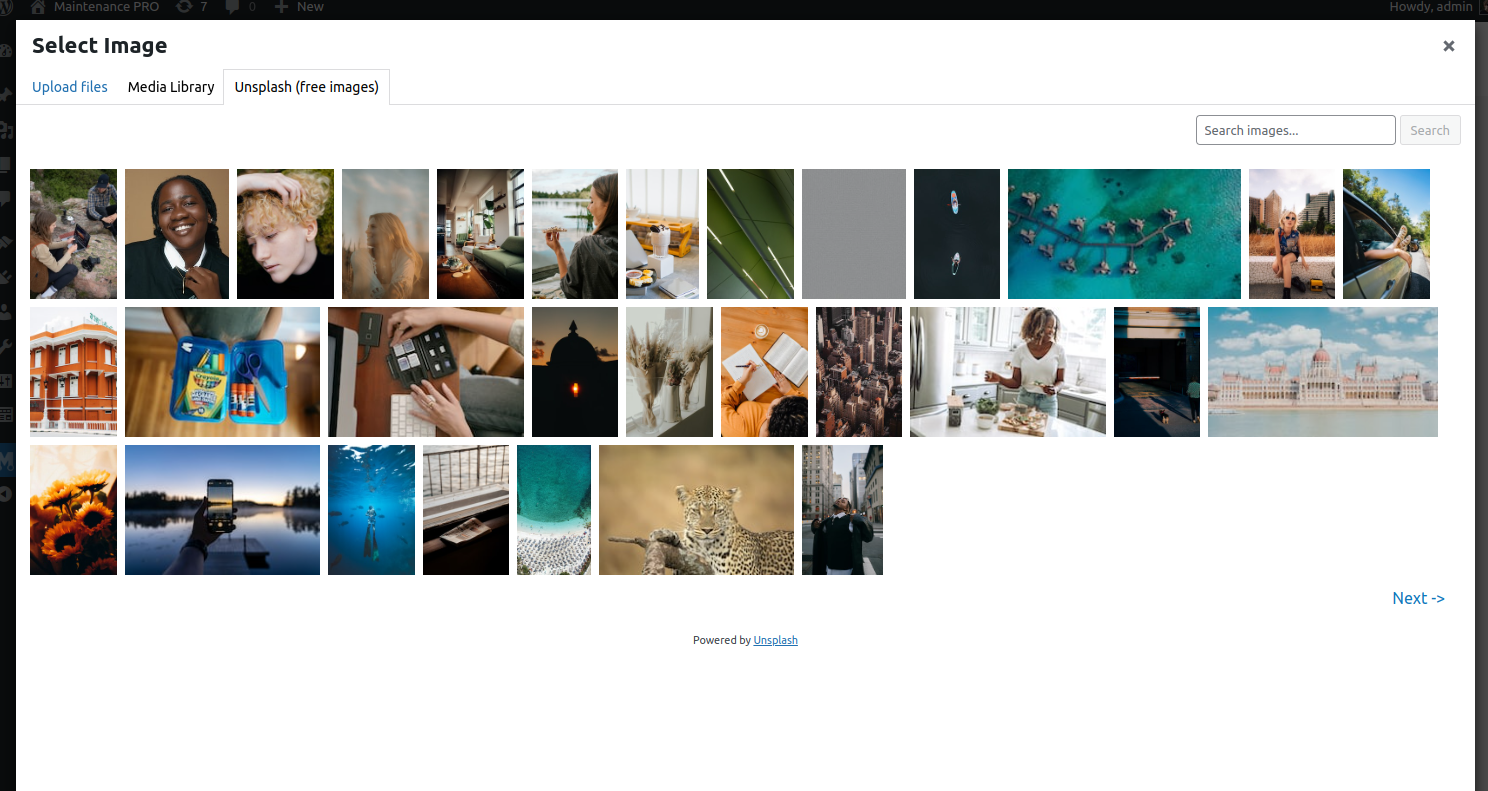 Once you are finished with your layout, you need to pick and edit your background. One of the coolest things about WP Maintenance Mode is the fact that it has a library of over 400.000 free images you can pick from. Of course, you can also use your own images, but we urge you to comb through some of the options this plugin offers as well, as we are sure you won't end up disappointed. Not only do you get to pick from an array of images, but you also get to edit the image within the plugin. The editor is simple, as you can adjust your blur level and add one of the 27 filters available.
Add Your Own Code
Now, if there is something else you want to add but the plugin doesn't support it, don't worry. The plugin allows you to add your own custom CSS, which makes it infinitely customizable. That is, if you are truly willing to go above and beyond, whether you are creating a website for yourself or for a client.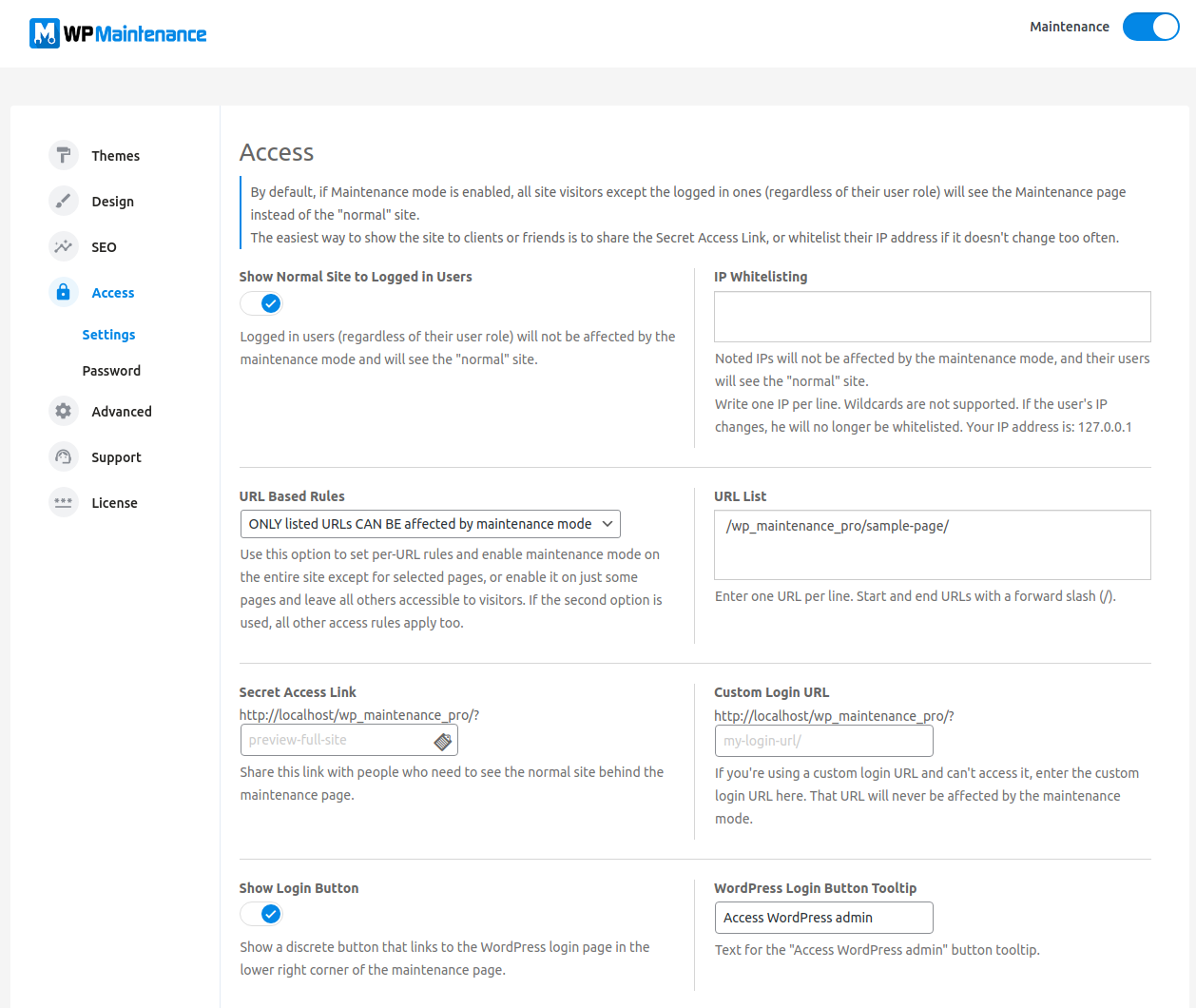 Boost Your Visibility
Finally, in addition to general access settings (such as the ability to whitelist IP addresses and create custom login links), you can track how well your under-maintenance page is performing in terms of search engine visibility. WP Maintenance Mode's SEO tool scans your website and notifies you if it finds that your page could be using better keywords than it already is. It also allows you to internally search for any keyword you want to use and provides a full rundown of any potential issues or benefits it might bring.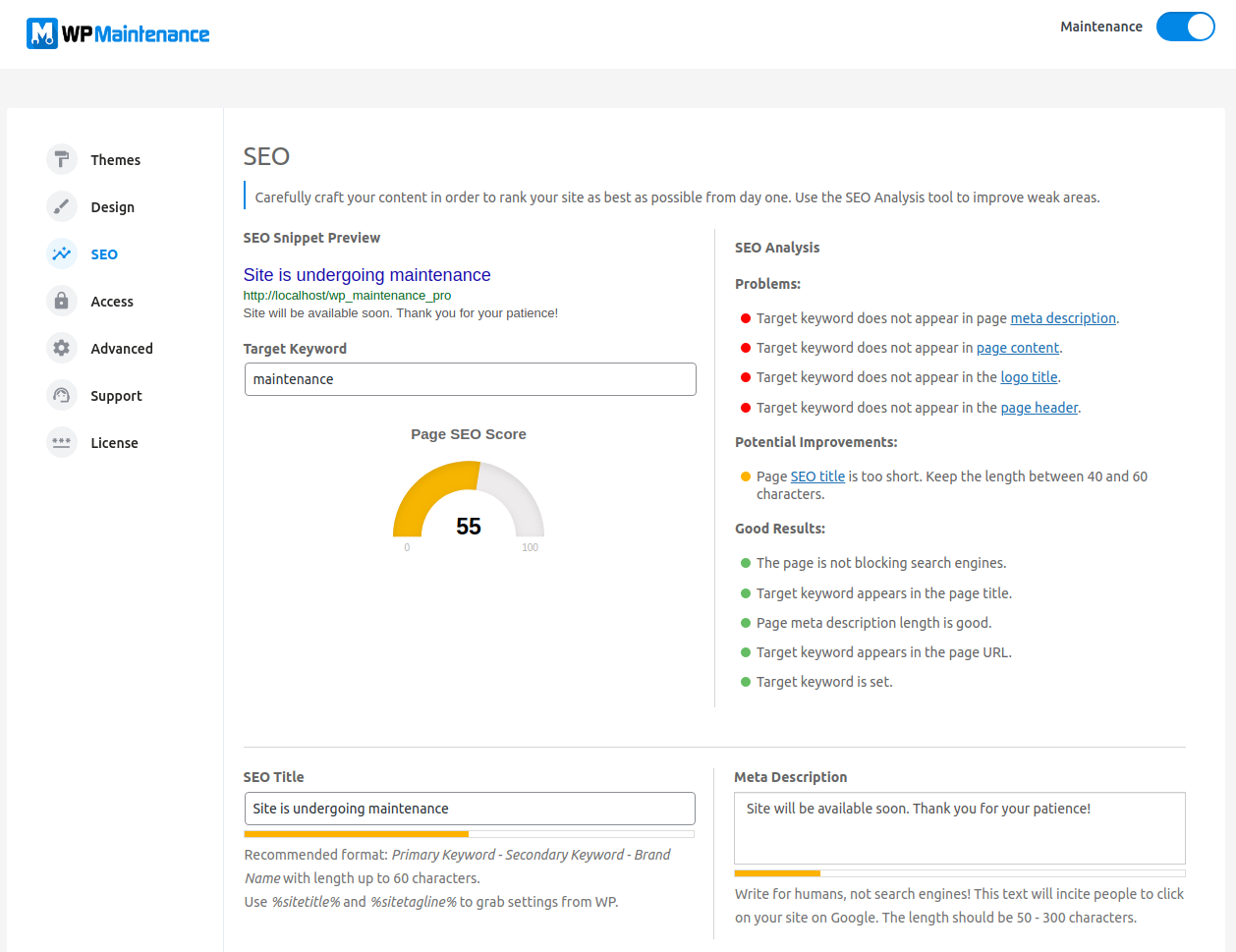 Conclusion
Whether you end up using this plugin or not, it's important for any website developer to understand the importance of having that placeholder page in the first place. Just think about it. If you were browsing a new shop you just stumbled upon, you go to their website, and you are only met with a bunch of error messages. Wouldn't it be nicer and more reassuring to see that the page is being updated?
It's less obnoxious, and it buys you some time until you update the main website. It's also worth noting that under-maintenance pages aren't the only kind of placeholder pages available. Another excellent plugin we recommend is WP Coming Soon & Maintenance Mode. This plugin also allows you to create a "coming soon" page. This is essentially a placeholder page for a website that is still under construction and has not yet been launched. When you're finished building your page, make sure to check out WP Force SSL as well, which will secure it in minutes!