Quick Overview:
CactusVPN is a good option if you need a VPN for file sharing, accessing websites blocked in your country – either by censorship or because of geo-limitations – and has a good, no-nonsense client that makes setup rather easy.
Speeds are good to great, especially the server in the Netherlands gave us some of the best results we over got, and the other locations worked great for us, too.
Torrents and other file sharing applications are allowed as long as you stick to the server in the Netherlands or Romania, however no port forwarding is offered, which can be annoying when trying to get optimal performance (click the link for more information). However, there is an application killer included in the software, so you are protected against accidental disconnects, an important feature indeed.
On the down side, we would have liked a few more locations than just four, which is relevant to some users that want to circumvent geo-blockades for sites in their respective country. Also, while no activity logs are being kept, for three days connection logs are stored on their servers, even though this doesn't necessarily mean they can match a user to an external IP. This may not be an issue to most users, but security purists will definitely not like this.
Update: Starting May 2016, no logs are being kept at all. Cool!
Pricing is reasonable with plans starting at a low-low price of $3.25 per month if you take an annual subscription, so if you are on a budget, CactusVPN might definitely be for you. With apps being available for mobile devices, you might definitely want to take a look.
Our Detailed Review:
Who would have thought to use a cactus as the mascot of a VPN service? Sure, it looks cool, but honestly, what's the idea behind it – is it a metaphor of any kind? Regardless, we found them while doing some research online and thought it we could give them a little test.
Since there are free test accounts available, we didn't have to first ask support for one and just went ahead and downloaded the software. But before we get to that, let us first take a look at their website and see how their plans are structured. As their website was just relaunched, a few of our screenshots may not look accurate, however test results are pretty fresh at the time of writing and thus, we think this review will be very accurate.
1. Website And Signing Up
A cactus listening to music in a bubble, while a vulture is about to crash in it… oh, and of course there is a bird on one of its branches. Figures.
Honestly, in term of originality, CactusVPN gets full marks, although we have no idea what all this is supposed to mean. So OK, that bird might be a symbol for freedom, but why is it INSIDE the bubble – wouldn't that make it a prisoner of the cactus? Or maybe it is a clever innuendo to Bioshock Infinites wonderful character Elizabeth, who has to decide between a bird and a cage pendant in the first few minutes after being freed from her tower?
No idea. What we can say however is it their website is pretty informative, with the FAQ not dodging hard questions like "do you log?" and "when am I eligible for a refund?" You have to scroll down to the bottom of the page to get this information, but the answers are refreshingly direct and straightforward. Other than that, all the important information is there, even though it is a bit hidden.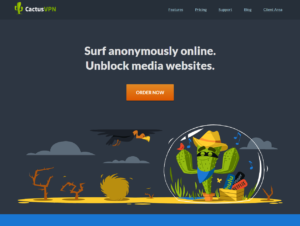 Payment methods are credit card and Paypal, with some other methods available in Russia and other countries, and signing up is rather easy, although we missed Bitcoin or PaySafeCard as anonymous ways to get a VPN. For users who like to remain as private as possible when paying this might be annoying. Other than that, nothing out of order here.
2. Plans And Pricing
Where other VPN services require you to pay for the whole server farm, CactusVPN has different plans for each group of locations available. For example, if you only need access to either the servers in the USA, the UK or just need their SmartDNS-service (used to unblock geo-restricted sites without any loss of bandwidth), you pay only $4.99 per month, down to $3.25 per month if you choose to pay for a year in advance.
To sum up, these plans are available:
– "US VPN" or "UK VPN" with access to all VPN servers in these jurisdictions for $4.99 per month ($3.25 per month or $38.99 per year for the annual plan).
– "Liberty VPN" with access to all servers in the Netherlands and Romania for $4.99 per month ($3.25 per month or $38.99 per year for the annual plan).
– "VPN + Smart DNS", including all their servers and SmartDNS for $6.99 per month ($4.58 per month or $54.99 per per year for the annual plan).

We think these prices are more than fair: You almost can't get it cheaper than with CactusVPN. When compared to another well-known budget provider, Private Internet Access, you get fewer servers and have to bear with some logging, but get far better speed as we'll see further in this review.
3. Features And General Overview: Is This Service For You?
Like every other VPN out there, CactusVPN has its advantages and disadvantages. In terms of features they are pretty decent, if you don't fancy having too many different server locations and can live with a simple application killer for disconnection protection.
– Talking server locations, a total of four countries are available, with 4 servers in the USA, 6 in the UK, 4 in the Netherlands and 2 in Romania. For most users this will to totally sufficient, as these locations are well-connected and thus should get good speeds if you don't happen to live in a country far far away from any of these places.
The Netherlands and particularly Romania are, of course, great for privacy, speed, and for downloading, as they're known for their more than lax policy if you happen to download something copyrighted (by accident, of course!), and especially Romania is great if you need something a bit more "offshore".
For anybody wanting to circumvent geo-limitations, more locations would definitely be a very good thing, although the US and UK servers are good to bypass most of them. Decide for yourself: What do you really need, and is it worth paying more for another provider just to have access to more locations?
– Like any other VPN service we know of, CactusVPN is perfect for circumventing censorship imposed by your network administrator, such as blocking access to certain websites and services like Facebook, Twitter, Skype and all the other cool places. Of course, file sharing programs such as BitTorrent can also be used through this service, provided you only use those on the Romanian or Netherland servers. Anyone living in Iran or China might have problems connecting to the VPN however, so you might want to look into other providers if you plan on using the VPN in any of these countries.
– As already mentioned twice, BitTorrent can be used but isn't available on the UK and US servers, so you can share files to your heart's content.
These are the "regular" features most VPN and anonymization services provide. However, there are a few additional ones worth pointing out:
– Every VPN server has a proxy installed on it, so you can use CactusVPN to only anonymize certain applications (without encryption however). This makes it a great replacement for BTGuard and other proxy-only services.  "Auto Proxy" is another feature, allowing you to only run certain websites through the anonymization server while connecting directly to others, very handy if you only need protection for some places online.
– The client has an "application killer", which automatically closes selected programs in case of an accidental VPN disconnect. Now, there are better ways to handle this problem as we explained in our article "7 Ways To Protect Yourself When Your VPN Connection Fails", but for what its worth, CactusVPN has a very good implementation as we will see further in this review.
4. Security And Privacy: How Protected Are You With Them
As we explain in our article "How We Test VPNs", there are two important factors to consider: How strong the encryption is, and the logging policy.
HOW STRONG IS THE ENCRYPTION?
As you might already know, encryption is there to scramble the data being send to and received from the VPN server, making it impossible (or at least extremely difficult) for your provider or anyone else to see what you are doing. This ensures the communication between you and the CactusVPN-server is secured.
Several protocols are out there, including OpenVPN, PPTP and L2TP (IPSec). All three are regularly used and supported by many devices, and all are encrypted. However PPTP, which is even supported by rather old devices and operating systems, is insecure as hell and should only be used when no other options are available. OpenVPN and L2TP are both very secure to extremely secure, and CactusVPN uses a 256 bit key, which is so strong it would take hundreds of years to crack when using a brute force attack.
Note: Interestingly, they also offer SSTP and SoftEther, two protocols that aren't exactly common. We didn't test those, but they're said to perform well both in regards to speed and security.
This is absolutely strong enough for everyday use, and might even keep the NSA and KGB at bay (although if you're on THEIR list, you should better not trust ANYTHING or ANYONE… lol). CactusVPN gets 5 out of 5 points for encryption.
PRIVACY POLICY: WHAT EXACTLY IS LOGGED, AND IS THERE A WAY TO MATCH AN EXTERNAL IP WITH YOUR REAL IDENTITY?
Logging is the one thing most people tend to get confused over, since there are two entirely different things to consider here: Activity logs, which would include a list of visited websites, downloaded files and so on, and connection logs, allowing a VPN service to match an external IP to you.
Generally, we like no-logging policies, since they make it very hard for your identity to ever get exposed. Even if a provider was forced to comply and give all the information they have, they wouldn't be able to comply and rat you out if they didn't keep logs on when you were connected using which IP.
Unfortunately, CactusVPN keeps no activity logs but connection logs for about 3 days. Usually, such data is never given out without a court order valid in the jurisdiction of the VPN company (Moldova). We think this is an acceptable policy, but security purists who like to have absolutely no logging should choose a different service.
Since May 2016 no logs are being kept at all. Cool!
5 out of 5 stars for the logging policy.
5.  Speed: How Fast Is It?
Where other review sites only show you the results for one location, we try to give you a realistic overview of the speed you'll be able to achieve. To do that, we test a number of locations: The nearest and fastest to our location, which is optimal for anyone trying to get maximum speed, and certain "strategically important" locations, such as UK and USA, important for streaming and bypassing geo-restrictions.
As further laid out in our article "How We Test VPNs", we also do an advanced speed check using a Usenet client, which shows how much the tunnel really can achieve. Our connection is capable of a maximum of 150 Mbit, which is way faster than most peoples connection.
Netherlands:
This is a location near us (we're based in Germany) which is often used for very high speeds, and a lot of file sharers love this location. Here, speed results are basically fantastic, among the best we have ever seen:


Over 8 Megabytes per second is simply great for a VPN.
USA:
An important server location for watching movie streams. The speeds are way enough for that purpose, and also generally relatively satisfying. If you're living in the US, you might of course get much better results.
Regular speed checker: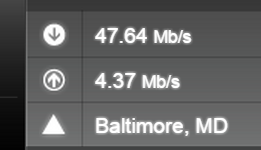 Burst test using the Newshosting Usenet client:

UK: 
Particularly among people who like the BBC media player, the UK is a good place to virtually reside in (which is the fancy word for "connect to a server in that country). Honestly, we have seen better speeds, but it is still acceptable for most users.
Regular speed test: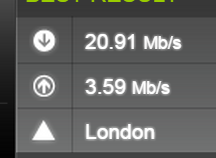 And here our "special test" with Usenet:

Romania:
The last location currently available, Romania, is particularly interesting because of its rather lax Internet law, making it a worthwhile locations for file sharing. Results are rather good.
Regular speed test: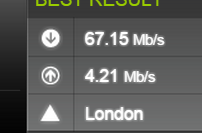 Test with Usenet client:

For speed, CactusVPN gets a fair 4 out of 5 points, with one point removed because of the less-than-perfect results for the UK server.
6. The Software: What Can It Do, And How User-Friendly Is It?
Being rather simplistic, the software does what it is supposed to do, and is easy to understand for beginners. After installing it and entering your username and password, you select a location and a VPN protocol, and click "Connect" – that's the whole deal. Rather basic, but it gets the job done, and done right.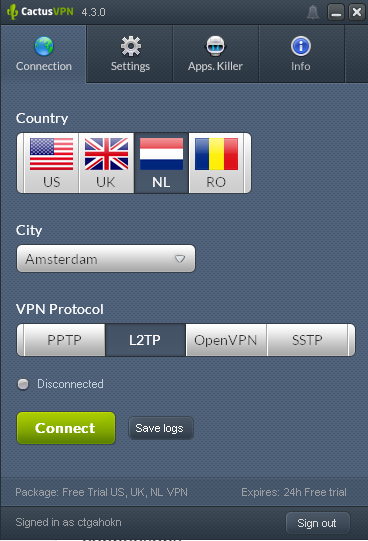 So what advanced options and features are there? In regards to settings, you can configure it to start and connect to the VPN automatically when your computer starts, to automatically try to reconnect in case of an disconnection, and to do all of this while being minimized to the tray so you don't see too much of it in everyday use.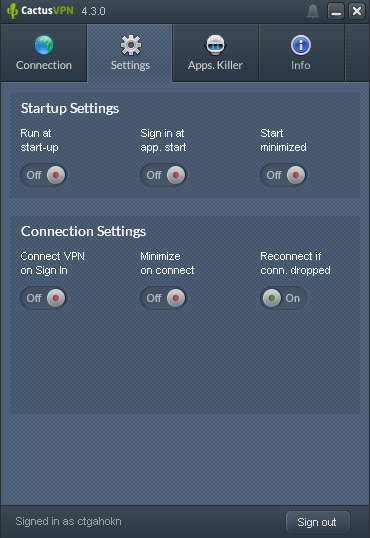 One very important feature to have in a VPN client is either an application killer (at the very least) or an Internet kill switch (preferably) to protect you in case of an unexpected VPN connection drop. Without it, you risk of being unprotected, which is especially dangerous for anyone using file sharing applications such as uTorrent.
CactusVPN doesn't have a firewall-based Internet kill switch, but the application killer does its job quite well: In case of a problem with the connection, it automatically ends the applications you tell it to, and restart them once the issue is solved.
This is a satisfactory feature for file sharers, albeit not the most elegant. Read more about this issue in our article "7 Ways To Protect Yourself When Your VPN Connection Fails".
7. Support: How Can You Get Help
CactusVPN has a number of support pages with instructions and troubleshooting guides to some problems that can occur, and can also be contacted by email through their ticket system. What we also loved is the live chat, which allows you to directly contact the support team and get instant responses to your questions.
A user forum would be nice too, but apart from that CactusVPN has all the support you could ask for.
The Verdict:
Very reasonable prices, all important geographical locations covered, a good and easy-to-use client… all of these are very reasons to choose CactusVPN as your VPN service. Add great speed, an application killer to safely share files using BitTorrent or other file sharing services, and the picture gets even better!
Yes, this provider is definitely worth a look, especially considering you can get a free trial account without entering any payment information. On the technical side, all important protocols are supported, so you'll almost definitely be able to connect with your device if it has any kind of VPN support, period.
[x_button shape="square" size="mini" float="none" block="true" circle="true" href="https://get.surfshark.net/aff_c?offer_id=6&aff_id=3973″ info="none" info_place="top" info_trigger="hover"]Click here to visit the CactusVPN website.[/x_button]
PS: A reader recently wrote us he did a search for a site we recommended, and landed on the wrong page. Honestly, we have no idea how this might have happened, but here is a live preview of the correct CactusVPN website. Better yet, just click on the link at the top of the page, and you'll be redirected to the right place, period.