It's pretty unfair that even after having a premium MLB TV subscription, you can't stream your favorite MLB teams live online if you are within the blackout zone. Though many MLB fans have complained multiple times about these old-age policies, it's evidence they are not going away anytime soon. The good news is that you can now bypass MLB.tv blackouts with a VPN and watch your favorite team play blackout-free. Here is how to bypass MLB TV blackout restrictions.
What Are MLB TV Blackouts?
When the MLB season is about to start, executives usually meet before choosing which broadcasting firms will get access to which games. Mostly, a regional TV affiliate such as NBC, Fox, or ABC TV station obtains exclusive rights to games played by local teams and does not share them. Also, they don't often live broadcast games online. Besides, MLB cannot stream those games online or on television within that geographic market.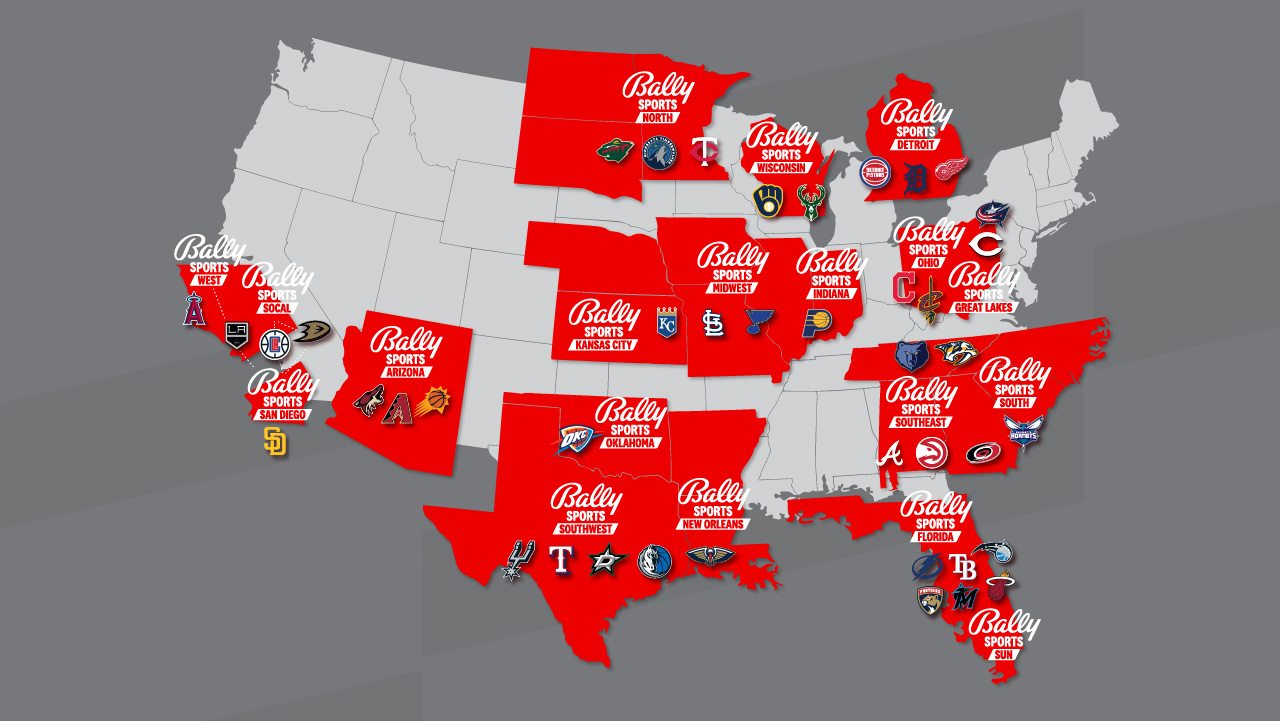 These MLB blackout restrictions often prevent MLB.tv subscribers from watching their favorite teams, especially those nearest them. This is because the broadcasts of both the home and visiting teams are blacked out in their respective regions. But, the restrictions are regularly updated for subscribers to be informed in advance. You can also use the MLB blackout map.
Whenever an MLB games fan watches a game on the MLB app or a web browser, the website or app usually checks the device's IP address. This IP address is used to identify the viewer's location. The live broadcast is blocked if that viewer is within the blackout area. So, you will get an error message rather than a live stream.
Now that we know what MLB TV blackout is all about let's learn how to bypass MLB TV blackout restrictions with a VPN.
How to Bypass MLB TV Blackout Restrictions on Android
Before proceeding, you need to root your Android phone. The process can brick your phone if not done properly; therefore, proceed cautiously.
1. First, sign up with a VPN service of your choice; we recommend ExpressVPN. Ensure that the VPN you choose has many VPN servers in the United States.
2. After signing up for a VPN account, download the VPN app for your phone.
3. Download and install MLB At Bat. If you already have it on your phone, clear the app cache data in the storage settings. You can instead use the MLB website.
4. Launch the VPN app and connect to a server outside the MLB blackouts.
5. Openthe MLB TV app or browser and enter your login credentials to stream MLB games.
How to Bypass MLB TV Blackout Restrictions on iOS
You need to jailbreak the device to use the MLB At Bat app on your iPhone or iPad. This process can permanently disable your device if not done correctly, so we recommend following the instructions strictly. Also, the process differs depending on the iPhone or iPad model.
1. Go to the app store and download your VPN. Then sign up for an account.
2. Download MLB At Bat app, but if your device already has it, launch it and navigate to your game stream.
3. Launch the VPN and connect to a server outside the MLB blackouts.
4. The MLB app will ask for permission to determine your location. Instead of using your GPS location, the VPN will display a server location you connected it to.
5. Now, you can enjoy watching a major league baseball team play on your streaming device.
How to Bypass MLB TV Blackout Restrictions on PC/Mac
1. First, sign up for a VPN service. Ensure the VPN you choose has many VPN servers in the United States.
2. Create a VPN account and download the VPN app on your windows PC or Mac.
3. Now, open the VPN app, log in and connect to a server outside the MLB blackouts.
4. Lastly, log in to the MLB website and watch all the games blackout-free.
Can You Bypass MLB.tv Blackout Restrictions with a Free VPN?
Free VPNs usually have a poor server structure, meaning MLB.tv will detect them. So, you can't use a free VPN to bypass blackouts. And if you bypass MLB.tv's geo-restrictions, you'll experience a lot of buffering because most free VPNs don't offer enough connection speeds for streaming.
Moreover, free VPNs are unsafe and often generate money by selling your data to third parties. As a result, we do not recommend using free VPNs. Alternatively, you can use a freemium VPN service, a free version of a reliable paid VPN. However, keep in mind that these VPN services are more limited than paid-for VPNs.
What Are the Main Types of MLB Blackout Restrictions?
1. Regular Season National Blackouts
Because of the MLB exclusivities, streaming and live national broadcasts of MLB events across the U.S can be restricted. The easiest way to watch such games is to use sports OTT streaming services.
2. Regular Season Local Blackouts
Depending on where you live, you may experience local blackouts, whether a team is at home or away. If your area has numerous baseball teams, this blackout policy applies to all of them.
3. Postseason Blackouts
Because of the MLB exclusivities, all live games during the MLB postseason are blocked in the United States. As a result, you'll have to rely on a sports-specific OTT service or cable TV to watch those games.
4. Authenticated Acess Blackouts
Some MLB games and events, such as the MLB Postseason games or All-Star Game, are usually aired nationwide (by MLB and FOX Network). However, these games are available on MLB.tv if you're a customer of a participating OTT service or cable provider. It means you must validate your access to live stream those games.
Best VPN to Bypass MLB.tv Blackouts
1. ExpressVPN
ExpressVPN has outstanding speed, which allows you to watch MLB games online without any slowdown. Besides, there are no data limitations; you won't be cut off watching your favorite team playing. The good thing is, even if you are abroad, you can still connect to any U.S server and enjoy buffer-free streaming.

The VPN works well on Android TV, Apple TV, Xbox One, PlayStation 4, Roku, Chromecast, and MLB.tv. Besides, it has a massive server network with over a dozen VPN sites in the U.S. It unblocks YouTube TV, Hulu, Amazon Prime Video, and Sling TV, allowing you almost unlimited access to MLB games, including playoffs and World Series.
I love the speed the VPN offers. And the good thing is the speed is consistent while streaming any MLB game, with no video-quality reductions or buffering. However, one main drawback is that the VPN's live chat support takes longer to respond to users' inquiries.
Pros
Compatible with different devices
It has blazing fast speeds
It comes with a 30-day refund policy
Offers unlimited bandwidth
Cons
A bit expensive subscription
2. NordVPN
NordVPN is one of the best VPN servers for bypassing MLB blackout games. It's also one of the easiest and most friendly VPNs I have ever used. It has 1970 servers in not less than 15 cities across the United States. That means you can find a server near you irrespective of location for a fast streaming experience. Furthermore, NordVPN allows you to select a particular server in the United States to hide your location and bypass MLB.tv blackout restrictions.

This VPN is ideal for Android, iPhone, iPad, PC, and Mac. Setting it up on my PC was very easy. And from there on in, I launched the app and connected to a VPN server of my choice. The good thing is you can use the VPN's obfuscated servers to hide the fact that you are using a VPN. Moreover, the Double VPN feature usually cloaks your IP address twice to help you sidestep MLB TV spies.
I can't complain about the speed. However, I have noticed that some servers record very fast connections, while others (especially Double VPN server)has a reduced connection speed. All in all, NordVPN is great for bypassing MLB blackouts.
Pros
Has servers in over 78 countries worldwide
Offers dedicated IP addresses
Up to 10 simultaneous connections
3. Surfshark
Surfshark provider is a great way to bypass regional blackout restrictions, unblock streaming services, and secure your data while browsing. The VPN service has over 1700 servers in 63 countries. Besides, the Surfshark VPN uses the top-notch tunneling protocol, WireGuard, to achieve impressive speeds.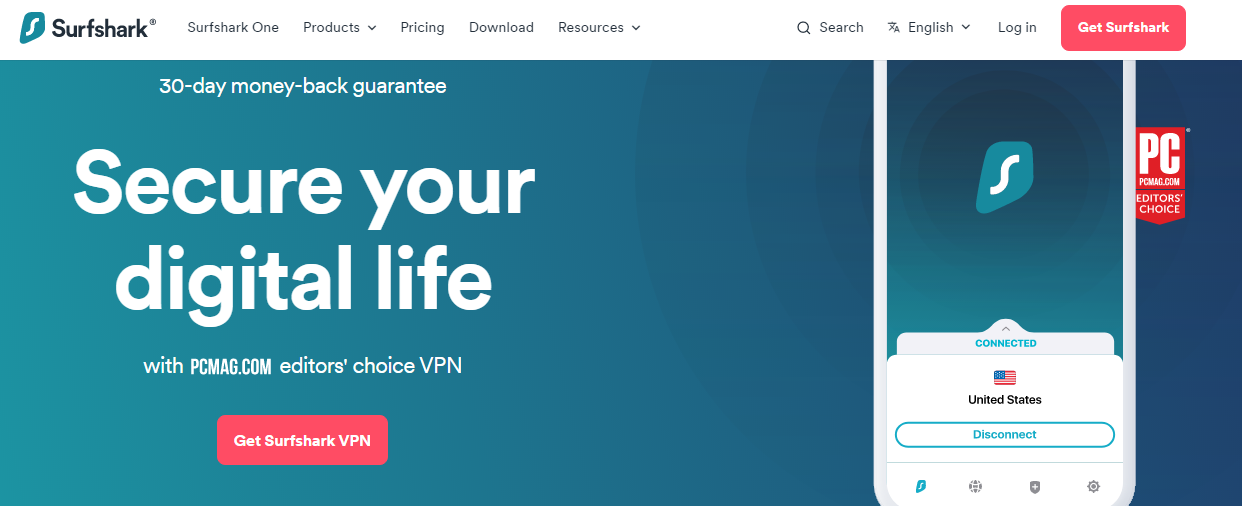 The virtual private network supports unlimited simultaneous connections, allowing you to use it on as many devices as you like. So, for example, if you are tired of watching the MLB games, then you can use the VPN services to bypass region restrictions on virtually any streaming service, including Netflix, Amazon Prime Video, and BBC iPlayer. Also, it provides GPS spoofing.
Furthermore, it has many security features to keep your data safe. For example, the VPN connection has a stringent zero-logs policy, so you can be sure that no one is monitoring your activity. On the other hand, when using this VPN app, the speed never drops, and I always stream MLB games in full HD.
Pros
Affordable plans that come with excellent features
Offers unlimited simultaneous connections
It comes with a lot of strong security features
Great speeds for lag-free viewing
Cons
The free trial needs your credit information.
4. PureVPN
PureVPN is a great streaming option to bypass MLB blackouts. It has a huge fleet of over 6500 serves in 78 countries, providing you with access to various global services showing many baseball games. Besides, the VPN service covers 13 different cities in the United States alone, so bypassing MLB blackout restrictions is easy.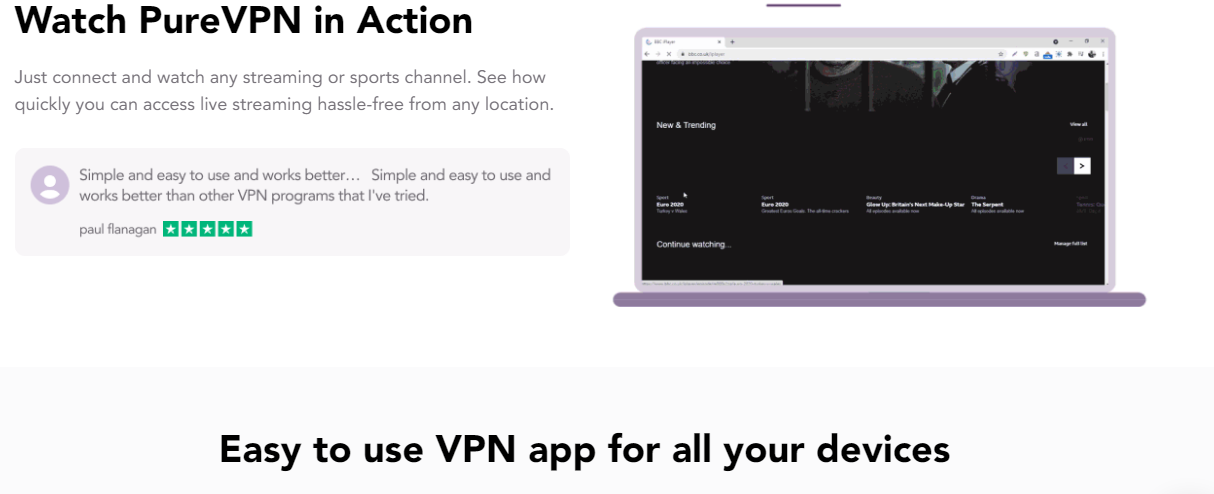 The VPN is super-fast and has a secure WireGuard protocol. You can watch MLB blackout games in high resolution, with no lagging or buffering. I usually stream BBC iPlayer, Netflix, Hulu, and more when I'm bored watching games.
The good thing is I could still stream and watch blackout games even when I traveled to Europe. Besides, the split tunneling feature allows you to enable VPN selectively on selected apps, making your streaming as well as browsing experience customizable.
Pros
Easily bypass and unblock MLB TV
You can have 10 simultaneous connections
Comes with fast & secure WireGuard protocol
It comes with a 31-day refund policy
Cons
Advanced features might not work with WireGuard
5. Private Internet Access
Private Internet Access (PIA) is another excellent option for watching MLB TV. It boasts roughly 30,000 servers, with 15,055 of them in the United States, spread throughout 14 cities. The VPN provides solid security for your data and online activities through WireGuard and OpenVPN protocols. On the other hand, you can use the service to bypass national MLB blackout restrictions, though I noticed that it tends to be slower across longer distances.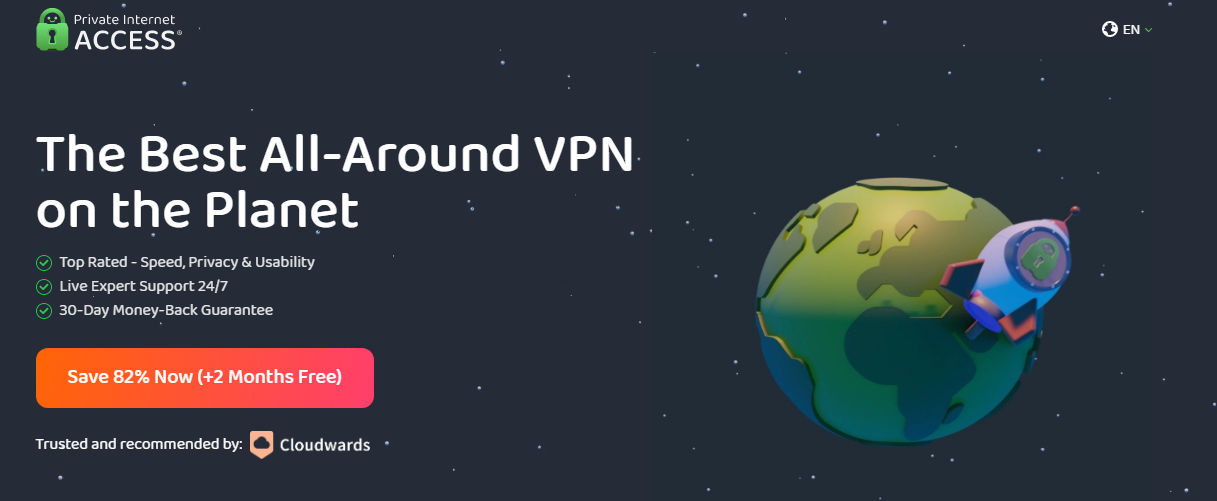 This reliable VPN allows you to disable the annoying pop-up ads, especially during a live MLB game which usually distracts your attention away from the game. So with this VPN, you would miss a single second of the game. Besides, the feature also blocks malware and trackers, keeping you secure while watching your favorite sport online.
The Private Interrnet Access VPN is cheap, making it a perfect option for bypassing local MLB blackout restrictions on a tight budget. However, the main drawback, as mentioned earlier, when it comes to unblocking national MLB restrictions, this VPN may fall short since to its slowness across longer-distance servers.
Pros
Comes with affordable subscription plans
You can have 10 simultaneous connections
Offers solid security and privacy
Ad-free VPN
Cons
Slow across longer-distance servers